Alfa Romeo Giulietta 1.6 MultiJet II Exclusive
Great image statement
November 2013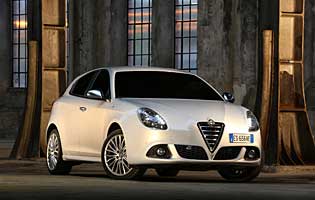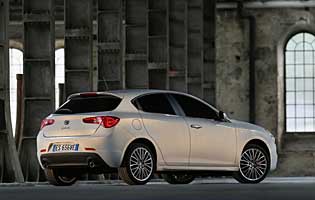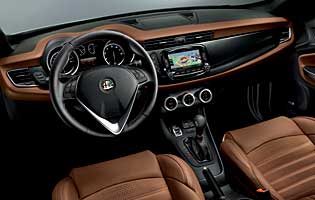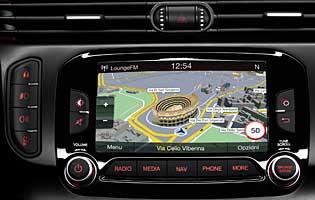 Overall rating

Likes:
Instantly recognisable styling and flattering colour choices
High fuel economy potential lowers running costs
Attractive detailing like double contrast seat stitching
Makes a greater image statement than any rival car
Gripes:
Front seat belts impede access to seat back adjusters
Coarse diesel engine lacks enjoyment or any character
Ride quality sometimes fidgety on imperfect surfaces
Interior plastics could be higher quality
The Giulietta is a left-field choice in the ever-popular compact family hatchback market sector, if only for its greater emphasis on style compared to just about any of its often stoic and sober competitors. For 2014 it benefits from a small number of external revisions but larger changes on the inside, which aim to give drivers something more than before.
As is often the way with Italian cars, the Giulietta is defined by a completely different set of priorities to its contemporaries, with some beautiful detailing mixed with several bizarre oversights in practicality. Little has changed in this facelifted model in that regard, but technological upgrades in the cabin keep pace with the rapidly advancing market.
New designs of alloy wheels are complemented by slight changes in the style of exterior trim surrounding the headlights and grille, and in general the model range is a very attractive one. That alone would not be enough to maintain consumer interest in the car, so a newly-developed media interface system called 'Uconnect' has been introduced.
It's among the most advanced systems of its type, with fresh and modern graphics that should appeal to slightly younger buyers. It's quick to operate even if its live tracking of the car's position can sometimes lag behind, but its 3D-effect rendering of buildings is part of an engaging and enjoyable package that helps to move the Giulietta onward.
To help the car compete in a very competitive marketplace there are a variety of engine choices including an economical, low-CO2 diesel and a selection of powerful, energetic turbocharged petrols that compromise outright fuel economy for a big boost to driving enjoyment. Alfa Romeo is, as ever, placing its faith in the Giulietta's alternative appeal.
Our verdict on the Alfa Romeo Giulietta 1.6 MultiJet II Exclusive
As a model range the Giulietta has lagged behind the latest generation of class-leaders but it does regain some ground with the 2014 modifications. It has as much, if not more visual appeal than ever and is highly underrated in terms of its general capability and everyday talent. It does still suffer from a curious mismatch of plastics and some clumsy interior design, but high-spec versions do feel uniquely special in the context of the class.
---
Costs
This is the most cost-effective Giulietta for high-mileage drivers, especially company car users. Low CO2 emissions make it tax-friendly and a careful right foot will see surprisingly high fuel economy figures. However, depreciation is still an issue for those only looking to keep the car for three years, although with fewer on the used market than for more common rival cars, values can sometimes stay deceptively high.
Space and practicality
Boot storage is on a par with the most popular rival models in the class, but the load lip is a little taller than some. Only very heavy bags will prove difficult to lift out for the average person, but it's a particularly valid consideration for shorter drivers. Cabin storage is partially impressive with a deep glove box and a central storage bin, but the front door pockets are tiny and won't hold paperwork. Cup holders are installed and follow standard sizing conventions.
Controls and display
Alfa Romeo knows how to make a stylish instrument cluster and has done so here with a new design for the 2014 model. Equally, since Harman provides the screen technology for the 6.5-inch touch-screen, that's also among the best currently available. The ancillary controls follow the international standard layout and are therefore intuitive, falling to hand readily without the driver needing to think about it.
Comfort
Sitting in the half-leather seats of this model is a pleasure, thanks to useful lumbar support for the front two seats and quality-feeling materials. The ride is unforgiving though, crashing around too much over bumps and revealing an inadequate suspension setup. Front seat passengers will feel well catered for in terms of personal space, but the steeply rising shoulder line means that rear passengers, especially shorter people, might feel a little enclosed by the high window line.
Car security
Remote central locking is standard, complete with deadlocks that prevent the doors being opened from the inside if, for example, a window is smashed. Darkened 'privacy glass' can be specified if desired, but only around the rear half of the car. As well as reducing the amount of UV rays that come through the glass, it helps to keep prying eyes out. An alarm and electronic immobiliser offer basic but reassuring protection against theft.
Car safety
As is generally standard across Europe now, this model has dual front and front side airbags, along with curtain airbags running the length of the roof line on both sides. A full stability control system is also present, with the added benefit on higher-powered versions of an electronically simulated limited-slip differential. It works to maximise traction when pulling away out of slippery junctions, helping to ensure a swift getaway within the boundaries of the available grip.
Driver appeal
Drivers derive enjoyment in different ways, from acceleration to cornering speeds and even chasing high fuel economy. This entry-level diesel doesn't offer much accelerative grunt but clings onto the road tightly, and if driven more sedately can return very high fuel economy. Unfortunately, in general use the engine feels rather lacklustre and characterless, also giving the front end a heavier, more understeer-prone dynamic. The turbocharged petrol engines are much more pleasant to use in every respect other than fuel economy.
Family car appeal
Families are a key market target for Alfa Romeo and the Giulietta, so it's good to see ISOfix child seat mounts on the outer rear seats. The passenger side front airbag can also be switched off independently to allow safe carriage of a rear-facing child seat for very young infants. The seats are perhaps higher than many people might expect, so fitting a child seat is not problematic. On the down side, the expensive seats in this model look and feel vulnerable to childhood spills.
First car appeal
It would be difficult to argue that the Giulietta was particularly easy to manoeuvre even compared against some of its class competitors, let alone a much smaller car from the A- or B-segments. It's not difficult by any means, but its visibility impairment, especially around the rear, is not especially suitable for inexperienced drivers. The pedals and steering are weighted comfortably and would pose no problem, but ultimately this is a much too expensive option for most first-time car buyers.
Quality and image
Alfa Romeo has not enjoyed the best reputation for build quality or reliability, and little has changed in recent years to change that. The Giulietta is a definite step up in terms of outright quality for the brand, but corners have still visibly been cut. Engine and electronics reliability, once a bugbear familiar to most Alfa owners, is now closer to the middle of the pack among its rivals.
Accessibility
The shoulder line is quite high here, and relatively speaking so is the front door handle. It does make it slightly more comfortable to open the door, but not so much so that it would affect your buying decision. More of a factor are the 'hidden' rear door handles that some people find awkward to use. The rear doors are shorter than those at the front and as such rear access is not so easy or neat.
Stereo and ICE (In car entertainment)
Media playback is taken care of by a new infotainment system interface developed by audio-visual experts Harman. The 6.5-inch colour touch-screen is quick to respond to inputs and uses cutting-edge graphics that, in satnav mode, displays buildings and ground-level details. Navigating through albums or changing input sources is easy and suffers only from the same problem that all touch-screens share, where it can be tough to press the correct button while on the move.
Colours and trim
As the most overtly stylish car in its class, the Giulietta benefits from a well-chosen range of stunning colours that complement its shape and lines very well. Silvers do not do it justice, but strong blues and reds look very attractive, especially in combination with upgraded, larger alloy wheels. The interior trim is a mixed bag, with some modest-quality plastics alongside superb craftsmanship and detailing on the half-leather seats.
Parking
The Giulietta's sleek form brings compromises, one of which is reduced visibility towards the rear, especially the rear corners. That means that, unaided, reverse bay-parking the car requires more caution and mirror-checking than it otherwise might. Rear parking sensors are standard from mid-range trims upwards though, and front sensors can be added as options for those who want an extra level of reassurance. Despite appearances the Giulietta is not actually very wide, so slots into most spaces comfortably.
Spare wheel
Emergency tyre repair kit supplied as standard.
Range information
Petrol engine options: 1.4-litre turbo (138bhp, 168bhp); . Diesel engine options: 1.6-litre (105bhp); 2.0-litre (148bhp). Transmission options: six-speed manual gearbox, plus TCT twin-clutch automatic (1.4-litre 138bhp petrol). Trim levels: Turismo, Lusso, Veloce, Sportiva, Cloverleaf.
---
Alternative cars
Volkswagen Golf The long-time class leader is less stylish but more practical
Ford Focus Good looking with a wide range of engines and big dealership discounts
Mazda 3 All-new model is superb in almost every area, with low running costs
Peugeot 308 Underrated and attractive French option is solid and good to drive