Alfa Romeo Giulia Veloce
Fantastic styling and sharp handling
June 2017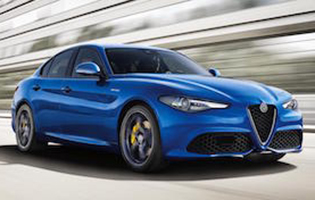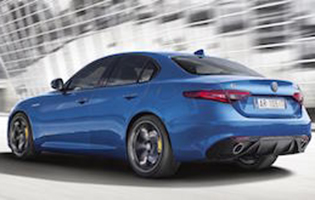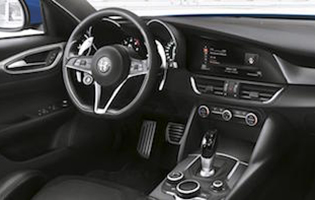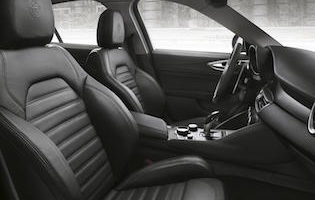 Overall rating

Likes:
Fantastic styling
Involving drive
Sharp handling
Characterful engine
Gripes:
Some interior plastics aren't up to scratch
Looks less imposing on smaller wheels
Infotainment system lacks precision of rival offerings
Reliability issues have begun to arise
The Alfa Romeo Giulia has been around a little while now, and it's gained almost unanimous praise the world over. The Italian manufacturer has now brought out the Veloce, which is designed to slot in between the standard car and the bonkers Quadrifoglio. It's still got all the gracious looks of the normal Giulia, but packs more power than the standard range.
There's no doubting that the Giulia is a pretty looking car. The Veloce model also benefits from beefed-up looks, with a large rear diffuser and a more aerodynamic front bumper giving it a distinct amount of on-road presence. It also gets gloss black window surrounds and 18-inch 'Turbine' alloy wheels. It's a dramatic looking car, and one which appears worlds away from more standard alternatives.
The inside of the Giulia is an equally nice area to look at. The large, thin-rimmed steering wheel feels just right, while the dials are clear and easy to read. Some of the plastics are a little harder, but for the most part it's a well-made place to be. Alfa has made the key areas spot-on, however. The driving position, for instance, is perfect, while the steering wheel-mounted gear paddles operate sweetly.
Underneath the Giulia Veloce's long, sweeping bonnet sits a turbocharged 2.0-litre four-cylinder engine. It produces 276bhp, and allows the Alfa to hit 60mph in around 5.5 seconds. It's more than brisk enough pace for a car in this class and its engine, despite its low capacity, has a decent amount of shove to it. The eight-speed dual-clutch automatic also shifts seamlessly, elevating the whole driving experience.
Of course, the Giulia has some pretty serious rivals to contend with. There's the all-conquering BMW 3 Series, as well as the Mercedes C Class and Audi A4. However, what the Italian can offer over its competitors is something different. There are very few cars on the road today with as much charisma as the Giulia, and this is backed up by a genuinely involving drive.
Our verdict on the Alfa Romeo Giulia Veloce
There's no doubting the difficulty that the Giulia has in drawing customers away from other, more established offerings. However, it really should be put into consideration when looking at purchasing a four-door saloon car. It's quick (in Veloce form), looks good and drives exceptionally well. In short, there are very few reasons why you shouldn't pick the Giulia over its rivals.
---
Costs
Alfa Romeo claims that you should be able to see 46.3mpg on a combined cycle, though in truth this is likely to be difficult to achieve. That said, even 5mpg under this claim is decent for a petrol-powered car in this class. Costs for replacements such as tyres and brakes will be higher, however, which is something worth considering if you're planning on using the Veloce for higher miles.
Space and practicality
The Giulia is able to offer 480 litres of boot space, and this matches that found in the BMW 3 Series and Mercedes C-Class. Though square in size, it does feature a relatively high boot lip which can make loading larger items a little trickier – though this is a feature of most saloon cars. There's a good amount of rear legroom too, with more than enough space for taller passengers.
Controls and display
As mentioned earlier, the Giulia's infotainment isn't the slickest, and could prove annoying when trying to input a destination in a hurry. However, the remaining controls work really rather well, with the dials for heating and ventilation operating with a good degree of precision. The controls for driving modes and audio volume as just as nice to use, too.
Comfort
Despite riding on relatively large alloy wheels, the Giulia's ride is just the right side of sporting. It's firm, make no mistake about that, but it rarely crashes through potholes or feels unsettled on bumpy roads. It feels well-tailored to UK roads, and makes it a comfortable place to be. That said, it manages to feel composed and well-sprung when you increase in speed, making it more involving on country roads than you'd expect.
Car security
The Giulia comes fitted with all of the standard safety features that you'd expect on a modern car. There's remote central locking, as well as an alarm and internal motion detector. You also get a bonnet and intrusion protection system, which adds another layer to the car's defences. Though its unique styling is likely to draw quite a lot of attention its way, there really shouldn't be any reason why you would worry about leaving the Giulia parked out on the street at night.
Car safety
The Giulia has a range of safety systems at its disposal. It comes with autonomous emergency braking as standard, as well as lane departure warning – some of the latest safety technology available. A tyre pressure monitoring system also comes fitted to the car, which should take away any fears of a slow puncture. You could add the additional lighting pack for £900, which adds brighter bi-xenon adaptive headlights for better night-time visibility.
Driver appeal
This is a key area that the Alfa trumps other cars in the segment. The inch-perfect driving position instantly shows you that the Giulia is a car that wants to be driven – and the large starter button on the steering wheel does well to cement this. Its steering is sharp and quick – blame its Ferrari influence for this – while the throttle response is surprisingly good for a low-capacity engine.
Family car appeal
With enough space for four and a decent-sized boot, the Giulia could prove to be a good trade-off between a family car and a long distance business vehicle. Fuel costs will be higher with the Veloce thanks to its petrol engine, but these really shouldn't be too bad. There are extra costs to consider, however, such as the price to replace the tyres and brakes – both of which will be more than in a more budget saloon.
First car appeal
As a powerful, relatively expensive saloon car, the Giulia Veloce probably won't suit first time drivers. In addition, though exciting to look at and drive, it may be just a little too 'grown up' for younger motorists. Insurance premiums will be high, as will the cost of replacing those large tyres.
Quality and image
Alfa Romeo has been plagued with quality issues throughout its existence. It's well-known that reliability has hampered many Alfa vehicles, but things appear to be improving with the Giulia. It's a very well put-together vehicle, with a good amount of premium materials used throughout. There are some harder plastics to be found inside – the switchgear is one such area – but for the most part it feels like a good place to be.
Accessibility
Thanks to doors which open widely and seats which aren't too heavily bolstered, getting in and out of the Giulia is relatively simple. It is quite a low car, which could put some people off, but in reality it's no trickier to enter than any of its rivals. The boot lid is also relatively light, which makes opening and closing it less of a chore.
Stereo and ICE (In car entertainment)
Unfortunately, the Alfa's infotainment is one of the areas in which it falls short. It simply isn't as good as rival systems, lacking the precision as well as the ease-of-use that you'd want in a modern saloon car. That said, it still incorporates satellite navigation and media functions, it's just not as smooth as you'd like. It's all controlled via a central rotary dial, which does make navigating menus slightly easier.
Colours and trim
There's a good amount of customsation to be found with the Giulia. You can choose from one of 12 different external colours, ranging from red metallic to an eye-catching blue. You've also got four different wheel designs to pick from, with the larger ones certainly giving the Giulia a more imposing look on the road. In truth, the Giulia looks good in almost all colours, and stands out at all times.
Parking
The Giulia is actually relatively compact in its dimensions, which makes parking it just a little bit easier. The Driver Assistance Pack Plus, available for a £950 premium, includes front and rear parking sensors and a rear view camera with grid lines, so this is a worthwhile addition if you want to make placing the car simple. However, it's really not such a difficult car to maneouver without these extras.
Spare wheel
Emergency tyre repair kit supplied as standard.
Range information
Petrol engine options: 2.0-litre turbocharged petrol. Transmission options: Eight-speed dual-clutch automatic. Trim levels: Veloce.
---
Alternative cars