Alfa Romeo 159 Sportwagon 1.9 JTDm 16v Lusso
Quality levels are high
July 2006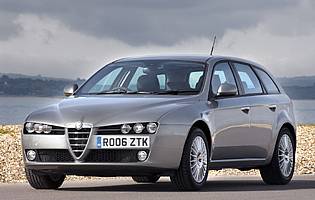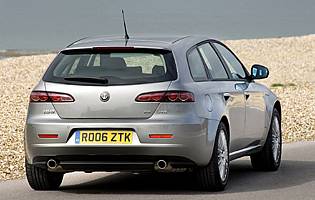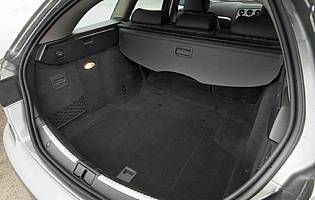 Overall rating

Likes:
Refinement on a par with the competition
Boasts incredible kerb appeal
Diesel engine performance, especially the 2.4 JTDm, is impressive
Perceived and actual quality levels are high
Gripes:
Question marks remain over the durability of some cabin materials
Rear leg room could be better in a car of this size
Still a lifestyle estate – total load space can't match certain rivals
Driver-centric fascia looks good but there's a lot of wasted space
All the basic Alfa cues are here; the shield grille, wide stance and fuss-free flanks. Only this time the estate version of the Italian firm's mid-size car is actually able to carry stuff. Often criticised for not being practical enough, Alfa's old 156 has given way to the noticeably bigger 159 Sportwagon.
The flamboyant Italian car maker has never struggled to turn out appealing looking cars. Some haven't always been met with universal appeal, but it's difficult to dismiss a firm willing to stay loyal to its design heritage.
Detractors argue that if Alfa Romeo put the same effort into mechanical integrity, the brand and its cars would be in an even healthier position. Granted, certain cars have suffered in the recent past with lacklustre reliability, but incremental progress has been made.
Nowhere is this more evident than in cars like the 159 and Brera. The former is pitched as a genuine alternative to the popular German compact executives, but one that's better equipped and cheaper. With tangible improvements in quality – the overall build and the cabin in particular – Alfa Romeo's claims are justified.
Adding to the mix is the Sportwagon, a much bigger and more practical car than the 156. And if you want to get ahead in the compact premium sector, Audi, Mercedes and BMW have proved that you must offer a lifestyle estate car.
Our verdict on the Alfa Romeo 159 Sportwagon 1.9 JTDm 16v Lusso
Taken as a whole, the 159 Sportwagon performs as you would expect. It might not be the largest estate in this sector, but its boot is wide and flat yet the car's profile has remained an attractive in the transition from saloon to load-lugger. It's available with the same impressive engines as the 159 saloon, which means great diesel performance and interesting petrol options for the enthusiastic driver. Best of all it meets the competition head on in all the key areas: price, equipment and refinement.
---
Costs
A key selling point of the 159 range is its lower asking price than many of its rivals. As such, a purchase should be considered as good value for money, especially as many creature comforts are standard fit. Running costs should be reasonable, especially if you opt for one of the diesel engines. Servicing should be routine – another potential cost. The cars from German makers will have the 159 beat in the residual stakes, though.
Space and practicality
For a large car, it's surprising that rear passengers have to contend with only modest amounts of legroom. Front seat occupants don't have such problems, which is something considering how compact the 156 was. Elsewhere in the cabin, storage options are reasonable and the rear seats fold flat. At the rear, the Sportwagon's load space is flat and, while not a class leader, is comparable to other 'lifestyle' premium estate cars.
Controls and display
The 159's instruments and controls are, on the whole, well laid out an intuitive. The audio unit and its steering wheel mounted controls are straightforward, while the main dials are clear and the trip computer comprehensive. The various column stalks could be more straightforward though, as some of the functions are a little fiddly to operate.
Comfort
Cabin space up front in the 159 is generous and adult occupants should find no cause for complaint. However, rear seat passengers will have to tolerate only modest amounts of legroom. By way of compensation, engine and road noise levels are impressively low, and the seats themselves are supportive.
Car security
As you would expect, the 159 is ably protected by a comprehensive alarm and immobiliser package, which includes remote central locking. At the rear, the load area is protected by a sturdy retractable cover. Given that the car does stand out a bit, a visual deterrent such as a steering lock would be a good, low cost addition to the car's anti-theft arsenal.
Car safety
Along with the usual twin front and side airbags, the 159 comes with a driver's knee airbag, which is still unusual in a non-luxury car. Elsewhere there's the usual combination of electronic traction and stability controls. All of which come in useful when pressing on in the powerful diesel and petrol variants.
Driver appeal
In a sign that the 159 has matured over its predecessor, the car boasts a slightly softer ride, improved refinement and lower noise levels. The car's longer wheelbase and wider track have improved stability over bumps and when driving at motorway speeds. While no match for BMW's driver-focused 3 Series, the 159 is an entertaining drive – in a measured, assured sort of way. Feedback from the steering isn't that great, but this is a car that's biased more towards Lexus levels of refinement. As such, it's a perfect companion for long distance journeys, especially when specified with the powerful 2.4-litre diesel motor. Enthusiasts will like the V6 petrol, four-wheel drive Q4 variant, although its speed is matched by a considerable thirst.
Family car appeal
While no people carrier, the 159 Sportwagon is versatile enough to double up as a family vehicle. Pushchairs and shopping will easily fit in the back, although access to the rear seats is modest – potentially making fitting a child seat something of a chore.
First car appeal
Anyone looking for their first Alfa Romeo is likely to choose the smaller, more affordable 147 hatchback. That said, if you need the extra space, the 159 is easy to drive – so long as the powerful petrol and diesel variants are avoided for obvious reasons.
Quality and image
Taken at face value, the 159 feels like a quality product. Levels of fit and finish are high both inside and out, proving that Alfa Romeo management has listened to criticism. For the car maker's long term survival, these achievements need to be communicated to prospective buyers as scepticism remains in some quarters. The long-term goal of improving the quality of service at dealer franchises also needs to be maintained.
Accessibility
Being a big car, front seat occupants should have no problem. The 159's doors open wide, and the seating position doesn't mean you have to slump down into the cabin. The car's rear doors are quite small in comparison, as is the door aperture, making access and egress at the back a little awkward. At least the boot is a good size, and the tailgate requires minimal effort to open and close.
Stereo and ICE (In car entertainment)
Located high up in the centre console, the car's audio unit sports large, intuitive controls. The basics are replicated on the steering wheel. Sound quality is very good, and upgrade paths include CD changers, colour screen satnav and telephone connectivity.
Colours and trim
It's not just red that makes the 159 Sportwagon look good, black and the ubiquitous silver are also sensible choices. Remember that metallic hues will do much to maintain good future resale values. Inside, there's a choice of a light or dark interior. The latter looks better but won't be as durable in the long term. If you funds allow, leather upholstery is a must – Alfa's efforts are impressive.
Parking
As with the saloon, the 159 Sportwagon is not a small car. That said, forward visibility is good despite the car's long bonnet. Rearward vision is decent considering the estate car's bulky window pillars. Factor in light steering and, where fitted, parking sensors and it's not too difficult to manoeuvre the 159 – the only limiting factor is the car's modest steering lock.
Spare wheel
Space saver fitted as standard.
Range information
Petrol engine options: 1.9-litre (160bhp); 2.2-litre (185bhp) petrol; 3.2 V6 (260bhp). Diesel engine options: 1.9-litre (150bhp); 2.4-litre (200bhp). All cars come with a six-speed manual gearbox as standard. Six-speed auto optional on diesel and V6 petrol variants. V6 petrol is four-wheel drive as standard. Trim levels: Turismo and Lusso.
---
Alternative cars
Audi A4 Avant Exceptionally well built, classy and popular. Now better to drive but cabin could be more spacious
Volkswagen Passat Estate Passat boasts premium feel despite volume car origins. Spacious but not that thrilling to drive
BMW 3 Series Touring Benchmark performer that's also practical and versatile. Looks can divide opinion
Honda Accord Tourer Sophisticated cabin ambience and build quality to rival Audi's A4. Rear styling is a little awkward