December 2004
Volvo XC90 D5 SE
Stylish XC90 doesn't look like your usual boxy off-roader
December 2004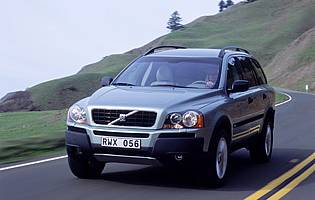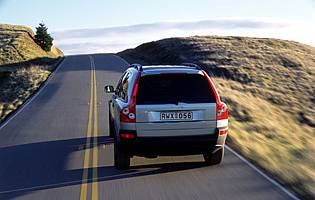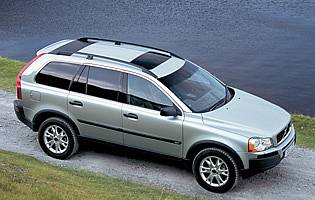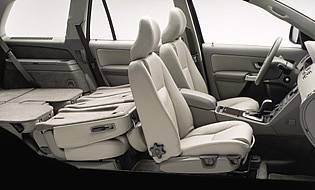 Overall rating

Likes:
Seven seats as standard
Outstanding safety package as standard
Looks appeal to male and female audience equally
Solid build quality makes it family-proof
Gripes:
Fairly pedestrian acceleration
Can be tricky to park in city
Limited off-road ability
Rearmost seats only suitable for kids
Volvo's XC90 isn't just a great vehicle - it's a surprising one. Usually it takes a couple of attempts for a company to come up with a convincing 4x4, but Volvo managed it first time around, creating a vehicle to immediately worry established players such as BMW and Mercedes-Benz.
Yet perhaps it shouldn't have come as a surprise. After all, Volvo's estate cars were always known for their solidity, safety and dependability, all of which are essential ingredients for any modern Sports Utility Vehicle (SUV). The XC90 adds desirability to the mix and has quickly become one of the best things to be seen in with trend setting urban types willing to put up with waiting lists in order to get behind the wheel.
For once it's hard to criticise such dedicated followers of fashion. The XC90 is an outstanding vehicle. Its modern design is easy on the eye, managing to seem strong without resorting to faux-macho body cladding and oversized bumpers. Not only is the interior spacious, it is brilliantly arranged, showcasing some superb examples of Swedish design that blend form and function seamlessly. And above all it is practical, making it arguably the most convincing family-oriented vehicle on the market today.
Yet despite its broad appeal, it's by no means suitable for everyone. Off-road ability is modest (though admittedly better than one might expect) and the XC90 is simply too heavy to provide much by way of driver involvement. Still, sitting up high and wafting along with a feeling that your family is safe behind you is worth ten times more than rapid acceleration up a mountainside.
The ownership experience should be painless, too. With demand remaining high, used examples retain their value well, and Volvos aren't renowned for presenting their owners with reliability problems.
Our verdict on the Volvo XC90 D5 SE
Unless you're a dyed in the wool opponent to urban SUVs, it's hard to argue against the Volvo XC90. Even opponents will have to admit that it is among the very best examples of vehicles in its class and has been instrumental in turning Volvo into an unexpectedly cool brand.
Costs
Fuel economy is poor, with real-world testing coming up with figures well under the official manufacturer figures. The diesel is more economical than the petrol units, but only just, meaning buyers should carefully consider their engine choice. Insurance ratings are good thanks to the safety and security features and residual values are expected to be outstanding. The XC90 undercuts most similarly sized premium SUVs but is itself considerably more expensive that non-premium brands and smaller SUVs that might suit buyers not in need of seven seats.
Space and practicality
Seven seats as standard immediately sets the XC90 up as a very practical car. When not in use, the rearmost seats fold flat to create a good-sized boot and with all rear seats folded, carrying capacity is impressive. For a family picnic or a day at the beach, the XC90 is the perfect vehicle. Storage areas are designed with a view to how useful and capacious they are rather than simply trying to cram as many into the cabin as possible. Top marks to Volvo for that.
Controls and display
Fans of Volvo's long-running fascia design treatment will be pleased to learn that it remains intact in the XC90, even if it has been subtly modernised in a few respects. The likeable Information Centre operated by means of a stalk gives all necessary information to the driver by means of that famous monochrome screen. Steering wheel and gear knob are leather trimmed and satisfying to hold.
Comfort
The driver's seat has a good range of adjustment, so tall and short drivers should find it quite easy to get comfortable. Numerous seating combinations are possible and the rearmost seats can be put up or down in a trice. There's no wind noise or vibration to get on the nerves and the sound of the engine only penetrates when it is being worked hard, though this occurs fairly frequently with the two less powerful engines.
Car security
All that safety equipment hasn't been provided by sacrificing security features. With alarm, immobiliser, movement sensor, deadlocking and a load area cover, this is a well-protected vehicle. Just as well, as this is probably one of the few SUVs thieves are likely to express an interest in owing to the constant high demand.
Car safety
Safety is synonymous with Volvo, but the XC90 takes standards of protection to a whole new level. Sophisticated airbags are secreted all around the vehicle, special electronic systems are charged with countering SUVs' natural inclination to roll and ABS with EBD is present and correct. There's even a sop to the anti-4x4 brigade - the XC90 is designed with a frontal structure designed to minimise impact damage in regular cars, not just other 4x4s.
Driver appeal
The elevated driving position gives a commanding view of the road ahead and other road users, but don't expect to burn them all off at the lights, particularly in the D5 diesel. Though not sluggish, progress could best be described as measured. There's less lean through corners than might be imagined, but some is still present. Anyway, Volvo buyers are supposed to be sensible types who disdain aggressive driving. The foot operated parking brake is a pain.
Family car appeal
Seven seats as standard immediately makes the XC90 a more exciting alternative for families that might otherwise gravitate towards a people carrier. Rear seats are small but children below secondary school age should be able to use them without trouble. In a masterpiece of design ingenuity, the central seat in the second rank can slide forward between the front seats to make a lone tot feel that Mummy and Daddy aren't ignoring him or her. Solid but rounded interior elements are family friendly, too.
First car appeal
SUVs do not make good first cars. Large, expensive SUVs in particular are best avoided by novice drivers, especially when it comes to navigating urban environments with all their associated hazards. Even if you could afford the insurance premium on what is an expensive motor, something smaller and less intimidating - to driver and fellow road users - would be a better choice.
Quality and image
Volvo has largely turned around its reputation as a builder of safe, boring cars for safe, boring people so that it is generally regarded these days as a builder of safe, interesting cars. It has always enjoyed cult status among a select section of the car-buying public, but in today's mass market, that's simply not sustainable. It will be interesting to see if the sales drive has any future impact on Volvo's core values, but so far standards seem as high as ever.
Accessibility
Ergonomics are usually a Volvo strength, but height and size inevitably impact on how easy it is to get into and out of the XC90. A definite step up is required. Passengers needing to access the rearmost two seats will need to be even more limber to climb aboard, a task that could well be beyond most adults of a certain age.
Stereo and ICE (In car entertainment)
The different grades each get a different stereo system. S models have a single slot CD radio with eight speakers, SE models gain a six-disc CD system and Executive models have the impressive Premium Audio System complete with digital surround sound, upgraded amplifier and 12 speakers. Volvo currently supplies some of the best stereos on the market as part of its push to attract a younger clientele.
Colours and trim
Selecting well-matched interior materials and upholstery has long been a Volvo strong point. The XC90 doesn't disappoint, with all grades exhibiting impeccable build quality. Some of the lighter leathers and fabrics help stop the cabin becoming too dark and also show off design elements more effectively than basic black. Only executive models have metallic paintwork as standard. Various accessory packs offer the best value for optional extras.
Parking
Subtle body styling can make you forget that this is a big, heavy vehicle and so parking would frequently be problematic was it not for the presence of rear parking sensors on all models. Even so, accurate placement does take a good deal of practice.
Spare wheel
Volvo's 'Tempa' space-saving steel wheel is provided - proof positive that this is not a vehicle intended for off-road use.
Range information
There are three engines and three levels of trim to choose from. Powerplants are: 2.4 D5 diesel (163bhp); 2.5T petrol (210bhp) and 2.9 T6 petrol (272bhp). Specification levels start with S, proceed to mid-range SE and are topped by Executive models. Transmission is a choice of six-speed manual or five-speed geartronic automatic gearboxes.
Alternative cars
BMW X5 More aggressive looks and alluring badge
Land Rover Discovery 3 Contemporary design and unbeatable off-road
Lexus RX300 Luxury and value for money combined
Mercedes-Benz M-Class Overpriced, dynamically inferior option