May 2014
Volvo V60 Polestar
Pretty V60 styling is made more striking, especially in Rebel Blue
May 2014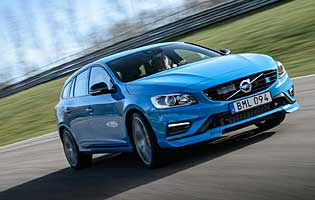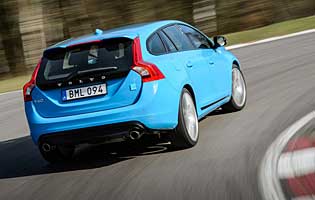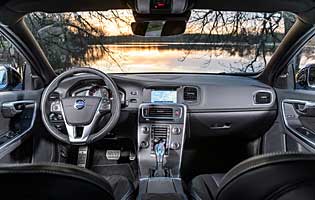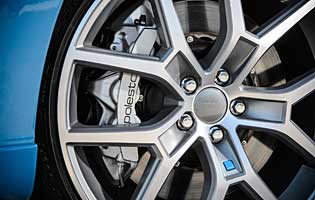 Overall rating

Likes:
Raucous engine provides thunderous performance
Unique Polestar styling gives this V60 a purposeful stance
Advanced suspension technology gives impressive body control
Rarity will guarantee future residual values
Gripes:
Very high price compared to the car on which it is based
Aggressive wheel design leaves spokes vulnerable to kerbing
Fuel economy likely to be very poor in real-world conditions
Luxurious interior materials not suitable for typical estate car duties
Volvo has made several fast estate cars over the last 20 years, and most have had some input from fellow Swedish company Polestar, which specialises in taking ordinary Volvos and turning them into something much less run-of-the-mill. This V60 has much greater Polestar influence than any of its predecessors, though, in key components from the engine to the suspension.
Volvo has, over the years, dabbled with turning its affiliation with Polestar into a more significant brand-boosting tool, but never seems to have worked out how best to do it. The V60 Polestar, along with its saloon-booted S60 Polestar brother that isn't coming to the UK, represents a significant turning point in Volvo's vision for its future self.
Dressed in an instantly recognisable paint finish and deeper, more aggressive bodywork, the V60 Polestar is certainly striking enough to compete at a glance with the performance-biased rivals from its German opposition. It is an interesting marketing exercise at a high purchase price that many would baulk at, but that a select few won't blink at.
Only a very limited number of V60 Polestars will make it to the UK, which enhances its desirability as a left-field sporting choice. It has talent to back up its looks, too, with a further partnership between Polestar and Swedish suspension experts Ohlins having yielded a complex new damper that helps control the V60's 1.8-tonne bulk.
Larger brakes, unique wheels and liberal Polestar branding details make this car feel special, and certainly more desirable than many contemporary Volvos. The influence of a small, cohesive team of engineers has created a similarly cohesive package that, in line with Swedish sensibilities, maintains the standard Volvo service intervals while also being incredibly rapid.
Our verdict on the Volvo V60 Polestar
The V60 Polestar is, from behind the wheel, a massive success. It drives superbly well despite its weight, and clever engineering has made the most of the V60's natural abilities to create a finished product with character, poise and style. The price will be a sticking point for some people, but those with the means and the desire for an atypical fast estate will love it.
Costs
This car is unashamedly expensive for a Volvo V60, but justifies it with a huge array of equipment, a unique character and ferocious performance capability. Compared to even more expensive competition it actually looks very good value, and will depreciate comparatively slowly. Raw running costs will be high, though, with the turbocharged six-cylinder engine's thirst for petrol the chief culprit. Insurance for such a rare car might be higher than normal, too.
Space and practicality
It loses none of its estate car practicality, but the V60 platform is not the biggest or most practical of load-carriers. There is a generous floor area and only the intrusion of the rear wheel arches spoils the capacity, but the overall space will not be as big as some buyers might hope. In the cabin there are plenty of cupholders, pockets and storage bins for daily oddments and larger gadgets.
Controls and display
In general the displays are in line with the rest of the range, but the colour screen recessed into the centre of the dashboard is standard. It's not the largest, clearest or easiest to use, but it's an essential piece of technology on a car of this price. The instrument cluster illuminates red when its most aggressive driving mode is engaged. The rest of the controls are logical and well spaced, although some people may find the dials all too far apart.
Comfort
While few cars that ride on 20-inch wheels could be called truly comfortable, Polestar's partnership with Ohlins for the supply of suspension components means that sharp bumps are much less of a problem than in many rival cars. The front seats are shapely, thick enough and grippy, helping occupants to maintain a comfortable position for longer. There is also ample legroom and shoulder space for four adults.
Car security
Volvo's cars are known to be quietly very secure, and there have been no known problems with the theft-prevention systems on board. An alarm and an engine immobiliser are standard-fit, but little is immediately obvious. There is no availability of dark-tinted glass but the door locks can be set to activate when a journey starts, to prevent car-jacking.
Car safety
Volvo takes safety at least as seriously as any other car maker anywhere, and in making a 341bhp special edition performance car the firm has ensured that every passive and active safety system available on the V60 platform has been included. Polestar has recalibrated many of the systems to better allow the car to make use of its vast reserves of grip and traction, which also help in emergency course corrections. Front, side and curtain airbags deploy in the event of a severe enough crash.
Driver appeal
To preserve the standard V60 service intervals the power is slightly restricted in first and second gears, surging to the wheels slightly more gently than expected. In third onwards the full fury is released and the Polestar proves itself a very fast and composed car with agility far beyond what its weight should allow. The engine note is glorious, too, with a throaty rumble on tap with a press of the accelerator.
Family car appeal
This limited-edition model is in most ways just as family-friendly as a lesser V60. The boot is large enough for an assortment of kiddie paraphernalia and the outer rear seats have Isofix standard child seat mounts. Rear-facing child seats can be mounted on the front passenger side, and the corresponding airbag can be switched off. What stands against the Polestar model is that its high-quality interior materials, especially the seat trim, could be vulnerable to spillages and scratches.
First car appeal
A young aspiring driver might grow up with a taste for the look and sound of the V60 Polestar. After all, it does have something of a poster car look and image about it, as well as being an appealing left-field flight of fancy. The price, limited availability and running costs, not to mention the improbability of being able to find insurance cover, mean that whatever hopes a young driver might have to own this car, they are likely to be dashed.
Quality and image
Volvo's brand image is still in flux, caught between Swedish eccentricity, safety-first detachment and curvaceous styling that often suggests greater performance than is actually on offer. The Polestar stands out against the rest of Volvo's range and is no worse for that, and as a standalone prospect it carries a certain mystique and an associated appeal that is backed up by material quality inside and out.
Accessibility
Volvo insisted that whatever Polestar did to the V60, they shouldn't compromise the everyday usability, and as such there are no greater impingements on the accessibility of the Polestar than there are on any other V60. The roof line over the rear seats will be a touch low for some taller people, but generally this car impresses with the ease of which passengers can get in and make themselves at home.
Stereo and ICE (In car entertainment)
This range-topping V60 is by default stacked with every factory-fitted option available for the model, so a premium sound system operated through a large colour screen in the centre console is standard. Wired and wireless connections are available, and hooking a device up proves easy whichever method of connection you choose. A wide spread of speakers can be found throughout the cabin to provide even sound distribution.
Colours and trim
The Polestar finds itself in an unusual niche, being a car that comes as standard in a lurid colour and whose more sedate, sensible colour options are mostly optional extras. It looks stunning in Rebel Blue and deserves to be left in the standard shade. The interior trim is Polestar-specific and feels just race-inspired enough to give it purpose and drama without becoming incongruous against the rest of the car.
Parking
In most immediately obvious way this is no different to park than any other V60, so visibility is good enough all around to be able to judge where the car's extremities are, and fairly modest dimensions mean that average parking spaces should swallow it without impinging too much on door-opening room. A reversing camera and parking sensors are there to help avoid any low-speed scrapes, too.
Spare wheel
Emergency tyre repair kit supplied as standard.
Range information
Petrol engine options - 2.0-litre (148bhp); 3.0-litre (345bhp). Diesel engine options - 1.6-litre (113bhp); 2.0-litre (134bhp, 178bhp, 211bhp). Transmission options: six-speed manual gearbox or automatic, depending on model. Trim levels: Business Edition, SE, SE Lux, R-Design, R-Design Lux, Nav, Polestar.
Alternative cars
Audi RS4 Avant Overly firm suspension mars the experience; bombshell engine is the highlight
Mercedes C 63 AMG estate Peerless aural delights and playfulness from a rear-wheel drive chassis
Vauxhall Insignia VXR Lower price, great looks and four-wheel drive make this a dark horse
Jaguar XFR-S Sportbrake Vastly more expensive but explosive performance and British charm