September 2004
Volvo S60 T5 SE
Volvo's S60 is a luxury saloon with a sporty edge
September 2004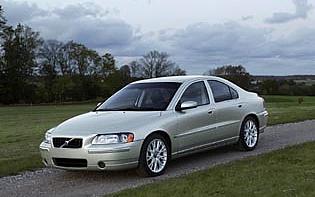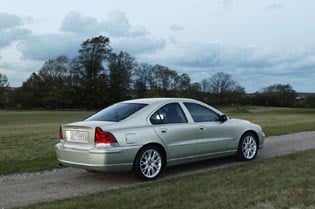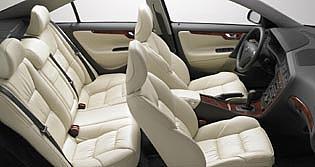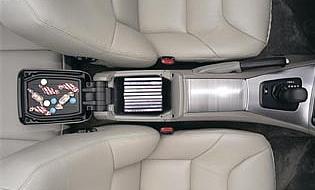 Overall rating

Likes:
Classy, modern look and feel belies comparatively modest price tag.
Lack of hard-nosed businessman image is refreshing in this segment.
Generous standard equipment list puts main rivals to shame.
Exceptional levels of safety and security make the S60 a safe bet.
Gripes:
T5's high level of fuel consumption makes visits to the pumps annoyingly frequent.
Lack of rear legroom severally hinders practicality of S60's interior space.
No rear window wiper makes reversing in rainy conditions trickier than needs be.
Central console control panel, while efficient, lacks imagination in its design.
The executive saloon market is one of the most fiercely competitive in Western Europe and any manufacturer caught napping will quickly be left behind. Swedish firm Volvo, doesn't seem to be having too much trouble keeping pace, though, as the S60 is right up there with the more traditional offerings from Germany.
Long gone are the days when Volvos were seen as boxy, frumpy estates driven by 'sensible' people. The firm's latest generation of cars are stylish, luxurious, well-made and exceptionally good value when compared to their rivals. But is this all enough to entice people away from the big German marques?
The only area in which Volvo lags behind the competition is the slick executive image stakes. For some people this will be an instant turn off. They want something that will get chins wagging down at the golf club and in the office car park. However, there are an ever-increasing number of buyers for whom this stayed, materialistic image is equally repugnant and for this type of person a Volvo is a good idea.
With the Ford-owned Scandinavian manufacturer you get most of the refinement, way more safety kit and none of the pretence. When someone sees a BMW they think one of two things: they either think, ""Wish I had one of them"" or ""Sad old yuppie."" With a Volvo, conversely, they think, ""There's a Volvo. I bet that's safe.""
Our verdict on the Volvo S60 T5 SE
The S60 is an attractive saloon with a purposeful stance, and it offers a refreshing alternative to the likes of BMW's 3 Series and the Audi A4.
Costs
In comparison to its main rivals, the S60 is a bit of a steal. Cheaper and better equipped than BMW, Mercedes and Audi offerings, the S60 may not have the same cool image as its German counterparts but in terms of value for money it is way out in front. Fuel economy and servicing is less affordable, however, particularly with the more performance-orientated T5 model. 20mpg around town is far from frugal. Residual values are proving to be strong, though, so when it comes to selling any losses should be kept to a minimum.
Space and practicality
Where the slightly smaller V50 and S40 models suffer a little from a lack of rear legroom, the S60 is fairly spacious throughout. The boot is more than big enough for a set of golf clubs or two and five adults will fit into its cabin comfortably. It also features on of the niftiest armrest stowage centres ever created; one minute it's a cup holder, the next it swallows your CDs and loose change. It is a fine example of an ingenuitive use of space.
Controls and display
Ease of use and functionality of design are Volvo mantras. Every dial, switch and control is well thought out and exactly where you'd expect to find it. Certain elements, such as the air condition and stereo console, are a little too functional perhaps, resembling they it do a calculator. That said, there is a well weighted and connected feel to everything in the Swedish car's cabin.
Comfort
All exterior aural intrusions are well suppressed inside the S60's cabin, with only a small amount of tyre noise making it through to the driver. Even the larger diesel units are almost silent when up to speed. The ride is somewhere between floaty and connected, but on long motorway cruises there are very few more relaxing cars about.
Car security
All models in the Volvo S60 range benefit form an anti-theft alarm with immobiliser and panic function, a key integrated remote central locking system and a visible Vehicle Identification Number (VIN) plate. While the S60 won't be on the top of anyone's 'to steal' list, these standard safety features will be more than enough to deter the casual thief. Locking wheel nuts (to protect those large alloy wheels) come as standard, too.
Car safety
There are more safety-related acronyms on a Volvo standard kit list than there are sausages in Germany. SIPS, ABS, DSTC, WHIPS, IC and now BLIS - it's like some form of code. Roughly translated these mean: Side Impact Protection System, Anti-lock Brakes, Dynamic Stability and Traction Control, Whiplash Protection System, Inflatable Curtain and Blind Spot Information System. In other words, you'll be well looked after in the event of an accident. BLIS, the only thing mentioned above that doesn't come as standard, is particularly interesting as it takes the form of two digital cameras mounted beneath the car's wing mirrors. When another vehicle enters your blind spot the BLIS system kicks into life with a little yellow light appearing on the inside of the door to alert you to the vehicle's presence.
Driver appeal
As with all Volvos, the T5 version is by far and away the hottest model on offer. Unlike many of the cars in the line-up, however, the S60 handles pretty well, too. The S60 features the widest platform in its class and therefore has plenty of grip. It isn't as much fun to drive as the rear-wheel drive BMW 3 Series, but then again it is substantially cheaper and better equipped.
Family car appeal
If you have a family and you wish to purchase a Volvo, then one of the estate models will probably be further up your list of options than a saloon. This is particularly true of the S60, which suffers a little from a lack of rear legroom. The boot is big enough for most of the family's possessions, but it can't compete with the cavernous void that is the boot of a V70.
First car appeal
The S60 is an executive cruiser - period. The chances of seeing a seventeen-year-old cruising around in one of these (unless it daddy's car) are scarce at best.
Quality and image
Volvo's drive to establish itself at the premium end of the market continues at full speed and with models like the S60 it's easy to see why. The badge may lack a little of the kudos generated by BMW's propeller or Audi's four rings, but if this high standard continues and if buyers continue to be offered such good value, then it is only a matter of time before the name of Sweden's finest is regularly uttered in the same breath as those of German competition.
Accessibility
Large door openings and generously proportioned seat bases make getting into the front or rear of the S60 dignified and easy. A rake/reach adjustable steering column means that most people will be able to find a comfortable driving position. A slightly lower roofline at the back will make things a little less comfortable for the over six-foot when gaining access, but once planted in the well cushioned rear seats there should be plenty of clearance.
Stereo and ICE (In car entertainment)
Volvo stereos are to in-car entertainment what Billy Connelly is to stand-up comedy - enjoyable. The standard unit is good and the Dolby Logic Surround Sound job available as an upgrade is the best around. Clear, refined and very loud, Volvo drivers are capable of giving boy racers a run for their money in a 'bass-off'. The optional satellite navigation system is also of a high quality and easy to use.
Colours and trim
Unusually for a Volvo, the S60 suits bolder shades on the outside. Ash Gold Pearl and Passion red are particularly striking. Alternatively you could go for something a little more understated like Black Stone. This may have its advantages, as people will constantly mistake you for the police. On the inside some nice Light Sand leather seats with aluminium trim detailing looks fresh and contemporary. If you particularly enjoy the feeling of claustrophobia then a black leather option with black mesh trim is available.
Parking
Steering can feel a little heavy at low speeds (most likely something to do with the car's massive alloy wheels), making manoeuvring a little tricky. The rear window is very high up and doesn't have a wiper blade, so reversing isn't all that easy at the best of times - let alone when it's raining. Parking sensors are available as a not too expensive cost option.
Spare wheel
Space saver fitted as standard under boot floor.
Range information
Six engine options - 2.0-litre T (180bhp) petrol; 2.5-litre T (210bhp) petrol; 2.4-litre T5 (260bhp) petrol; 2.4-litre D5 (163bhp) diesel and two versions of the 2.4-litre Bi-fuel unit (LPG and CNG). All models are available with either a five-speed manual or automatic transmission (T5 comes with a six-speed manual 'box). Trim designators are: S (base), Sport and SE (top of the range).
Alternative cars
BMW 3 Series The uber-exec mobile is still going strong after all these years.
Mercedes C-Class Still a classy choice, but pricey and not as well equipped.
Audi A4 Established as a quality product, the A4 has a strong following.
Alfa Romeo 156 Best looking option by far; has reputation for being least reliable, too.