August 2011
Volvo S40 1.6D DRIVe ES
Simple looks disguise a sophisticated interior
August 2011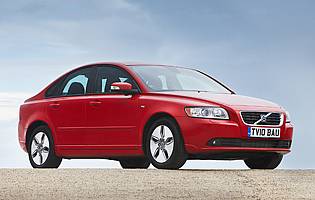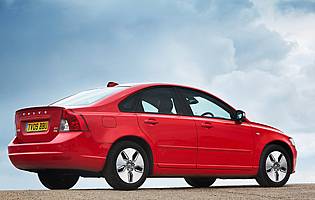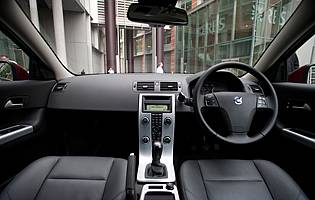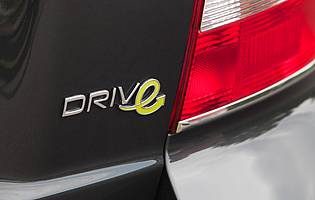 Overall rating

Likes:
Cabin refinement when on the move
Quirky ergonomics are surprisingly intuitive
Potential fuel economy gains and cost savings are significant
Diesel engine and stop-start function work well together
Gripes:
Compact saloon format won't appeal to everyone
Manual gearshift can be a little clunky if rushed
Modest amount of rear head and legroom
S40's modest load space makes V50 estate variant more attractive
Volvo's S40 sits in a position somewhere between the C and D segments in the saloon market. This gives it few direct rivals in the UK. Add into the mix Volvo's newfound status as a premium manufacturer of economy-minded cars and the S40's appeal is further enhanced.
Genuine compact saloons are a rare sight on UK roads. Despite this, the S40 remains one of Volvo's most popular products. The model is designed to appeal to rivers who seek the practicality and affordability of a compact C-segment family car, but the sophistication and high standards of quality of a premium D-segment saloon.
Adding to that air of sophistication are the R-Design trim levels, which attempt to enhance the sportiness and comfort levels with equipment and trim additions inside and out. In parallel, there's also the economy-minded DRIVe sub-brand which boasts sub 100g/km CO2 ratings for its smallest cars - C30, S40 and V50.
With a figure of 99g/km CO2, the S40 DRIVe variant joins a growing n umber of cars offering congestion charge and tax-dodging performance. The S40's 1.6-litre diesel engine has been the subject of an evolutionary refinement process that's seen its CO2 steadily drop in recent years.
This S40 is no stripped-out economy special, though. Refinement and performance levels are comparable to that of a regular variant, although you can spot the difference thanks to the car's engine stop-start function -a further aid to saving fuel.
Our verdict on the Volvo S40 1.6D DRIVe ES
Premium-feeling compact saloons are few and far between in the UK. With buyers more keen on selecting hatchbacks or larger four-door models, cars like Volvo's S40 have carved out a small but important niche. The Swedish firm has also sought to capitalise on the growing trend for reducing fuel consumption and emissions, and its S40 DRIVe model is an attractive proposition.
Costs
As you would expect, in DRIVe form the S40 promises an especially frugal and cost effective ownership experience. Its sub-100g/km CO2 performance will please company car drivers and London-based commuters, will stops to fill up will be few and far between in general anyway. Cars are modestly equipped as standard, which means there's always the temptation to spend more on options, though.
Space and practicality
Upfront it's an easy life for driver and passenger. Two adults can be accommodated in the rear but the tall might find the rear part of the cabin lacking in head and legroom. Storage facilities are plentiful and the deep boot can accept a sizeable load.
Controls and display
Sharing a cleverly designed and ergonomically pleasing interior layout with its C30 and V50 stable mates, the S40 might appear quirky but it does all make sense. Some of the buttons may be on the small side, but all are stylishly incorporated into an extremely simple to use floating stack centre console design. Only the optional sat-nav system requires a little more practice before you feel confident using it on a regular basis.
Comfort
With its supportive seats and light and airy cabin it's hard to fault the S40 in the comfort stakes. Low levels of exterior noise help matters, although if pushed hard the car's diesel engine can be quite vocal.
Car security
The S40 is one of a few cars in the affordable price bracket offering a 'keyless go' system which allows you to keep the key on your person at all times. Security settings such as headlight timers, window closing and auto door locking can be individually adjusted on the menu based onboard computer.
Car safety
It's little surprise that the S40 features a raft of safety equipment. A full quota of airbags, a whiplash protection system and an advanced traction control system are all present. The safety element is also obvious in the S40's bodyshell as the width of the doors and the way they close with a sold 'thunk' is reassuring.
Driver appeal
For many the S40's driving appeal lies in its ample refinement and ease of use. This is further boosted by the DRIVe model's smooth and responsive diesel engine performance and supple ride. It's no ball of fire, but in the context of saving fuel it's geared for economy and gentle cruising, making it ideal for motorway journeys and relaxed urban driving.
Family car appeal
Despite its modest dimensions the S40 makes a perfectly sensible family car, albeit one for a growing family. An impressive array of safety features means parents will have few qualms about carrying children. The four-door layout makes getting small children in and out of the rear simple, but it might be wise to check that a pram can fitted through the saloon boot before committing to a purchase.
First car appeal
If it's a small saloon you're after the S40 features many virtues suitable for the novice driver, among them strong safety criteria and a reasonably compact size. As a premium model it's unlikely to fall into the budget of the majority of first time car buyers, however.
Quality and image
The Volvo S40 is among the best in class in terms of fit and finish. The only downside is a boot lid that requires a hefty push to be sure it is shut properly. Volvo's traditionally have an image as cars for the senior driver, however the car's exterior and interior should appeal to style conscious younger drivers too.
Accessibility
Both front seats are height adjustable and can easily be set to a position for easy entrance and exit. The rear load space offers reasonable access and is both deep and wide. Front seat occupants won't have a problem getting in or out, although those in the back will have to deal with a reduced door aperture.
Stereo and ICE (In car entertainment)
The S40's single slot CD player and radio is stylishly integrated into the 'ski-slope' centre console, with the controls easy to navigate and partially duplicated on the steering wheel. Sound quality is good, helped by the lack of noise intrusion into the cabin. Sat-nav integration isn't standard.
Colours and trim
With its broad range of exterior colours - some of them typical Swedish and bold - it's hard to find an exterior hue that doesn't flatter the S40's simple design. It's a similar situation inside, with an adventurous cabin layout and equally bold choice of trim colours available.
Parking
Although it's true that saloons can be more difficult to position when parking than hatchbacks or estates, the regular S40 isn't that much of a challenge. The car's mirrors offer a good view making it reasonably easy to park. The rear sensors are accurate.
Spare wheel
Space saver spare fitted as standard.
Range information
Petrol engine options - 2.0-litre (145bhp); 2.5-litre (230bhp). Diesel engine options - 1.6-litre (115bhp); 2.0-litre (150bhp, 177bhp). Transmission options: five-speed manual gearbox, six-speed manual gearbox, five and six-speed Geartronic automatic gearbox with a switchable manual mode. Trim levels: ES, SE Edition, SE Lux Edition, R-Design Edition.
Alternative cars
Mazda3 Saloon model is similar in size but less refined
BMW 3 Series Larger and more expensive, but better to drive
Ford Focus Saloon version is mainstream alternative with near premium finish
Volkswagen Jetta Nimble and well-built small saloon