Volkswagen Golf 1.6 TDI SE Cabriolet
Roof design is practical and elegant
June 2011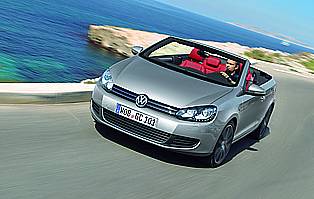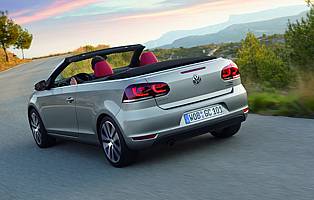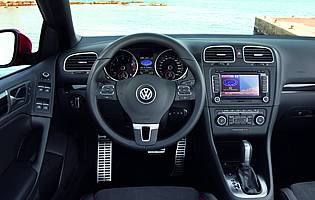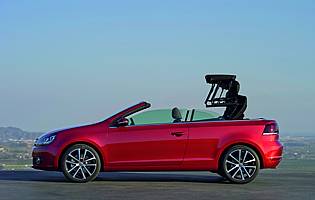 Overall rating

Likes:
Roof design is practical and elegant
Interior is well built and understated
Engine range offers wide choice to suit all budgets
Supple ride mirrors that of the Golf hatchback
Gripes:
Not a car for keen drivers
Engines offer modest levels of performance in the real world
Exterior styling is conservative
Don't expect acres of room in the back
As car makers focus more on fuel economy and emissions performance, removing unnecessary weight from a vehicle has become one of a number of priorities. In the world of convertibles the folding metal hard top has become a popular solution, but some are taking a fresh look at the traditional fabric alternative. Volkswagen is one such firm with its Golf Convertible.

It may appear odd for Volkswagen to offer an Eos (metal roof) alongside the Golf, but company executives are keen to offer a choice. Plus, the Eos is seen as a more premium offering than the Golf. That's not to say the latter should be viewed as a second choice - as an everyday model the Golf offers buyers a rounded experience, all the benefits of a regular Golf hatchback plus the bonus of open air motoring.

After a number of years away Volkswagen has returned to the Golf Convertible, offering a sixth generation shape with all the sophistication and refinement of the donor hatchback. For fans of the car this drop-top will look and feel familiar. It also adopts the corporate 'look' of the rest of the range inside and out.

Ease of use is a big plus with the Golf Convertible. Not only does it look much like its five-door cousin but it also drives like it. The penalty for removing the roof is a modest one in real terms, and the engine line-up is noticeably biased towards relaxed cruising. Even the flagship turbo petrol variant prefers not to be rushed into corners and boasts a supple ride that's more at home on a gently rolling A road than a twisty B road.

This laid back attitude is also reflected in the car's roof design and operation. Although the physical act is quick enough to be done on the move at urban speeds, there's no drama or fuss and you don't need to do anything more taxing than press a button. When lowered the roof fits neatly behind the cabin and doesn't impact on boot space.


Our verdict on the Volkswagen Golf 1.6 TDI SE Cabriolet
On paper the existence of two same-size convertibles in a line-up appears to be rather extravagant. In reality, with the Golf Convertible Volkswagen is making the open air motoring experience more accessible. Tapping into the Golf's popularity, the drop-top variant offers the same no nonsense approach to motoring plus the convenience of a low cost fabric roof. Factor in economical engines and it's easy to see the car's appeal.