March 2005
Volkswagen Golf Plus 2.0 TDI SE
It's a Golf - just a bit bigger
March 2005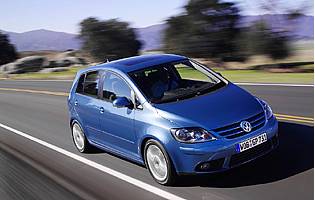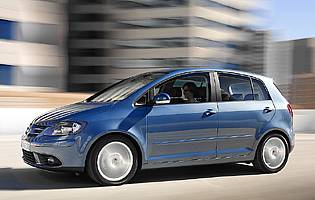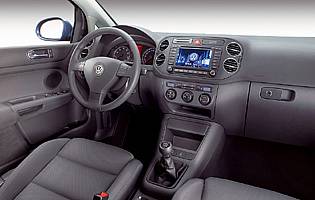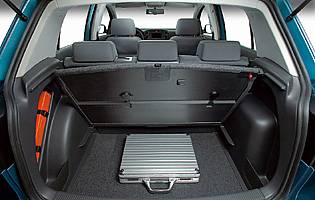 Overall rating

Likes:
Hides its extra size well
Three-pin plug socket a useful extra
Good standard of build and finish
The badge says it's a Golf, so it must be
Gripes:
Less involving drive than regular Golf
Only marginally more practical
Significant premium to pay
Likely to dilute the Golf brand's credibility
As the name suggests, the Volkswagen Golf Plus is essentially a regular Golf that's been made a wee bit bigger - but not by enough to qualify it as a compact people carrier. It gives a little extra space and sacrifices some of the driving edge. As yet there are few direct competitors, so Volkswagen can legitimately claim to have staked out a new niche for itself.
At a glance the Golf Plus could easily be mistaken for the regular Golf, though in fact almost all of the body panels are different. The chassis and wheelbase are identical. The changes come as increased height (by 95mm, though headroom is actually only increased by 20mm thanks to a raised seating position), more readily accessible doors and a loadspace that is larger and features plenty of clever catches and cubbies for personalization.
Volkswagen's rationale is that the Golf Plus is aimed at people who want something larger than a Golf but not an MPV or estate, both of which they would view as not trendy enough. But if you really need more space, a compact people carrier or small estate is likely to be far more practical.
It boils down to how important you believe image is and how desperate you are to have a Golf badge on your car. Significantly, the added word 'Plus' is not pinned to front or rear of the car, a tacit admission that ownership is not something to be particularly proud of.
For all the curiousness of its market positioning, the Golf Plus is not a bad car. It drives almost as well as the Golf, has one or two nice extras including LED brake lights and a three-pin plug socket and is built to Volkswagen's usual high standards. It's just hard to get too excited about the equivalent of an extra rucksack in the back and a thumb's width of extra headroom up front, particularly when mechanically similar offerings such as Seat's Altea/Toledo pairing can be bought for significantly less.
Our verdict on the Volkswagen Golf Plus 2.0 TDI SE
Die-hard Volkswagen fans may welcome the Golf Plus as a way of keeping the coveted VW Golf badge on the bonnet when the family is growing and more space is required for practical purposes. But anyone with a less slavish devotion to the brand will be aware that their money could go much further elsewhere.
Costs
Diesel models should be more attractive to buyers looking for maximum value, but given that choosing a Golf Plus is tantamount to an admission that value for money isn't particularly high on the list of priorities, the petrol models are equally worthy of consideration. Residual values are expected to be strong, but a great deal rests on whether or not the public djudges the Golf Plus to be on a par with the familiar Golf or instead rules that it is to be transitory variant like the Polo Coupe of yesteryear.
Space and practicality
According to VW, the Golf Plus has no fewer than 43 different storage areas. Needless to say, most of them are tiny and whether you can really call a nondescript hole in the dash that your packet of mints falls out of every time you brake a 'storage area' is open to question. More usefully, the rear seats slide back and forth to increase rear luggage space and provided you're willing to spend a few hours reading the owner's handbook, you can master a few of the numerous load area configurations featuring even more mysterious storage spaces.
Controls and display
Volkswagen is rightly renowned for the quality and precision of its interior treatments. Being identical to the standard Golf and equally familiar to owners of modern Seats and Audis, the layout and execution of controls, displays, buttons and switches is second to none.
Comfort
The greatest comfort enhancement is rear legroom increased by 85mm. That's a lot and it feels like even more, really spoiling rear passengers. There's a bit more headroom, too, but most of the space released by the exceptionally high roofline is eaten up by raised seating positions. Still, they help create a lighter, less claustrophobic cabin in both the front and rear. Softish suspension settings effectively neutralize what bumpy roads throw at it.
Car security
VW's security rating with insurers is commendable, thanks in no small part to the amount of protection provided with each new car. In the Golf Plus's case that runs to an integrated electronic anti-theft system with motion sensors and some of the most thief-resistant locks in the business. It's worth noting that an alarm is an optional extra.
Car safety
Whatever doubts one might have concerning the Golf Plus formula, it does exude a reassuring feeling of safety and solidity. It's no illusion - the car is (literally) weighed down with safety equipment including a proliferation of sophisticated airbags, an impressively rigid body structure, active headrests, Isofix moorings for two rear child seats and an all-important Electronic Stability Programme incorporating Brake Assist and ABS.
Driver appeal
The addition of around 100kg compared to the regular Golf has a clear impact on handling, which feels much less direct. Suspension has only received minor tweaks but is generally softer and more comfortable. The car is still fairly quick off the mark thanks to some muscular engines, but the higher centre of gravity makes it less comfortable in corners. It's not a driver's car - and isn't that supposed to be the point of a Golf?
Family car appeal
You would expect the Golf Plus to be family friendly, but it's not actually that suitable compared to a 'proper' family vehicle such as the Touran or Toyota's Corolla Verso. Of course it's a bit better than the standard five-door Golf but still there are only five seats and what kids need is elbowroom, not headroom and legroom. A couple with a two young kids might manage for two or three years. Longer than that, and the family will quickly outgrow the Golf Plus.
First car appeal
New drivers have traditionally lusted after Golfs, but they won't be lusting after the Golf Plus. It's simply not exciting enough. Even Volkswagen's own marketing people admit that buyers will not be newcomers to the Golf but existing or previous owners unwilling to face reality and buy something more practical.
Quality and image
This car is all about image, and is a conscious experiment on VW's part to stretch what we expect from a car wearing a 'Golf' badge. If the public accepts the Golf Plus as a 'proper' Golf then it's even likely that the five-door version of the next generation Golf hatchback will copy its formula. If it accounts for less than the 25-30 per cent of sales that are projected, it will be quietly shelved. But VW rarely miscalculates, so this could be the future of mid-sector hatchbacks.
Accessibility
One area in which the Golf Plus is clearly superior to the normal Golf is the ease with which front and rear passengers can get in and out of the cabin. Doors open very wide and because the seat arrangement has been tweaked with higher positioning and more upright seat backs, anyone with restricted movement will find the Golf Plus very friendly. In this respect it is just about the best currently on offer.
Stereo and ICE (In car entertainment)
The default CD radio is perfectly acceptable for most people, though various upgrade packages are available for audiophiles, topped off by the state of the art RCD 500 'Volkswagen Sound' system with 10 speakers, CD jukebox and an ear-splitting 250 watt output.
Colours and trim
Standard specification is respectable rather than generous. A glance down the equipment list won't throw up many surprises and buyers with a precise idea of what they want might find themselves paying a tidy extra sum for extras. The options list is extensive, with family-friendly features such as a DVD player with multiple screens and an integrated fridge prominent.
Parking
The Golf Plus's extra height is a distinct advantage when it comes to parking, giving the driver a much clearer view than in the standard Golf. Still, because of the rather small rear window and thick rear pillars, optional rear parking sensors are undoubtedly useful.
Spare wheel
A compressor and tyre mousse is supplied, as with the firm's Touran. A space saver wheel is optional.
Range information
Six engine choices are available: 1.4 (75bhp), 1.6 FSI (115bhp) and 2.0 FSI (150bhp) petrol units and 1.9 TDI (90bhp),1.9 TDI (105bhp) and 2.0 TDI (140bhp) diesels. Five speed manual transmission is standard, and 1.6 and 2.0 FSI models have optional of six-speed automatic transmission. Diesels can be specified with a DSG (Direct Shift Gearbox) clutchless sequential transmission. Mirroring the established Golf pattern, cars are badged S, SE, Sport and GT.
Alternative cars
Toyota Corolla Verso Seven seater is a triumph of ingenious design
Audi A3 Sportback Marginally larger boot than standard hatch
Peugeot 307 SW Vastly superior loadspace, some trim lacking quality
Seat Altea Same VW underpinnings, nice design and cheaper, too