April 2008
Volkswagen Golf BlueMotion 1.9 Match TDi
BlueMotion variant looks and drives like a standard Golf
April 2008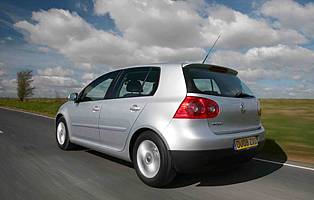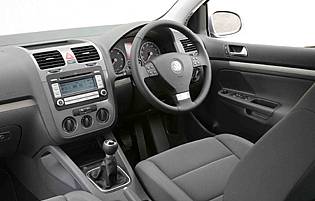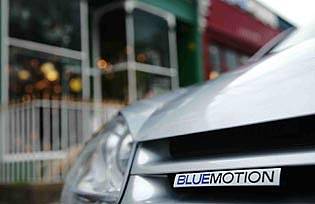 Overall rating

Likes:
Driver gets to do his or her green bit without compromising on creature comforts
Excellent economy and emissions performance
Looks and drives like a standard Golf
Generous equipment levels
Gripes:
Engine can be noisy at idle and when under hard acceleration
Harder compound tyres can make the ride feel a little stiff
Rear seats don't fold completely flat
Diesel engine lacks low-down torque
The BlueMotion badge represents the most efficient model in each of Volkswagen's passenger car range. Like each BlueMotion vehicle, the Golf has revised aerodynamics, optimized gear ratios, a new turbocharger and harder compound, lower rolling resistance tyres reducing to result in greater efficiency and lower emissions without compromising comfort or safety. The result is a vehicle that manages to deliver on performance and value for money.
The Golf is one of growing number in the VW range to be given the efficiency-orientated BlueMotion treatment. The good news is that the revisions have been added to the already well-equipped trims, so there's no feeling of scrimping or missing out on comfort.
The BlueMotion variants command a reasonable premium over the standard model, which is easily recovered through road tax savings and with reduced fuel consumption. It is also exempt from the London Congestion Charge, so a few trips to the capital will soon leave owners feeling their money has been well spent, particularly since road and fuel taxes are likely to continue to rise.
A gearshift indicator located at the bottom of the trip computer display advises the driver when to change gear for the best fuel economy. In comparison to other diesels the engine is noisy, particularly at idle and under full acceleration, but is a competent cruiser at motorway speeds and copes just as well when negotiating city traffic. Although in both environments the best option, as indicated by the gearshift indicator, can seem counter-instinctive and downshifts are often required since the engine sometimes seems to struggle in the higher recommended gear.
The Golf BlueMotion benefits from lowered sports suspension, designed to aid the aerodynamics, but it also keeps the Golf impressively level when cornering. With the high profile hard compound tyres, this equates to a firm ride, although not uncomfortable, while the steering remains relatively direct, partly compromised by the taller tyre walls, yet provides good levels of feedback to the driver.
Our verdict on the Volkswagen Golf BlueMotion 1.9 Match TDi
The family sized hatchback offers everything a cost conscious and environmentally friendly family could want. It delivers on fuel efficiency and cuts back on emissions without asking owners to make sacrifices with regards to luxuries, performance or handling. The noisy engine is its biggest weakness but that's a small price to pay considering what there is to gain.
Costs
The financial advantages of buying into the Golf BlueMotion soon outweigh the small premium price over standard models. Driving as instructed by the gearshift indicator, or even in a hurried style, will still give hundreds of miles on the same tank before having to stop for fuel. Running costs are low, residual values good, insurance costs average and there are significant savings to be had both now and regarding future motoring taxes.
Space and practicality
Despite its green credentials, the family sized hatch remains just that - family sized. There's plenty of room in the front, with front seat occupants benefiting from generous leg, head and shoulder room, while there's ample space in the rear for two adults or three children. The boot has reasonable capacity, but its usefulness is compromised as the 60/40 split rear seats don't fold completely flat.
Controls and display
The dashboard is extremely user-friendly. The various buttons are of a decent size, with other controls straightforward to understand and logically laid out. Most of the displays are clear and easy to read at a glance. The exception to this is the gearshift indicator situated at the bottom of the trip computer screen and so small in comparison to the rest of the information displayed that the driver has to look hard to read it.
Comfort
The height and reach adjustable steering column and height adjustable driver's seat allows for a comfortable driving position no matter the shape or size of the driver. The seats are well cushioned and supportive, and the high level of equipment inside the cabin should meet, if not surpass, most passengers' requirements and expectations of comfort.
Car security
Remote control central locking and an electronic engine immobilizer help to protect against theft. Anti-theft wheel bolts are also standard to help guard against theft of the BlueMotion Match's alloy wheels. The automatic coming and leaving home lighting functions are a reassuring touch also.
Car safety
All Golfs boast a comprehensive list of standard safety equipment, including six airbags, ESP, anti-lock brakes with hydraulic brake assist and ASR traction control. Active front head restraints help to minimise whiplash in the event of a rear-end shunt and the hazard lights are automatically activated under emergency braking.
Driver appeal
The Golf BlueMotion scores highly offering plenty of driving appeal for cost and planet conscious motorists. The car drives sharply, is stable at speed and controlled when cornering. The ride is a little firm over urban potholes but not uncomfortable plus there's good traction and grip available. Delivering a solid and comfortable ride, with a frugal engine, it's hard to find something that's not to like.
Family car appeal
Families in the market for a hatchback that's economical to own and run should consider the Golf BlueMotion. There are few other cars that can deliver the same well-rounded package and, although the VW badge carries a premium, owners are prepared to pay a little extra for the peace of mind in terms of reliability and quality that comes with it.
First car appeal
Most new drivers who wish to buy into the Volkswagen range opt for smaller models like the Fox or Polo which offer decent running costs and low insurance prices. However, if the budget allows, there's no reason not to opt for the Golf, which is solid and stable yet versatile enough to meet an owner's needs and finances over the coming years.
Quality and image
Build quality is excellent, although some of the materials in the Golf's cabin are a little hard to the touch. The cabin feels solid and all the various controls work with a well-engineered precision. Past customer satisfaction surveys reveal that owners are happy with few faults reported. The Golf has always boasted an image of being young and sporty with excellent driving characteristics, and with the BlueMotion badge, it's now environmentally friendly too.
Accessibility
Sitting lower than the standard Golf, the BlueMotion variant allows for even easier access into the cabin. The doors open wide both at the front and rear, while the 'suitcase' door handles are convenient to use. The tailgate opens into a decent sized aperture, although bending over to access the depth of the boot, to load or empty the compartment, may cause slight discomfort for those with back problems.
Stereo and ICE (In car entertainment)
The Golf comes with a radio/MP3 compatible CD player with four speakers and sound quality is good. An armrest-mounted iPod preparation system is also available, and if selected is easily controlled via the car's multifunction steering wheel. A DVD-based touch screen, Europe-wide satellite navigation/radio system with a clear screen is optional and also works well.
Colours and trim
There's a good range of exterior colours to choose from but most are shades of grey, silver or blue with no option of bright or vivid hues. That said, the Golf's subtle but attractive styling looks good in each shade. Two trim levels are available, with a choice of cloth or leather upholstery. Match trim offers the best value for money.
Parking
Parking sensors, plus a dipping passenger mirror are optional on all models but, given the Golf's easy to drive nature, there is little real need to use parking sensors other than for driver confidence. The car's pillars allow for good visibility all round, and the electric power steering is light with plenty of feel at low speeds.
Spare wheel
Space saver fitted as standard.
Range information
Petrol engine options - 1.4-litre (79bhp); 1.4-litre (138bhp); 1.4-litre (168bhp); 1.6-litre (113bhp); 1.4-litre (120bhp); 2.0-litre (198bhp); 2.0-litre (228bhp); 3.2-litre (247bhp). Diesel engine options - 2.0-litre (75bhp); 2.0-litre (138bhp); 2.0-litre (168bhp); 1.9-litre (105bhp). Transmission options: five-speed manual gearbox, six-speed manual, six-speed automatic, seven-speed auto DSG, six-speed auto DSG. Trim levels: S, Match, GT Sport, GTI, GTI Edition 30, R32, BlueMotion.
Alternative cars
Toyota Prius Lower overall emissions but more expensive
Honda Civic Plenty of road presence and performance with, in diesel form, good fuel economy
Vauxhall Astra In ecoFLEX guise the Astra is efficient, economical and good to drive
Ford Focus  Excellent dynamics, comfortable and safe - especially in 'green' ECOnetic