Volkswagen Arteon R-Line
Classy looks, great build quality and strong engines
June 2017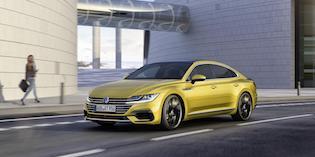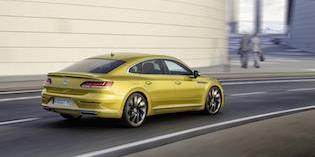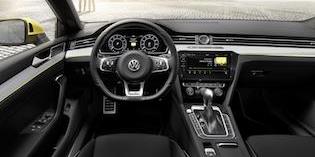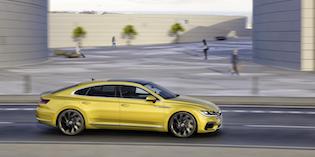 Overall rating

Likes:
Classy looks
Strong engines
High levels of interior build quality
Decent amount of standard equipment
Gripes:
Lacks interior flair
Just two engine choices may not be enough for some
High price for a Volkswagen product
Lacks badge appeal of rivals
The Arteon is Volkswagen's latest premium saloon car designed to come in above its ever-popular Passat. With enough room for five to travel in comfort, it's ideal for those who like to travel long distances without the car causing them the merest hint of fatigue. Set to arrive in dealerships this September, it'll likely be a good choice for those who want to stand out from the crowd.
There's no questioning the Arteon's looks. It's an elegantly styled car, and one that looks especially good in the metal. With a chrome grille and sleek lines – as well as large 20-inch alloy wheels – it looks distinctly premium and a world away from the standard Passat that it sits above. It's certainly a welcome change from the current styling on rivals from Mercedes and Audi.
Inside, there's perhaps not as much flair as you'd expect from a car in this class. That's not to say it isn't put together well – it exudes all of the build quality that you'd usually find in a Volkswagen-group car – it just doesn't have as much excitement to it as you'd want from a vehicle in this segment. That said, everything works impressively well, particularly Volkswagen's latest infotainment system.
From launch there will be just two engines available – a 2.0-litre diesel pushing out 237bhp and a 2.0-litre petrol with 276bhp. Volkswagen predict that the petrol will be the most popular, though the likelihood is that the oil-burner will be favoured by those looking to travel longer miles. Both are driven through a seven-speed dual-clutch automatic, and there's no manual option for now.
Not only are there just two engines to choose from, but just two specifications as well. These come as either Elegance or R-Line, with the latter bringing with it a lower ride height and more dynamic looks. Both feature an impressive amount of standard equipment, as well as a range of colours and wheel designs to choose from. There's more than enough equipment on board to keep avid button-pressers happy.
Our verdict on the Volkswagen Arteon R-Line
The Arteon is a fine choice for those who want the build quality of a Volkswagen, but with a little more of that 'premium' feel found in rival cars. It still can't quite match the likes of BMW or Audi, but it certainly feels worlds away from just a Passat with a few additions. The exterior is classy enough, but it's let down by an interior that, despite feeling well put together, simply lacks the flair that you'd want in a car of this price.
---
Costs
Those wanting to keep everyday fuel costs down will no doubt pick the diesel version, which will return better economy figures, particularly on longer journeys. Of course, consumables such as brake pads and replacement tyres are likely to cost a little more, but because the Arteon is a Volkswagen-group car, they're unlikely to be as dear as those on more premium cars.
Space and practicality
The Volkswagen Arteon scores remarkably well in terms of practicality. Its boot offers 563 litres of load space, trumping both the BMW 4 Series Gran Coupe and Audi A5 Sportback's 480 litres. It's square in size too, making it ideal for larger items such as suitcases, and can be extended by folding down the rear seats. As mentioned previously, there's plenty of room in the back of the Arteon, making it a relaxing place to sit.
Controls and display
This is where the Arteon excels. The interior of the car is pretty much the same as the one you'd find in the Passat, but this is no bad thing. The Active Info display makes reading driving information simple, and this can be aided even further by the optional head-up display. All of the controls operate with plenty of robustness, and the large multifunction steering wheel allows you to instantly change certain options without having to take your hands away from the wheel.
Comfort
Thanks to that aforementioned ride quality, the Arteon feels comfortable at all times. The seats offer plenty of support and are neither too firm nor too soft, while the level of legroom for both those in the front and the back means there's plenty of space to stretch out. It's the perfect long-distance tourer, and will be ideal for those who are looking to take four people over great distances in a good degree of comfort. Head room in the rear is excellent, too.
Car security
Despite being a 'premium' car, the Arteon really shouldn't attract too much attention to itself. It comes fitted with a range of alarms, as well as an interior motion sensor and remote central locking. In all, it's just as secure as you'd want.
Car safety
The Arteon hasn't been crash tested as yet. However, the VW Passat that it is based upon scored a full five stars in the Euro NCAP tests in 2014. It did well throughout the various tests, scoring 85 per cent for adult occupant safety and 87 per cent for child occupant safety. It scored less well for pedestrian protection, however, returning a score of just 66 per cent. It comes fitted with an array of airbags, while four wheel-drive gives better traction in difficult conditions.
Driver appeal
Whereas a BMW or Audi promises a slightly involving drive, Volkswagen is keen to make it known that the Arteon is for wafting great distances in comfort. Thankfully, it is rather excellent at this. You'd expect the large, 20-inch alloy wheels to give the Arteon a intrusively firm ride, but the reality is that it deals with lumps and bumps in the road impressively well. It's certainly no 'driver's car', but it's one that even keen motorists will be happy to get behind the wheel of.
Family car appeal
There's no reason why the Arteon couldn't be used for family duties. It has a decent enough boot, is efficient enough to keep costs down and its interior is robust enough to withstand daily use. It's more expensive than the Passat upon which it is based (and it has a smaller boot too), but its dynamic styling would make it stand out on the school run. Children will no doubt enjoy the Arteon's variety of buttons and screens, too.
First car appeal
With just two engines to choose from, and both of them coming with high power outputs, the Arteon really isn't best suited to first-time drivers. Add that to its large overall size and relatively high cost, and you have a car that won't appeal to those who are just learning the ways of the road.
Quality and image
The Arteon is an unmistakably premium car. The exterior of it has just enough of a design flair to it to make it recognisable, but not so much that it becomes ostentatious. Yes, it can't match the likes of the Audi or BMW for overall badge appeal, but it certainly does well. Volkswagen's image has taken somewhat of a knock in recent months, owing mainly to the 'dieselgate' scandal. However, if you take the Arteon in isolation, it's deserving of plenty of respect.
Accessibility
Though that extended wheelbase does make parking a little trickier, a by-product of it is easy cabin accessibility. The wide open doors make getting in and out hassle-free, while the relatively flat seat squabs mean that you don't have to clamber into the cabin. There's also an optional easy-open function for the boot. What does this mean? Well, you simply have to flick your foot under the rear of the car and it'll electronically raise the boot. Simple.
Stereo and ICE (In car entertainment)
The Arteon comes fully laden with tech as standard. It has Volkswagen's latest Active Info display, which relays information such as the rev counter, speedometer and mileage indicator back to the driver via a TFT screen housed in the instrument binnacle behind the steering wheel. A head-up display can also be fitted, though as an optional extra. This is especially handy for those travelling motorway miles, as it means you barely need to look down to check details such as speed or navigation.
Colours and trim
Aimed at premium buyers, the Arteon comes with a good degree of customisation options. However, there are just two trim levels to choose from – Elegance and R-Line – though both offer plenty of equipment. There are six-way seats trimmed in nappa leather as standard, meaning that the cabin looks good even before ticking any boxes.  The interior of the car also gets some neat chrome trim which helps lift the overall look of it.
Parking
There's no getting away from the fact that the Arteon is a large car – it's actually longer and wider than the Passat upon which it is based. That means that parking the Arteon takes a little more thought than it would in a conventional saloon. Even so, thanks to a variety of parking sensors both front and back, as well as a reversing camera, it's not too tricky to place the car just where you'd like it. You can even option Parking Assist, which takes care of the steering inputs, leaving you to control just the throttle and brake.
Spare wheel
Emergency tyre repair kit supplied as standard.
Range information
Petrol engine options: 2.0-litre turbocharged petrol. Diesel engine options: 2.0-litre twin-turbocharged diesel. Transmission options: Seven-speed dual-clutch automatic. Trim levels: Elegance, R-Line.
---
Alternative cars