January 2016
Suzuki SX4 S-Cross 1.6 DDiS Allgrip TCSS
Black detailing looks good against bolder colour options
January 2016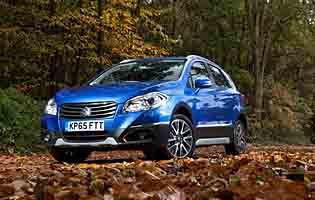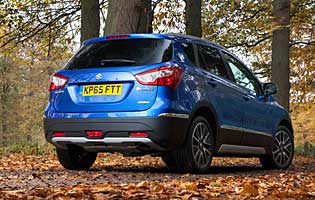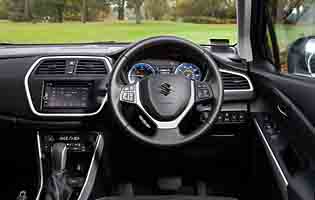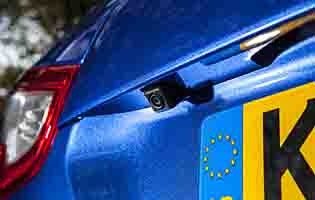 Overall rating

Likes:
Well-equipped cabin offers excellent value for money
Smooth gearbox complements the low-speed comfort
Accurate steering and stable chassis provide cornering fun
Extremely well priced versus its closest rivals
Gripes:
Some interior plastics are below the standard of more expensive cars
Higher depreciation than some rivals
Diesel engine is noisier than most comparable units
Lower motorway fuel economy than the manual
Suzuki has developed a dual-clutch automatic gearbox for customers in the growing small SUV market. It's a familiar technology among other brands but this is the first application this new unit has seen in a Suzuki car. It is, for the time being, only offered on the top trim level and only with the torque-rich diesel engine.
Suzuki has, until now, lacked a diesel automatic powertrain. This layout is ideal for many SUV and crossover buyers, though, who value relaxation, refinement and comfort above manual gear-shifting and cost. The dual-clutch gearbox system provides all the benefits of an automatic transmission without the full weight penalty of a traditional automatic.
The model is billed as a slight offshoot from the main range, purely because of its novelty within Suzuki's ranks. There is no actual trim or equipment difference between the TCSS model and the manual SZ5. That is no bad thing, as the S-Cross SZ5 puts many more expensive cars to shame with its wealth of equipment and gadgets.
This gearbox uses slightly different gear ratios to those of the manual. Shorter gears mean that, when left to its own devices and driven gently, the automatic S-Cross will shift up sooner around town. Ultimately it's better suited to urban, suburban and country roads, because on motorways it holds higher revs than the manual for any given speed, at the cost of fuel economy.
In terms of size it competes with neither supermini-based crossovers like the Renault Captur nor the larger options like the Nissan Qashqai. It does, however, use its height to its advantage to maximise interior space without sacrificing the load bay. The leather upholstery isn't the softest but it appears hard-wearing and practical.
Our verdict on the Suzuki SX4 S-Cross 1.6 DDiS Allgrip TCSS
The S-Cross is a very likeable car throughout, from its impressive complement of standard equipment to its comfort and style. The automatic gearbox option may be an expensive one, but it suits the car very well. It still drives with accuracy and a measure of poise not found in many high-riding cars, but the level of low-speed comfort and relaxation has gone up a notch.
Costs
Fuel economy returns will depend heavily on driving style, but very impressive results that even beat the official figures are possible with the right amount of care and forward planning. To buy a similarly-specified SUV from most other companies would cost a lot more, so purchase price is on the S-Cross's side when looking at the wider range, but the TCSS-equipped car is not the best value option.
Space and practicality
The S-Cross is the larger and more practical of the two compact SUVs Suzuki makes, with a slightly bigger boot than the Vitara. The cabin should easily accommodate a small family, and there are enough oddment storage areas to keep loose change, mobile phones and drinks cans. At the rear, the back seats boast a 60/40 split and fold to liberate extra boot space.
Controls and display
The main dials are ringed with blue in a welcome injection of character, but otherwise they are dark grey with white markings; an easy combination to read at a glance. The centre console changes between 2015 and 2016 models, but both are clear and easy to use, although visible fingerprints are a minor issue. A convenient rotary control between the front seats allows the four-wheel drive system to be set to Auto, Snow or Sport.
Comfort
Firm seats are designed to last the test of time, but they are comfortable with it. The fronts in particular have well-shaped backrests. The back seats are more basic but not atypical for the class. There's a lot of legroom for rear passengers. Everyone can enjoy lots of headroom, too.
Car security
Among S-Cross models the SZ5 does stand out a little with its extra styling accessories, so it's good to see the S-Cross fitted with remote central locking and an immobiliser as standard. While highly visible, the car's audio unit is a unique fit and a theft deterrent in its own right. Owners might want to add an even more visible warning, such as a steering lock, for good measure.
Car safety
Strong brakes and grippy tyres help to impart a feeling of confidence and stability when it's needed most. All cars boast a good level of safety features, such as stability control, child seat anchor points and airbags. Don't forget the four-wheel drive system which, when left in auto mode, could prove invaluable on slippery or wet roads.
Driver appeal
The addition of the automatic gearbox brings extra calm to the cabin around town, which on its own will be enough to persuade some buyers. The diesel engine is noisy but strong when combined with semi-manual mode, where the driver can - to a point - force the transmission not to shift down and over-rev; an annoyance when left to its own devices. Manually keeping the gears higher and using the mid-range torque is the most rewarding tactic.
Family car appeal
This isn't the cheapest way to access the model's clear family-friendly attributes, but it's nonetheless very capable. For its size, the car offers a spacious and practical cabin, enough room for children in the back and an accommodating rear load space. It should also be economical to run - especially in diesel-powered trim where fuel economy can be very impressive at a gentle cruise. That's good news for budgets.
First car appeal
With SZ5 specification and TCSS, the S-Cross is not a cheap car and most first-time buyers will opt for something less expensive. If financial hurdles can be overcome the car would actually make a very good car to live and grow with, being easy to drive, not too fast and with helpful parking aids. A parent passing their test in their 20s or 30s would do well to look at the S-Cross range.
Quality and image
The S-Cross may not be the default go-to option among crossovers, but it is winning a lot of fans among those who go and drive it. Its image is strong among those who know, but still weak among those who don't want to know. Materials quality is fine, with good-looking materials and no fancy structures in the cabin, allowing everything to feel straightforward and sturdy.
Accessibility
Sized as it is between the two main groups of SUV-type vehicles, the Suzuki finds itself at an ideal height for access. The front seat base side bolsters could be too large in some people's opinions, but the high roof line and large doors give first-rate access. The boot lid is light and easy to operate with one hand.
Stereo and ICE (In car entertainment)
The initial production run of S-Cross models with TCSS are 2015 models, but for 2016 the excellent but not exceptionally neat aftermarket unit slotted into the dashboard will be replaced with the sleek black unit from the Vitara. The down-side is that this removes the CD player, so drivers are left with Bluetooth, USB and AUX inputs, as well as FM, AM and DAB radio bands.
Colours and trim
There are two stand-out colours for the S-Cross, but they are both cost-options. Crystal Lime and Boost Blue are bold metallics that really make the most of the styling, whereas white and silver do no favours. The interior trim is dark with silver highlights. It's easy on the eye even if it can't match the outright quality of more expensive crossovers.
Parking
Reverse gear is easy to select via the TCSS gearbox and the car is even easier than the manual to manoeuvre at low speed. The S-Cross is not especially wide and the raised driving position means that slotting it into parking spaces is very easy. This is helped by the suite of driver aids, spanning parking sensors at both ends of the car and also a reversing camera at the rear. It's offset but still highly useful.
Spare wheel
Emergency tyre repair kit supplied as standard.
Range information
Petrol engine options - 1.6-litre (118bhp). Diesel engine options - 1.6-litre (118bhp). Transmission options: five and six-speed manual gearbox depending on model, plus TCSS auto gearbox (diesel only). Trim levels: SZ3, SZ-T, SZ5.
Alternative cars
Renault Captur Smaller choice sacrifices passenger space for a big boot
Nissan Qashqai More outright space but uninspiring and expensive
SsangYong Tivoli Extremely good value with a long warranty, but less spacious
Vauxhall Mokka Looks big and chunky but offers less space inside