February 2007
Suzuki Grand Vitara 2.0-litre VVT Five-door
The clamshell-style bonnet of the Grand Vitara sits above a pronounced mesh grille with a large Suzuki 'S' logo
February 2007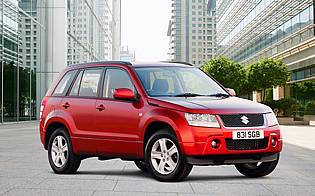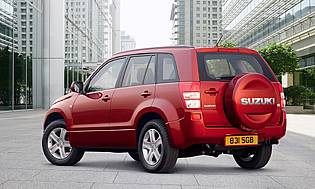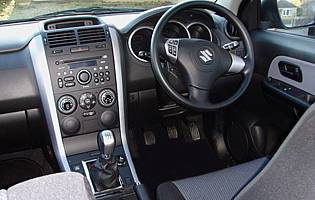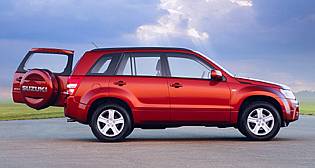 Overall rating

Likes:
Accurate steering has feel
Vitara remains composed through corners
Lots of useful cubbies including cupholders in the rear
Great access to boot due to sideways opening mechanism
Gripes:
Petrol engine option is weak
Stiff overall ride
Poor rear visibility
Engine and wind noise can be a problem at speed
In 1998, the original Suzuki Vitara was one of the first models to take hold in the SUV segment. The SUV class is now full of competitors, and the third generation Vitara - the new Grand Vitara - is available in both three and five-door form, each with its own unique features and each projecting a slightly different personality.
With this Grand Vitara, Suzuki sets out to achieve an innovative design free of frills and with a dynamic, universal appeal, characterised by clean lines and complementary proportions. Both three and five-door models are longer and wider than their predecessors, but reduced in height. Together with increased wheelbases and wider tracks front and rear, the Grand Vitara both looks more firmly planted and delivers improved stability during everyday driving.
In profile the styling of both models draws the eye along a line that runs from the top of the headlamp through the lower edges of the bonnet, continuing along the lower edge of the glass area and finally to the top edge of the tail-lights. The pronounced mesh grille with large Suzuki 'S' logo is complemented by a similar mesh grille in the front spoiler. Muscular wheelarches are linked by raised lower door edges that extend downwards to cover the body sills.
A shorter front overhang on both body styles also means that the wheels are effectively 'pushed' closer to the corners. This benefits interior packaging, with more of the vehicle's overall length devoted to the cabin to deliver greater space and legroom.
The three-door model is essentially a 'soft-roader', possessing the on-road stability that a four-wheel drive system confers, plus the ability to cope with muddy fields and gravel tracks. The five-door models offer an array of four-wheel drive features enabling users to tackle tough off-road conditions, with four modes that can be selected via a rotary switch on the fascia.
Our verdict on the Suzuki Grand Vitara 2.0-litre VVT Five-door
While the five-door Grand Vitara improves on its predecessor in all areas, it is important to remember competition in the SUV segment is steep. The overall package is both stylish and good value for money. However, some of its rivals boast higher equipment specifications, better ride quality and more powerful performance than that offered by the Vitara's 2.0-litre petrol engine.
Costs
The initial purchase price is competitive and running costs for the 2.0-litre VVT five-door model should be acceptable, thanks in part to Suzuki's reputation for producing reliable vehicles and therefore keeping repair costs to a minimum. The 1.9-litre diesel engine is the most economical five-door model in terms of fuel economy and overall day-to-day running costs.
Space and practicality
The relatively long wheelbase and height of the Grand Vitara means there's plenty of space inside. Boot space is ample, and can be expanded by tumbling the rear seats forward. There are a number of very useful storage areas throughout the interior, including deep storage pockets in the doors, armrests in the front and rear with built in storage compartments, and pockets in the tailgate. Two 12 volt accessory sockets, including one in the luggage area, and convenience hooks distributed through the cabin are excellent practical additions.
Controls and display
The Grand Vitara's layout is attractive, clear and easy to use. The instruments have attractive back lighting, and include a digital clock, trip meter and outside temperature display. Door ajar warning lamp, lights-on and key-in reminders are practical and welcome features. Most of the controls on the centre console are of a good size, well spaced and easy to use.
Comfort
The comfort of front and rear passengers is catered for adequately: both have excellent headroom and the ability to recline their seats, plus there is plenty of legroom for rear occupants. Heated electric mirrors, front and rear electric windows and automatic climate control add to overall comfort levels. However while ride quality is mostly good, the Grand Vitara's height means all but minor bumps can be magnified, and road noise can be a problem even at relatively low speeds.
Car security
The Grand Vitara features an array of security measures that includes immobiliser, freewheeling key cylinders and deadlocks, child-proof rear door locks, a steering lock, visible VIN and an internal fuel release flap. The luggage cover in the rear and lockable glove box also serve to deter prying eyes.
Car safety
As well as ABS with electronic brakeforce distribution, the five-door model's differential lock and low range signals all the safety benefits of a four-wheel drive system on and off road. In the event of an accident, features such as the reinforced cabin structure with door impact bars direct deflect energy away from the cabin. Meanwhile, all Grand Vitaras are fitted with front, side and curtain airbags. Isofix child seat anchors are also standard on the rear seats.
Driver appeal
The Grand Vitara's main appeal comes from its easy driving style. The gearbox, brake and clutch are smooth, progressive and easy to operate, while the high-set driving position affords excellent visibility. The steering is light and accurate, and despite the Vitara's height, it remains reassuringly stable when driven at speed. Off road the four-wheel drive system is easy to engage. Unfortunately although the 2.0-litre VVT engine delivers respectable performance on paper, it feels short of power on the road, and revving the engine hard results in high noise levels.
Family car appeal
The five-door version offers much improved rear passenger accommodation and boot space, as compared to the three-door model, which would be more suitable as a second family car. Combined with excellent towing and off-roading ability, the Grand Vitara would make an excellent vehicle for family holidays and outdoor activities.
First car appeal
While it is traditionally easier to manoeuvre and park smaller cars, another key factor that detracts from the Grand Vitara's appeal as a first car is the inevitable loss of roll resistance from driving a tall vehicle - a novice driver might take longer to appreciate the need to be smooth with steering inputs. In other respects the car's good looks and light controls would make it an amenable car for a first time driver.
Quality and image
While the brand image may still prove a sticking point with some prospective buyers, first impressions of the Grand Vitara are very good. The exterior looks sharp, sporty, modern and attractive, with distinctive details like the blacked-out B pillars and the clamshell bonnet giving it a great deal of appeal. Smart details like deeply dished instruments with classy illumination and chunky air conditioning controls add an attractive feel to the cabin. Overall the design inside and out is a big boost to the Vitara's image, which should make it a more desirable car and attract a wider range of buyers.
Accessibility
The Grand Vitara's raised lower door edges extend downwards to cover the body sills and ease cabin access as well as reducing the likelihood of clothes being soiled on mud-spattered bodywork. Occupant access to both front and rear seats is very good in the five-door version. Meanwhile the side-hinged door provides excellent access to the load area, and the load floor itself is at a good height.
Stereo and ICE (In car entertainment)
The standard-fit radio/CD player has MP3 audio-compatibility and offers reasonable sound quality. It has clearly marked, well-sized buttons mounted high in the dashboard for easier operation, with audio controls on the steering wheel being a welcome feature.
Colours and trim
A full size spare wheel is mounted on the exterior of the rear tailgate.
Parking
The raised driving position and large, electric door mirrors are a benefit when parking the Grand Vitara. The near-vertical rear window makes it easy to judge distances at the back. While visibility to the front and sides is excellent however, the chunky pillars at the rear do create blind spots. Fitment of reversing sensors to aid parking could be recommended to compensate for this.
Spare wheel
A full size spare wheel is mounted on the exterior of the rear tailgate.
Range information
Petrol engine options - 1.6-litre (105bhp); 2.0-litre (138bhp). Diesel engine options - 1.9-litre (127bhp). Transmission options: five-speed manual gearbox, four-speed automatic transmission. Trim levels are dependent on body shape; the three-door is available as VVT and VVT+, whereas the five-door is one trim only, equivalent to the three-door VVT+.
Alternative cars
Kia Sportage Better driving experience than many of its direct competitors and cheaper, too
Subaru Forester Tough, reliable, comfortable alternative that is more of a high-rise estate car
Toyota RAV4 Versatile, family-friendly, provides an almost car-like ride
Nissan Qashqai Another high-rise, faux SUV. 4WD is optional, but ample refinement and space is standard