October 2010
Subaru Impreza WRX STI 4dr
Addition of saloon bodystyle for WRX STI should please fans of the brand
October 2010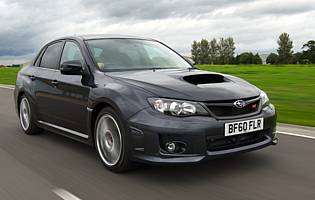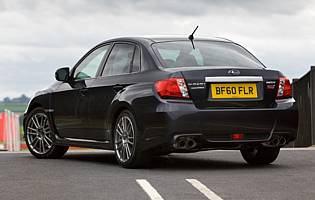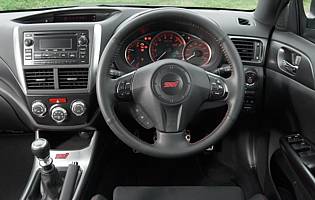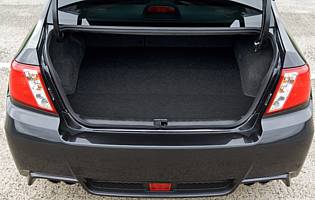 Overall rating

Likes:
Build quality a step up over previous WRX models
Four-door body style will please fans of the old WRX saloon models
Uprated 2.5-litre engine is extremely flexible and powerful
Spec C' suspension package offers a more rounded performance on poorly surfaced roads
Gripes:
The move upmarket has resulted in a more sober-looking car
Fuel economy and running costs are on a par with traditional high performance cars
Despite cabin quality improvements, European rivals still have the edge
Asking price puts this car alongside more popular and longer established brands
When Subaru changed direction and swapped four doors for five with its Impreza model some thought it was a gamble too far. The reason for the change was to attract a wider audience with the more popular hatchback bodystyle. However, with the popularity of premium sports saloons on the rise, it was only a matter of time before a WRX STI saloon made a comeback.
Increasing sales was Subaru's goal when it launched the five-door Impreza, as the market had shifted more towards hatchback models in recent years. However, with the switch to a more conventional bodystyle, critics argued that the high performance Impreza variants had lost their appeal. At the same time, the compact premium sports saloon market was slowly rising.
Keen to move upmarket and distance itself from the high volume hatchback makers in Europe, Subaru positioned its vehicles as more than just all-wheel drive models. The firm's performance variants also required repositioning; with a change in tastes and Subaru no longer participating in world rallying, the WRX and STI variants received an uplift in quality.
For many buyers, though, it's a saloon that equates to a premium motoring experience. And such cars have been increasing in popularity in recent years. Subaru's answer was to introduce a four-door WRX STI version of its Impreza. This model isn't a throwback to the bright blue, be-winged cars of old, however. Keen to target a different buyer, the car's styling is low key, there's no sign of a big wing or gold wheels and the cabin has received a welcome quality boost.
Its character is different to the rally replicas of old, too. By adopting a revised version of Subaru's Japanese domestic market suspension settings - 'Spec C' - this saloon delivers a more rounded experience. Gone is the super-hard ride, in its place something more compliant and better suited to UK roads. The car's familiar 2.5-litre turbo motor, rated at 300 horsepower, helps maintain the Impreza's supercar-baiting performance and incredible flexibility.
Our verdict on the Subaru Impreza WRX STI 4dr
The purists will no doubt mutter ""I told you so"" at the reappearance of a four-door performance Impreza, but you can't fault Subaru for attempting to broaden its market appeal with the switch to the hatchback format. It may no longer be in rallying but the firm's motorsport heritage remains strong, and a booted Impreza has always been the fans' favourite. The subtle shift upmarket has meant that this WRX STI is a good move. The performance market has changed and the emphasis is now on quality and premium ambience - something the Europeans do very well. This relatively low key WRX STI model is Subaru's answer to the likes of BMW's 3 Series and Vauxhall's sporting Insignia VXR.
Costs
There's no point sugar coating it: the WRX STI variants are expensive beasts to run. The purchase price positions them alongside premium machinery from Europe but fuel and other associated running costs place these Imprezas closer to that of a similarly priced Porsche. If you're comfortable with that then you've got yourself a bargain - supercar motoring on a relative budget.
Space and practicality
The Ford Focus-size Impreza hatch has, predictably, grown a little in size with the adoption of a saloon bodystyle. The end result is still compact, and parallels with BMW's 3 Series are now relevant. Cabin space remains largely the same as before, with ample room up front and enough legroom in the back for most adults. The car's good-size saloon boot is also a welcome sight.
Controls and display
The car's fascia is largely uncluttered; all you see are the simple ventilation rotary controls and the large audio unit. Minor audio controls on the steering wheel plus clear dials round off the experience. The controls for adjusting the car's throttle and transmission response are conveniently located by the handbrake.
Comfort
As you would expect from a high performance car, the WRX STI comes with a pair of heavily bolstered front sports seats. Although not plush they are supportive where it matters. The car's revised suspension has resulted in a more comfortable ride, but even at low speeds the engine and transmission are vocal travelling companions.
Car security
The WRX STI models will always stand out more than a regular version, and it's good to see that a full immobiliser package plus a tracker system is offered. For such a desirable car a steering lock is of little value but a tracker could help recover your pride and joy. The saloon variant also offers greater security as it's easier to lock valuables out of sight.
Car safety
It's easy to dismiss four-wheel drive as a gimmick but it is hugely underrated. By maintaining stability when conditions underfoot are slippery, a more composed driving experience is delivered. Factor in the WRX STI's performance and all-wheel drive and it's a valuable asset. That's also true of the car's numerous airbags and sophisticated electronic stability control system.
Driver appeal
The adoption of a reworked version of Subaru's domestic market Japanese suspension settings for this WRX STI has resulted in a more compliant ride for UK roads - not something that was true for the older, original WRX STI saloon. The car's trademark flat four 'Boxer' turbo petrol engine pulls strongly in all gears, and is capable of delivering supercar-rivaling levels of acceleration. Grip is also not in question thanks to an adjustable all-wheel drive system. Overall, this WRX STI is more refined than before but still supremely capable.
Family car appeal
Although the hatchback variant is probably the more sensible choice, the four-door WRX STI boasts a decent size boot for storing the family clobber. Rear seat space is reasonable but not over generous, and would better suit children than adults on long journeys.
First car appeal
A regular Impreza would be a different story but it's hard to recommend any of the WRX and STI variants for all the obvious reasons. In the context of the novice driver, they are expensive to own, run and insure. Although easy to drive, they are also devastatingly quick.
Quality and image
Having made the switch from saloon to hatchback, not all the traditional fans followed. While Subaru's intentions were honourable as it chased more mainstream buyers, semi-premium sports saloons have made a comeback. As such, the WRX STI's appearance isn't a surprise, and the firm has done well to boost actual and perceived quality inside and out, although European rivals still have the upper hand.
Accessibility
Front seat occupants fare well here. The only obstacle for some might be the heavily bolstered seats, as you sit down in them and cannot easily slide in and out. The car's rear door apertures are modest, and do require you to be an agile individual. At the rear, the car's boot opens easily to reveal a low loading lip.
Stereo and ICE (In car entertainment)
Boasting an enhanced standard fit audio unit, the WRX STI variants come with double height unit complete with disc changer, aux and MP3 player inputs and Bluetooth phone connectivity. It performs well but its generic looks are a disappointment. Basic steering wheel controls enhance its appeal, though.
Colours and trim
Bold colours are the order of the day, and do much to complement the STI's butch stance. With no traditional 'rally blue' option, white is surprisingly effective. Inside, there's more of a somber mood what with the presence of dark plastics and upholstery.
Parking
Forward visibility is good and so is the car's accurate steering. The view rearwards is less generous though, as the combination of the car's rear screen, headrests and saloon layout mean you will need to make a few allowances.
Spare wheel
Space saver fitted as standard.
Range information
Petrol engine options - 2.5-litre turbo (300bhp). Transmission options: six-speed manual gearbox. Trim levels: WRX STI Type UK - four and five-door variants.
Alternative cars
BMW 3 Series For similar money a pretty rapid 3 Series is possible, and would be a better all-rounder
Mitsubishi Lancer Evo X is a direct rival but offers a more engaging experience on the road
Volkswagen Golf In 'R' high performance specification, the Golf is an impressive mainstream alternative
Vauxhall Insignia In VXR trim the Insignia is a low key and surprisingly underrated choice that also includes all-wheel drive