July 2008
Skoda Superb 2.0 TDI SE
Solid and stylish, Skoda's Superb is an attractive sight
July 2008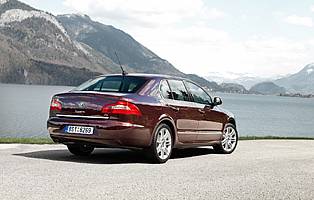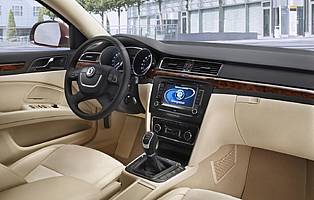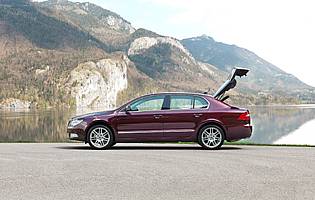 Overall rating

Likes:
Exceptionally spacious and well built cabin
Above average level of standard equipment
Value for money price strategy
Dual opening boot a clever feature
Gripes:
Styling at the rear could be better resolved
1.4 petrol variant unlikely to be especially brisk
Parking assistance technology not foolproof
Despite quality and value for money attributes, badge snobs will still look elsewhere
Fusty, low-tech cars are nothing more than a dim and distant memory when it comes to Skoda. The Czech firm has come on in leaps and bounds in recent years, with its car boasting first rate build quality plus a noticeable lift in the looks department. This second generation modern Superb is a perfect example of how much the company has achieved in a few short years.
Wile the basic premise remains the same - value for money, spacious cabin - this second-generation Superb is vastly different from its predecessor. No longer is the basic architecture a Volkswagen hand-me-down, but instead new and tailored to give this large Skoda a personality all of its own.
One of this car's unique selling points is the fact that it trumps both similarly priced and more expensive cars when it comes to cabin space. More specifically, rear seat occupants are presented with an abundance of legroom. All of which means that the Superb is destined to be a hit with cost-conscious executive hire companies seeking to offer a luxury experience for less.
True to Skoda's premium market aspirations the Superb delivers a little bit more of everything over and above the competition. Build quality, refinement and the standard of included equipment exceed expectations. The big Skoda might not be a driver's car in the same vein as a BMW or Audi, but it's a significant step forward over the previous car and can be driven briskly when desired.
With a sensible choice of engines and transmissions available, including frugal diesels and refined and punchy petrol units, this Superb comes with all the right tools to get the job done. And despite not usually being a purveyor of gimmicks (in the nicest sense), this Superb might look like a saloon in profile but its boot can also be opened as a full-blown family-friendly hatch. While Skoda admits that this dual opening mechanism won't be a deal breaker, it does add a welcome extra versatility that is unavailable elsewhere.
Our verdict on the Skoda Superb 2.0 TDI SE
A saloon car that also thinks it's a hatchback, Skoda's second generation Superb is a little special. Pitched at the affordable executive market and likely to do battle with cars from Ford, Vauxhall, Honda and Volkswagen, not only is the big Skoda an attractive looking proposition it's also a value for money one. High standards abound, whether it's build quality or the level of standard kit offered, and the overall driving and ownership experience is first rate. In summation, the Superb really is a lot of car for the money.
Costs
On paper the Superb offers a lot of car for not a lot of money. Easily trumping more expensive but smaller executive level cars, the combination of space and Skoda's aggressive pricing strategy should make it an attractive proposition. The Czech firm's products are well known for their integrity and, as such, unreliability issues should be minor at best. Opting for a diesel will keep costs down, but only if your yearly mileage tally is high.
Space and practicality
With its long wheelbase and capacious boot, there's little to challenge the Superb when it comes to space. In the cabin, rear seat occupants are blessed with an abundance of legroom. Headroom is pretty good, too. Up front the story is similar, although two large adults might occasionally rub elbows - the cabin is long but not overly wide. Storage compartments aren't in short supply, and at the rear the boot's ability to be opened as a saloon or a hatch at the press of a button does much to boost its appeal as a family vehicle.
Controls and display
Although generally spruced up, the convention and operation of this Superb's controls and displays should be familiar to fans of the Skoda brand. Well thought out, clear and intuitive, from the main dials to the ventilation controls it's difficult to find fault. Even the optional touch screen sat-nav display proves easy to navigate.
Comfort
It only takes a few miles to realise that the Superb is an excellent, smooth-riding car. With its long wheelbase and compliant suspension capable of expertly dealing with all manner of poorly surfaced roads, occupants fore and aft are unlikely to feel uncomfortable. Factor in high levels of soundproofing and it's clear that Skoda's engineers have succeeded in creating a luxury ambience at an affordable asking price.
Car security
For all the Superb's unusual and enticing features, the security provision is a straightforward one. Remote central locking is the most obvious and convenient, with an alarm and immobiliser package rolled in for good measure. The car's saloon-style boot will no doubt ensure favourable attention form insurance companies, and the glovebox and central storage areas are a good size for hiding valuables.
Car safety
Being a large, solid-looking car is only half the story with the Superb, as it's also important to have the latest safety systems on board. The Superb is well equipped, with numerous airbags and electronic stability systems to keep you safe. There's even the option of headlamps that follow the direction you steer in, and change their beam pattern depending on you speed for improved visibility.
Driver appeal
Skoda isn't pitching this Superb as a car for the keen driver, more of a safe, confidence-inspiring large executive car. That said, with the right engine, the big Czech motor can be hustled along without complaint. Direct steering, progressive brakes and good all-round visibility all help its cause, although the long-throw manual gearshift can prove frustrating at times. Diesel engines and their abundance of torque suit the Superb best, while the six-cylinder petrol variant sporting all-wheel drive is unlikely to lure people away from their Audis and BMWs anytime soon.
Family car appeal
It's no people carrier, and therefore lacks flexible seating and the myriad of extras associated with contemporary MPVS, but the Superb does offer an unusually generous cabin. The car's various plush fittings might be at odds with the sticky fingers of young children and the messy paws of the family dog, though. The boot, with its clever dual opening option, will easily swallow shopping and the odd pushchair.
First car appeal
Despite the Superb's size it's not a difficult car to drive. Light and easy to use controls make life behind the wheel straightforward. Where fitted, parking sensors remove uncertainty and the clever parking assist system should reduce the stress of parallel parking.
Quality and image
It's hard to fault the Superb on the quality front. The integrity of the cabin and its fittings is first rate and would put many more expensive cars to shame. Too bad that there is still resistance in some quarters regarding the car's image. Badge snobs hung up on Skoda's past would do well to examine its current line-up, as the improvements are significant.
Accessibility
There's little to complain about in this department, if only because the Superb is such a spacious and accommodating car. The doors - front and rear - open wide to reveal easy to reach seats. Headroom is also good, and the car's roof doesn't slope much - further improving access and egress. At the rear, the car's boot opens wide from a low lip position, which makes loading straightforward. However at the touch of a button you can open the boot like a hatch tailgate, further increasing the car's versatility.
Stereo and ICE (In car entertainment)
From the basic but more than acceptable CD and radio combination to the hi-tech full colour sat-nav and multimedia system, there's a level of entertainment to suit everyone. The regular units work well and boast intuitive controls, while the touch-screen sat-nav unit is versatile and easy to use. Supplementary buttons on the steering wheel are a welcome addition.
Colours and trim
Predictably the Superb looks best in classy, traditional colours such as sliver or dark metallic hues. These choices accentuate the car's curves and flatter its size respectively. Inside, whether it's cloth or leather everything looks and feels durable and attractive. Cabin brightwork is minimal and suits the car's modest character.
Parking
Despite being a big car even by modern executive car standards, thanks to light but direct steering and a smooth throttle the Superb is not difficult to manoeuvre. Where fitted, parking sensors make a big difference, while the largely optional parking assist system is hardly a gimmick - assuming you following the various instructions to the letter. You activate the system when driving past a suitable parking space. The system measures the space and, if large enough, enables you to simply modulate the throttle and let it steer. Unnerving at first, you soon learn to trust it, although it takes practice to improve the success rate.
Spare wheel
Space saver fitted as standard.
Range information
Petrol engine options - 1.4-litre (125bhp); 1.8-litre (160bhp); 3.6-litre V6 (260bhp). Diesel engine options - 1.9-litre (105bhp); 2.0-litre (140bhp); 2.0-litre (170bhp). Transmission options: all petrol and diesel cars come with a six-speed manual gearbox - 105bhp TDI diesel gets a five-speed manual gearbox. Auto options run to a seven-speed DSG unit for the 1.8 petrol, and six-speed DSG 'box for the 2.0 TDI units and 3.6 V6 petrol. All-wheel drive is an option on 1.8, 3.6 petrol and 2.0 TDI 170 variants. Trim levels: S, SE, Elegance.
Alternative cars
Ford Mondeo Benchmark for the keen driver and a good all-rounder
Mazda6 Classy all-rounder but lacks the heritage of the Mondeo or space of the Superb
Volkswagen Passat Affordable premium saloon is very good but lacks the Superb's versatility
Honda Accord Another quality executive model, but again the Superb trumps it on space