July 2012
Skoda Fabia Greenline II
There are few visual cues marking the Fabia Greenline II out
01/07/2012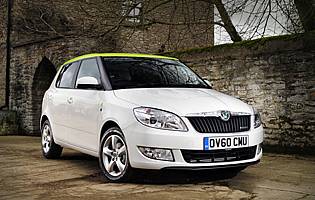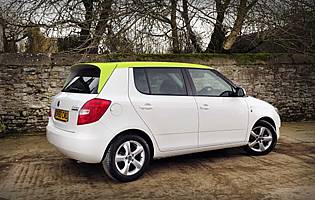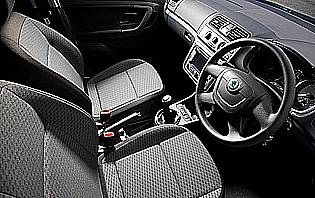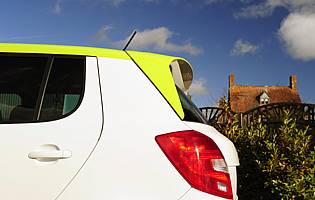 Overall rating

Likes:
Extremely high fuel economy if driven in the correct way
Good ride quality helps create a relaxed ambience
No-frills charm surrounds the car and gives added appeal
Affordable purchase price makes cheap motoring accessible to more people
Gripes:
Not particularly stylish or trendy and lacks any prestige image
Frugal diesel engine can't offer satisfactory pace
Difficult to achieve high fuel economy without strict self-discipline
Cabin is basic to the point of being drab
The Fabia Greenline II has the clearest of briefs in what it has to do and be. Skoda's engineers have tried everything they know to bring the car's emissions and fuel consumption down as far as possible, while still leaving a practical, enjoyable small hatchback - or estate. It's Skoda's front-runner in the low emissions race.
With a remit to lower running costs as far as possible, the Fabia Greenline certainly achieves what it was designed for. When it was launched, a professional eco-driver covered 1,246 miles on a single 45-litre tank of fuel, at an average of 127.8mpg. The economy figures are scarcely to be believed, but it's part of the Greenline II's appeal.
As the technologies and processes to allow such impressive economy figures have become available, new efficiency-specific models have sprung up in many manufacturers' ranges. Like the Fabia Greenline II they're all designed for people who want the lowest possible fuel expenses, with some taking a luxury approach and others staying more minimalist, which is the route the Fabia takes.
Simple ideas like smaller wheels and low-rolling-resistance tyres meet clever engine tuning and gearing choices to make sure that, although this iteration of the Fabia is quite Spartan in terms of equipment, it uses the resulting light weight to good effect. A 1.2-litre three-cylinder diesel engine also helps reduce the weight penalty and increase efficiency.
It's not fast, but it rides well and in estate form can carry a lot of luggage. Even with inevitable road tax system changes it will be extremely cheap to run, and it offers important tax advantages for fleet buyers. It's easy to bemoan its lack of luxury equipment, but the Greenline II is as single-minded as any supercar.
Our verdict on the Skoda Fabia Greenline II
For suitably patient drivers there are few more wallet-friendly cars on the market. Its purchase price is affordable, its running costs are as low as they can get, and there is a certain no-frills charm about its overall character. It won't excite anybody and nor will it return good fuel economy if driven hard or at motorway speeds, but within its intended usage patterns it's an excellent car.
Costs
This is one of the cheapest cars on the road to run. Companies will be hard-pressed to find a more tax-friendly option, and private buyers can, with care, extract very high fuel efficiency. CO2 emissions are among the lowest of any small diesel car, while ever-rising fuel prices mean residual values are likely to be high. If finances are paramount then the Greenline II makes a very sound choice.
Space and practicality
The Fabia hatchback is roomy for a supermini, and generally well thought out. The lack of a spare wheel in this model means there is extra storage space under the boot floor. There are two glove boxes on the passenger side of the dashboard, cupholders and ample door storage bins. The boot allows for stacking, which in turn allows a lot of luggage to be stowed, while the folding rear seats offer greater storage potential at need.
Controls and display
There isn't much to laud or criticise here, because the few displays are simple and functional. The instrument cluster is easy to read at a glance and the trip computer gives key information. The controls are laid out in typical Volkswagen Group style, so will be second nature to almost any previous Volkswagen, Audi, Seat or Skoda owner. People new to the brand will find the layout largely logical, but the dashboard-mounted headlight dial can sometimes confuse.
Comfort
Tall tyre sidewalls don't help as much as they might, since the tyres are special low-rolling resistance types with stiffened sidewalls to encourage easy rolling, which in turn transmit more bumps and vibrations to the cabin. It's still a good ride for the size of car, though. Front occupants have no shortage of space around them, but taller rear seat passengers might find their knee room restricted unless the front seats are moved forward.
Car security
The standard alarm and immobiliser are boosted by the presence of an anti-towing alarm to warn against any devious attempt to tow the car away. The interior lights have a delay before they switch off after closing the door to allow a quick check around inside the car, and remote central locking is standard. Stowage boxes in the boot help to keep valuables out of sight.
Car safety
All three rear seats have three-point seat belts to improve fifth-person safety. Automatic headlights aid visibility, and a breakdown safety kit is provided should owners need it. Front and front side airbags are provided for both sides of the car, but curtain airbags are optional. The front passenger airbags can be deactivated for carrying a child seat. Stability control is also on the standard equipment list and works to prevent or minimise any loss of grip.
Driver appeal
Anyone who is particularly interested in driving should look elsewhere, unless their avenue of interest is in achieving the highest fuel economy possible. A certain kind of enjoyment can be gained from trying to beat a personal best average on the trip to work. Other positives come from the low engine weight, which allows neater handling than heavier diesels do, but acceleration is very slow. The car needs working hard just to keep up with traffic, which ruins fuel economy.
Family car appeal
As a supermini the Fabia has its limits in terms of space. The boot is probably not big enough for typical pushchairs or other large accessories, but there are good points too. The car's size is an advantage when negotiating busy urban streets, there are Isofix child seat mounts and dual gloveboxes are handy for small extras. The main strength for families is that the Greenline II can help lower motoring costs as far as possible.
First car appeal
As a cheap-to-buy, cheap-to-run small hatchback the Greenline II has huge appeal to the heads of first-time buyers. The low-powered diesel engine is user-friendly and the five doors allow friends to tag along easily. Insurance is also cheap, and it's a cost-effective car to own. Its lack of style compared to other options is a sticking point, though, and younger buyers might choose to spend more on fuel to secure something prettier.
Quality and image
Having been part of the Volkswagen Group for many years now, any jokes about the brand have long since been forgotten. Skoda is now one of the most respected car brands in the UK, if perhaps quietly so, and as the Fabia Greenline II represents one of the most sensible Skodas around, it has a positive image. It's hardly a showcase for the company's luxury materials, but the basic dashboard and console plastics are functional and solid enough.
Accessibility
Short, five-door cars like the Fabia have a different set of benefits and drawbacks to longer five-door cars. The shorter doors mean shorter door apertures that might make slotting into a seat more awkward, but the doors open wider for any given amount of room beside the car. The Fabia shell strikes a good balance, and with higher seats than some people may expect, accessibility is not a problem at all.
Stereo and ICE (In car entertainment)
The basic stereo controls are quite simple, with the interface a slightly old-fashioned LCD screen. It's easy to use and fairly self-explanatory, but if the car is upgraded with satellite navigation the radio or CD information is displayed on a colour touch-screen. It can make using the general functions faster when the car is stationary, but slower on the move. The digital design is both stylish and easy to understand, though.
Colours and trim
Almost the full range of Fabia colours are available on the Greenline II, excluding the special metallic green applied only to the sporty vRS model. There is a wide variety of colour choices along with muted blacks and silvers, but the Greenline II tends to suit colours well. The interior trim is somewhat low-key to look at, though, betraying the car's function-before-form brief.
Parking
The Fabia is an exceptionally easy car to park, with a tight turning circle making parallel parking much less of a chore. Parking sensors are optional for the rear and not available for the front, but a relatively high seating position and good corner visibility means the Fabia inspires confidence in tight spots. Its relatively narrow dimensions and short doors also mean bay spaces are no problem.
Spare wheel
Emergency tyre repair kit supplied as standard.
Range information
Petrol engine options - 1.2-litre (59bhp, 68bhp, 85bhp, 104bhp); 1.4-litre (85bhp, 178bhp). Diesel engine options - 1.2-litre (74bhp); 1.6-litre (74bhp, 89bhp, 104bhp). Transmission options: five and six-speed manual gearbox depending on model, plus DSG twin-clutch auto gearbox (1.2-litre 104bhp and 1.4-litre 178bhp petrols only). Trim levels: S, SE, SE Plus, Elegance, Greenline II, Monte Carlo, vRS.
Alternative cars
Kia Rio EcoDynamics Super-low CO2 option is good but compromised in general driving
Ford Fiesta Econetic Struggles with hills and higher speeds, but handles well
Vauxhall Corsa EcoFlex A good all-rounder with a spread of talents, but not very likeable
Fiat Punto Punchy yet extremely frugal engine allows zero compromise