January 2007
Saab 9-3 Sportwagon Aero 2.8 V6 Auto
Stylish and distinctive nose is traditional Saab
January 2007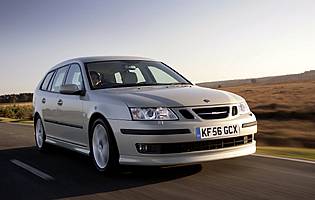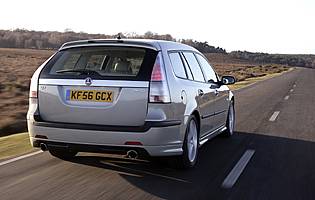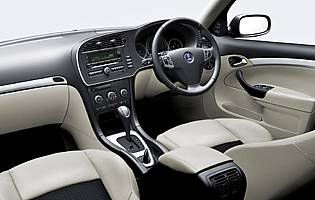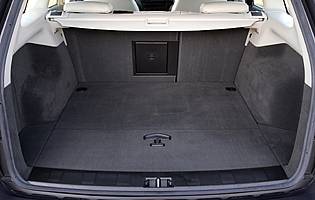 Overall rating

Likes:
Stylish exterior
Fine engine performance
Cabin is well-designed and great to use
High specification is welcome
Gripes:
Engine is thirsty if performance utilised
Torque steer can be an issue
Cabin space is less generous than some rivals
Value for money is questionable
Saab's 9-3 Sport Saloon is a stylish competitor in the premium market, and the arrival of the estate variant, wearing a 'Sportwagon' moniker, adds to the range's appeal. In addition, with a high output V6 turbocharged engine and a refreshed interior, it has the potential to take on the sportiest cars in the segment.
With a growing premium mid-size estate segment, Saab clearly realised the importance of having a contender, and that a reliance on saloons and convertibles was limiting the reach of the Saab brand. The introduction of the Sportwagon model gave it this crucial contender, and its mix of attractive styling, performance and traditional Saab values is strong.
The Sportwagon is typical of the premium estate sector in having a compromise between style and practicality. Whereas most ordinary estates will have a near vertical tailgate to ensure maximum luggage capacity, the Sportwagon has a distinctive and certainly attractive sloping tailgate. This does slightly reduce the load area, but given its 'lifestyle' target audience it is unlikely that the space will be used often.
The traditional Saab grille, neat headlamp units, and wraparound windscreen immediately identify the 9-3 Sportwagon as a Saab, but the side and rear prospects are more interesting. The wedge-like profile with its rising waist looks very muscular while the disguised B and C-pillars help to maintain a good deal of elegance despite the bigger boot.
In Aero form the 9-3 Sportwagon is clearly at the high performance end of the market, with the 2.8-litre V6 twin-turbocharged engine delivering impressive performance figures. Combined with an automatic gearbox it makes for refined and rapid cruising, while the manual shift mode allows extra control. The only downside to this engine and transmission package is the fuel economy, which often falls below a desirable level.
Our verdict on the Saab 9-3 Sportwagon Aero 2.8 V6 Auto
The 9-3 Sportwagon Aero is a pleasing alternative to some of the more common options in this segment. Although not without its flaws, it also has a lot to offer, and its distinctive styling and good design have big appeal. Buyers considering a car like this should take a closer look, as it may just be the car they are looking for.
Costs
Slightly cheaper than other premium compact estates, the Sportwagon's asking price still isn't low enough to make it an immediate choice. Service intervals are not particularly lengthy, and nor is servicing likely to be cheap. However, Saabs have reputation for being generally reliable and are renowned for their ability to clock up high mileages with no ill effects. A 10-year anti-perforation warranty inspires confidence, too.
Space and practicality
The boot is usefully big although not as big as some rivals, though it does offer a neat folding floor which allows a partitioned boot space for security. Space for passengers is adequate but not exceptional, and given the car's dimensions this is somewhat disappointing.
Controls and display
The Sportwagon uses the familiar Saab interior approach, with a great emphasis on ergonomics. This results in a clear and ease to use cabin, which may look complicated or even cluttered, but actually works very well. The instruments also have a useful 'night panel' feature, which turns off all but the most essential instruments at night, just by pressing a button.
Comfort
Saab's front seats are arguably the best in any car, and the 9-3 Sportwagons are no exception. Supportive without being intrusive, they are well suited to long journeys. The driving position is also excellent, making the Sportwagon a great car to travel in, although rear seat passengers are less well catered for.
Car security
Efficient 'shielding' of the locks inside the doors prevents tampering with specialist tools and deadbolts for all four doors make it virtually impossible for a would-be thief to forcibly break in. Even if a thief were to gain entry, there would be little point in removing any of the car's entertainment systems which as they are electronically 'married' to their original host car.
Car safety
Saab Active Head Restraints (SAHR) are fitted as standard to the front seats only. Roof-mounted airbags are installed on each side, and side airbags are included to offer thorax protection.
Driver appeal
The Saab's performance is key to its driver appeal, and the V6 engine has plenty to offer. Particularly matched to the automatic gearbox, it delivers long surges of acceleration with ease, and has strong torque even from low engine revs. The suspension is also relatively firm, which results in little body roll. The downside to this is the poor fuel economy and torque steer, both of which can frustrate the keen driver. The inevitable result of 250bhp through the front wheels is that the driver must show restraint to avoid frustration.
Family car appeal
The extra space of the boot turns the 9-3 into a very competent family wagon. Some impressive safety credentials only add to its appeal in this regard, and it cuts an impressive dash thanks to the stylish exterior.
First car appeal
A Saab 9-3 Sportwagon is unlikely to appeal as a first car, due to its performance and expense. Saab's also tend to be bought by more mature buyers, which will dissuade younger buyers.
Quality and image
The quality of the Saab is generally very good, and the cabin gives across a strong quality feel. Closer examination does reveal some areas that feel a little cheap, but this is the exception. The Saab image is very strong, particularly in the UK, and the addition of the Sportwagon model is bound to bring in buyers who would otherwise look elsewhere.
Accessibility
Entry to the front seats is fine, thought access to the rear is not as easy as the door aperture is relatively narrow. Also on our test car the boot handle was particularly stiff and difficult to operate, though this is unlikely to be a common fault.
Stereo and ICE (In car entertainment)
A CD radio combination comes as standard with the option to upgrade to a powerful 300 watts. Sound quality is very good and includes DVD/GPS satellite navigation with large 5.8-inch colour monitor, voice recognition, and MP3 player input socket.
Colours and trim
Each trim level has two different treatments, characterised as a 'light room' or 'dark room' colour theme. Aero models are the exception and revel in generous amounts of leather and chrome, though they can tend to have something of a 1980s feel to them as a result. Build quality is good throughout the cabin.
Parking
Although visibility is good front and rear and the Sportwagon is available with rear parking sensors, the poor turning circle can make it a bit of handful when parking.
Spare wheel
A space saver comes as standard, although a full-size wheel is an option.
Range information
Petrol engines: 2.8-litre turbocharged (230bhp and 250bhp); 2.0-litre turbocharged (150bhp and 210bhp); 1.8-litre (122bhp); 1.8-litre turbocharged (150bhp). Diesel engines: 1.9-litre (120bhp and 150bhp). Six-speed manual and automatic transmissions according to model. Trim levels: Linear, vector, Aero.
Alternative cars
Audi A4 Avant Handsome interior, comes at a price
BMW 3-Series Touring Arguably class best, great fun to drive
Volvo V50 Stylish and well-designed rival has strong appeal
Jaguar X-Type Estate More stylish than the saloon, decent drive but uneven image