May 2012
Renault Clio Renaultsport 200 Turbo
Flowing lines and larger lower grille balance front light clusters
March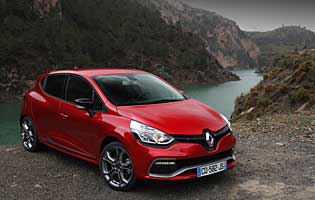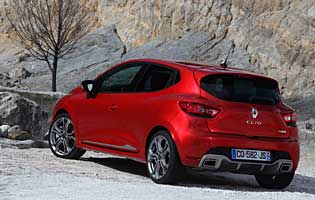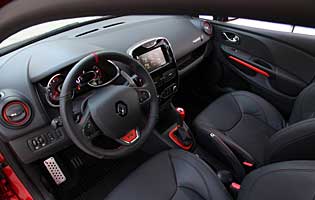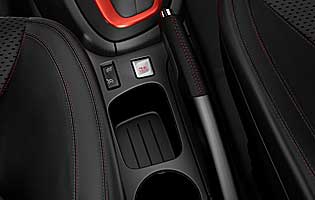 Overall rating

Likes:
Exploitable chassis dynamics provide controlled but challenging fun
Exhaust pops and grumbles off-throttle in Race mode add character
Comfortable and compliant ride in Normal mode allows easy day-to-day use
Very fast gear shifts in Race mode feel racy and add outright pace
Gripes:
Very short first, second and third gears make country road progress awkward
Still plenty of sub-par plastic finishes and creaky materials
Traction control cannot be re-engaged in Race mode
Shift paddles are fixed to the steering column, not the wheel
Nothing good lasts forever, or so the saying goes, and sure enough the favourite hot hatch of almost every keen driver has been replaced by something quite different. A new smaller-capacity engine and, for the first time, turbocharging mean the Clio Renaultsport is now a very different animal, but it's Renault's opinion that different doesn't have to mean worse.
The main reasons for this sea change are twofold; firstly being that the old car was too niche for average hot hatch buyers, compromising everyday usability for outright driving pleasure. The second reason is that the old car cost too much to run; a cardinal sin in post-recession Europe and one that effectively killed the magnificent old 2.0-litre normally-aspirated engine.
Just as the old car polarised opinion, the new one does the same having shifted away from buyers whose prime concerns are B-road blasts, instead targeting drivers who need a car to be a practical, easy-going hatchback five days a week as well as being capable of more when called upon. Fans of the old car have objected noisily.
The changes are major, with a completely new type of engine and drivetrain. The only gearbox available is a dual-clutch automatic that can shift incredibly quickly and ultimately makes the car faster, but arguably lacks the sense of involvement that a good manual can provide. However, this gearbox allows for a variety of drive profile settings from docile to vicious.
Interestingly, in the most aggressive of these settings all the electronic stability assistance systems are turned off, and that allows a driver to make the most of the extra movement and pliancy that has been engineered into the new chassis. The new car is definitely more playful than the model it replaces - but only if that's what the driver wants.
Our verdict on the Renault Clio Renaultsport 200 Turbo
The latest Clio Renaultsport is a hugely capable car with a broad spectrum of talents. Its technology is clever, it offers respectable value against the competition and it still offers reasons to like it from behind the wheel. Only time and individual choice will tell whether the revolution in user-friendliness and practicality is quite enough to either put die-hard Renaultsport fans off or attract new buyers to the brand.
Costs
Compared to the old Clio 200 the new car's running costs are dramatically reduced. The new one is several road tax bands lower than before thanks to much-reduced CO2 emissions and its fuel consumption has decreased by around a quarter, potentially giving it more than 100 miles of extra range per fill-up - a very tangible benefit. Residual values will depend on how much demand is generated and maintained at dealerships, but this is a clear improvement for the new Clio Renaultsport.
Space and practicality
The cabin environment is more heavily biased towards style rather than practicality, a fact that is evident in the lack of useful storage space. An open recess at the base of the centre console is handy for loose items like a wallet, but the door pockets are restrictive and can't, for example, take A4 size paperwork. The boot is fine, though, with a class-competitive load volume and a wide access aperture thanks to the split rear tail light clusters.
Controls and display
The main instrument cluster uses a central digital speedometer flanked by a rev counter and a curiously oversized fuel gauge for symmetry's sake. While the speedometer sometimes seems to refresh too slowly, making it hard to judge acceleration at a glance, the analogue rev counter is easy to read. The shift paddles are fixed to the steering column rather than the wheel, which can make manual gear changes awkward while cornering.
Comfort
While much has been done to improve the low- and medium-speed refinement there are still a few shortfalls at high speed. The suspension, in the softest of its settings, cushions all but the worst of broken road surfaces at suburban speeds, but at motorway speeds wind noise around the top of the windscreen makes itself heard. Air also billows around the door mirrors. Legroom is adequate for rear passengers but they might feel a little encroached on by the thick rear roof pillars.
Car security
As standard the car comes with the same levels of security as a normal high-spec Clio, which means an alarm and an immobiliser are present and correct. Locking wheel nuts are also installed to prevent theft of the alloy wheels. If a buyer chooses to, they can add tinted windows to the rear doors and tailgate. This dark tint helps to repel UV rays and also makes it much harder to see any items left casually on the back seats.
Car safety
As per European regulations Renault has fitted the Clio Renaultsport was stability control as standard, although this can be fully disabled by selecting Race mode via the R.S. Drive system. Traction control is also present and can be disabled in the same fashion, although it remains partially active as part of the car's 'launch control' technology. Keyless entry and start means that the key has to be present for the car to start.
Driver appeal
While the score in this field has to drop down a little to reflect the new model's relative lack of sharpness and engagement, it's important to note just how much of an improvement the car is in its general driving attitude; Normal mode in the R.S. Drive system. It's more comfortable, smoother at low speed, more relaxed around town and has plenty of equipment. It's a bonus that it looks so good when you see the car's reflection in shop windows.
Family car appeal
There are Isofix child seat mounts on the outer rear seats and the five-door layout is a big help when carrying children, but the boot is too small for pushchairs and the cabin is a little too flimsy in places, potentially allowing little hands to cause damage. Acceleration and fast cornering potential are low priorities on the average parent's list of car must-haves and in truth it's no family wagon, but at a pinch the Clio Renaultsport could still be used as a family car.
First car appeal
If Renault's plans to widen the Clio Renaultsport's appeal works then adolescent boys all over the country will covet the new car. It certainly is easy to drive, with a forgiving and soft-edged nature in its Normal R.S. Drive mode. Parking would be more of a challenge for a new driver, and of course the performance on offer could be too much for a novice to safely handle. On top of that, insurance would be almost unobtainable and that alone all-but rules the Clio out for first-time buyers.
Quality and image
Renault has had image problems in the past relating to electrical gremlins and general poorer standard of manufacture than many buyers expect. While on the mechanical front things have improved vastly and serious breakdowns are much rarer than of old, the actual perceived quality of the car decreases the more you poke around. The Renaultsport image itself has also been damaged in some people's eyes because of the new car's evident loss of outright focus.
Accessibility
For the first time a Renaultsport Clio is being built as a five-door, and not just that: five doors is the only choice. The rear door handles are well hidden though, and it does add significant extra practicality if the back seats are ever needed. Renault is hoping this extra dose of usability will help to tempt people to consider it as a viable everyday car. The boot is identical to the ordinary Clio's, so it's reasonably large and evenly shaped.
Stereo and ICE (In car entertainment)
A seven-inch colour touch-screen is standard on both models, and with it comes Bluetooth and USB connectivity, although there is no CD slot. There is an SD card port, though, and a 3.5mm jack for a simple audio connection. The icons that make up the media interface are generally quite large and well separated, making it very easy to press the right ones even while moving. The overall design and feel of the system is youthful, but efficient and stylish.
Colours and trim
The Renaultsport Clio has historically been available in some very bold colours and although some of the more outlandish have been dropped for the new generation, many people will be pleased to see the iconic Liquid Yellow still available - at a hefty cost. Arguably the special Flame Red option, at little more expense than metallic paint, flatters the car's good looks and purpose best. However, the interior trim feels cheap in many places and it lacks overall cohesion.
Parking
Rear visibility is not great and so reverse-parking can become a chore when the space is restricted. The body tapers out over the wheels and it isn't, therefore, the easiest car in which to judge the exact positions of the corners. Two optional systems are available to help, with rear parking sensors being slightly cheaper than the reversing camera. The turning circle is, however, a little tighter than some previous Clio Renaultsport models.
Spare wheel
Emergency tyre repair kit supplied as standard.
Range information
Petrol engine options - 1.6-litre (197bhp). Transmission options: six-speed dual-clutch automatic gearbox only. Trim levels: Base, Lux.
Alternative cars
Peugeot 208 GTi More practical and user-friendly than the Clio but less exciting
Ford Fiesta ST Manual gearbox, convincing driving dynamics and everyday usability
Volkswagen Polo GTi Well built, stable and predictable, the Polo is a safe if uninspiring choice
Skoda Fabia vRS Great fun, if old-hat by comparison