October 2006
Porsche 911 Turbo
Familiar 911 shape hides a powerful turbo engine and smart 4x4 mechanicals
October 2006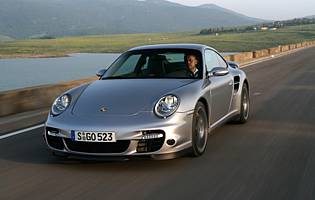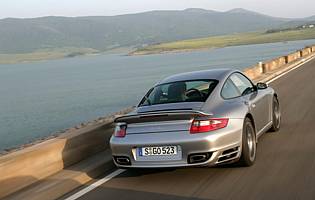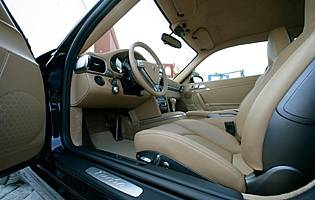 Overall rating

Likes:
Involving driving experience flatters the novice and encourages the expert
Surprisingly practical for a near-200mph supercar
A sound financial investment
Cabin feels and looks solid, durable and stylish in an understated way
Gripes:
Subtle styling ensures 911 Turbo is as inconspicuous as you want it to be
Theft and vandalism risk is high
Disappointingly low range on a tank of fuel - thirsty when driven hard
Porsche badge can make other road users jealous or vindictive
The 911 has been a core model for Porsche for as long as the company has been making cars. Alright, so this is a slight exaggeration, but there's no question that the 911 has made the 'affordable supercar' market its own. And for the last 30-odd years there's been a cherry on top of that desirable cake in the shape of a Turbo variant.
In the grand scheme of things the 911 Turbo hasn't been around that long in the range's overall lifecycle. However, in that time it's made a considerable impression. As with the rest of the range, the Turbo has undergone a process of gradual evolution.
Part of Porsche's 997 model range, this Turbo is the company's fastest and most powerful to date. Of course, the next one will likely build on this feat, but for now it's best to enjoy the current model and its 480bhp, 47lb/ft of torque and the ability to sprint to the benchmark speed of 62mph from rest in a claimed 3.9 seconds.
There's no question that the Turbo is quick, it's how it remains calm, measured and stable when being pushed hard that's most impressive. Driving at speed in the car is a most civilised experience which, if you're not careful, can bite you: it's easy to travel faster than you think, despite having a growling engine positioned behind you to warn of increasing velocities.
But it's the Turbo's ability to maintain such heady speeds all day long that's the single most impressive part of the car. Designed to be as durable as it is quick, this 911 is quite capable of pounding around on a trackday and driving you there and back without complaint. Porsche's optional (and costly) ceramic brakes are a must if you want to fully exploit the car's performance safely.
Our verdict on the Porsche 911 Turbo
The combination of a business-class cabin and serious performance is something that's rare in the supercar market. Unlike some rivals, the 911 Turbo can be used day in, day out as regular car - albeit a rather conspicuous and loud one. It also doubles as a ridiculously quick sportscar, and one that can be used all year round thanks to its four-wheel drive system and intelligent traction aids. The only gripe concerns the car's small fuel tank and considerable thirst: the result is a frustratingly short range between fill ups. But that really is the only complaint.
Costs
If you're worried about the cost of running a 911 Turbo, you probably can't afford it. The car's modest fuel tank and thirst will see you filling up frequently. Insurance will be another considerable expense, and don't forget a subscription to a security tracking service. Routine maintenance should be less painful; Porsche's are pretty reliable and service intervals are generous.
Space and practicality
In theory there are two rear seats, but in reality they act as little more than a leather-covered shelf. Still, that's more than you get in some two-seat coupes, and indeed the 911 offers more storage space than you expect given its rear engine layout. Glovebox and side pockets are a good size, the front 'boot' will swallow two or three weekend bags with no problems and there's always the aforementioned rear seats if the front 'boot' is full.
Controls and display
Much more an ergonomic champion than in the past, the 911's fascia is clear and the controls are pleasingly intuitive. The main dials are easy to read, although the audio and sat-nav display could be located a little higher. The system itself is easy to use though, and the sat-nav element responds quickly to route changes. More importantly, the steering, gearchange, brake pedal and clutch require little effort to operate but all provide plenty of feedback.
Comfort
Adjusting for both reach as well as rake, it's easy to get the steering wheel where you want it. The same is true of the front seats, which are also supremely supportive and comfortable even after many hours on the road. The car's suspension is supple enough, within reason, so as not to cause a problem, and engine and road noise is only really an issue when you're driving hard, which is to be expected.
Car security
A 911 is always going to attract attention - and not all of it welcome. Therefore, if not already fitted or offered, a tracking system is a must. After all, the car's standard remote central locking will only help defend against an opportunist thief. Visible deterrents are a waste, but there's a lot to be said for secure parking facilities at home and even at a place of work - your insurance company might even make it a mandatory requirement.
Car safety
There's no shortage of airbags in any 911 variant, let alone the Turbo. The Turbo also boasts some of the best brakes in the business, which can be upgraded to ceramic composite items that last longer and barely fade when really pushed to their limits, making them ideal for track day work. The car's various electronic aids are also impressive; they help rather than hinder progress and never abruptly cut power or add unnecessary braking action.
Driver appeal
Where do you start with a car that will do nearly 200mph, boasts almost 500bhp, a racecar pedigree and traction like no other in its class? Simple, you start in town. For all the 911 Turbo's abilities, it's a pussycat at urban speeds. Light steering and easy to manage clutch, brakes and gearshift all help. Away from city streets, the Turbo is a mind-blowing combination of power, grip and noise. But, unless you do something really stupid, it always remains a manageable package. In fact, it will actually flatter you. Even the various electronic aids help, not hinder, and manage not to spoil the fun too much.
Family car appeal
With the rear seats out of bounds, the 911 is hardly a family car - even for occasional trips out. Strapping a child into the front passenger is as good as it will get, as the front boot will struggle to cope with family belongings.
First car appeal
You could just, and we mean just, let a novice out in a Boxster, but a 911 - let alone the Turbo variant - is a different matter entirely. While it's not a cheap car to run, assuming you could get insurance, the Turbo's potential means a new driver wouldn't be equipped to cope with the performance on tap.
Quality and image
Even through the turbulent days in the 1980s, the 911's stock has always been high. Not as flash as a Ferrari or Lamborghini, the high number of new and used 911s you can see on the streets actually counts in its favour, ensuring that everyone can see the car's long and distinguished lineage. Quality has improved over time too, with better cabin materials now used and the ergonomics much better.
Accessibility
The 911's low-slung seats may present difficulties to less agile drivers, but the car's doors open wide - although this can pose problems in tight car park spaces. Accessing the forward luggage space is straightforward, however its compact nature means only regular-shaped items will fit easily.
Stereo and ICE (In car entertainment)
The standard-fit unit is very good on its own. Music lovers might like to consider using the multifunctional steering wheel, as manually changing CDs or radio stations while on the move in such a potent car can be dangerous. The main display itself is a little too low down to see it clearly when on the move, but the integrated sat-nav and telephone perform well.
Colours and trim
From bright yellow to more subtle hues, colour choice is wide enough to suit most tastes. Be warned: opt for the former and there's no hiding on the High Street. Inside, it's a bit like a Volkswagen - dark plastics and subtle trim highlights. But it's all good quality and should last for a long time.
Parking
Sitting low down, it's difficult to see the extreme points of the car - front or rear. Practice and plenty of power steering assistance at low speeds compensate to a point, although the Turbo variant is a wide car and care is needed when parallel parking.
Spare wheel
A temporary inflatable support system - a can of foam - is tucked neatly under the front boot.
Range information
Range: 3.6 (325bhp); 3.8 S (355bhp); 3.6 GT3 (415bhp); 3.6 Turbo (480bhp). Six-speed manual gearboxes are standard, with a five-speed Tiptronic auto a model dependant option. No trim levels, but equipment is related to model variant.
Alternative cars
Aston Martin DB9 Although quick and powerful, this Aston is more a swift GT than supercar
Porsche Cayman S A lot cheaper and no less fun in the real world
Lamborghini Gallardo Modern Italian with an obvious German influence, and all importance performance to match
Ferrari F430 Not quite as classic as the 911, but more extrovert and charismatic