October 2011
Peugeot 3008 Hybrid4
The Hybrid4 is almost indistinguishable from petrol and diesel versions
October 2011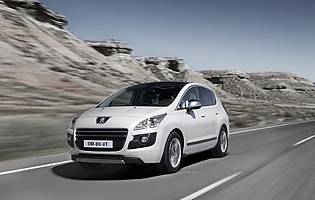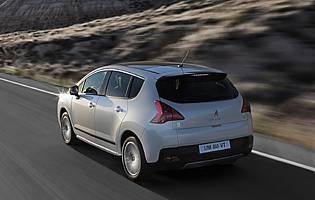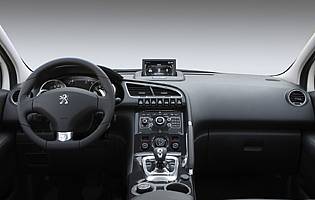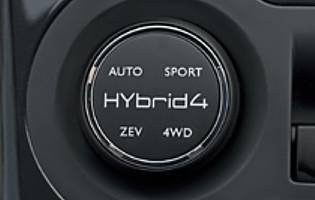 Overall rating

Likes:
Driving modes are all useful and all work well
Smooth, comfortable ride and composed handling
Spacious interior for passengers
Inconspicuous looks boost subtle appeal
Gripes:
Boot space decreased due to batteries and motor
Demands more concentration and dedication
Numb steering has little feel
Electric motor sometimes lacks power
The hybrid system in the 3008 is unusual in that it combines electric power with a diesel engine. It uses the two of the most efficient power sources for cars to create the best possible fuel economy, especially for larger cars like the 3008. As a relatively tall crossover-type car it's perfectly placed to benefit from such a system.
This particular hybrid technology uses a much smaller motor than in some other hybrid cars, maximising efficiency but limiting the power that's available from it. The diesel engine powers the front wheels and the electric motor drives the rears, with electronic systems managing which power source to use and when. There is also a 4x4 mode to increase traction at low speeds.
The drivetrain is the key to why people might want to buy the car. It has four driving modes that are optimised to certain conditions; Auto is the default, ZEV uses the electric motor only, Sport accesses full power and 4x4 is useful for pulling away on slippery surfaces. By using gentle throttle pressure in Auto mode the system uses the electric motor a lot around town, recharging and supplementing it when necessary.
Over 70mpg is possible in real world urban environments in Auto mode alone, so the 3008 Hybrid4 is a potentially excellent choice for parents who drive their children to school and then continue on to work. It's spacious, good value and almost indistinguishable from the petrol and diesel versions, although it does have a generally high level of specification inside and out.
It also rides smoothly over poor road surfaces. The rear of the car is heavier than normal thanks to the batteries and motor, but it has the effect of balancing the suspension and cushioning more of the imperfections. Tall tyres also help to make the 3008 a very quiet and comfortable car to drive. Large, supportive seats and a reasonably good driving position make it very attractive to own long-term.
Our verdict on the Peugeot 3008 Hybrid4
The 3008 is a great car regardless of engine choice, but the Hybrid4 drivetrain is a good option. It gives the car a broader set of abilities and in basic form is road tax free in the UK. It has the potential to satisfy many drivers, especially in urban settings. It's a good all-rounder that, although costlier than the diesel-only models, could be said to be a better car.
Costs
For the class of car that the 3008 normally belongs in, the Hybrid4 version is pretty cheap to run. The ability to average a high mpg figure in a relatively large car and escape road tax altogether is a prospect many people will find tempting. Servicing on the electric hardware should be minimal too, making it little more expensive to maintain than a standard diesel.
Space and practicality
While the raised boot floor in this model does cut down on its overall luggage-carrying capacity, careful placement and stacking could still fit a reasonable number of cases in. Weekly shops will be no problem, either. In the cabin there are several small storage spaces that are useful for CD wallets, phones and used parking tickets among many other likely things.
Controls and display
As a hybrid, it has a live diagram showing where energy is coming from and where it's going to. It's surprising how much time passengers will spend watching it once they understand what it means. The instrument cluster is clear and easy to read, including the special dial displaying how economically the car is being driven at that moment.
Comfort
This is an area where the 3008 scores highly. A smooth, quiet and comfortable ride gives the impression of a much higher degree of luxury than its list price would suggest. The seats are large and supportive, and there is enough space in the rear for two average-size adults or three small children. Drivers and passengers alike will find it a relaxing car.
Car security
A Thatcham category one alarm system will warn off anybody tampering with the car. The 3008 has remote control central locking with deadlocks, and an engine immobiliser to prevent the car being driven away without the proper key. All models also have tinted rear windows to make it difficult to see inside, where any potential valuables might have been left.
Car safety
Electronic Stability Programme (ESP) is standard to help prevent any accidents in difficult conditions. It also has Peugeot's Connect SOS system, which automatically dials 999 in the event of an accident. There are also multiple airbags and other neat features that help to reassure that driver that the 3008 is a safe vehicle to transport loved ones in.
Driver appeal
In Auto mode the driving appeal is limited to trying to use the electric motor alone as much as possible. It's a fun game as long as the roads aren't too busy. In Sport, however, the system allows full power to be used and the 3008 Hybrid4 acquits itself remarkably well along winding roads, particularly considering its size and height.
Family car appeal
Although Peugeot predicts that two thirds of 3008 Hybrid4 sales will go to business users, it would make an ideal family car. Its technology enables high and realistic fuel economy figures around town as well as attracting very cheap road tax charges, and its high driving position is preferred by many parents.
First car appeal
This particular model has a combination of technology, prestige and economy that could tempt many buyers, not least young people, but the list price of even the cheapest model indicates that this is very unlikely to be anybody's first car. It has a lot of appeal purely from its drivetrain, but first-time car buyers would be looking to spend less.
Quality and image
French brands like Peugeot have upped their material quality markedly in recent years, but the company has not yet built up the kind of reputation enjoyed by some German and Japanese brands. Interior quality is good, though, especially in cars with leather seats, and the overall image boost associated with driving a hybrid will be very welcome to the car's owners.
Accessibility
Wide-opening doors, a high roof and high seats make getting in and out of the 3008 very easy. In this aspect it's no different to the ordinary internal combustion-powered versions. The boot floor is high because of the batteries and motor that take up space beneath it, but getting luggage in and out is still relatively easy because of the lack of a load lip.
Stereo and ICE (In car entertainment)
Along with a USB connection for MP3 players and phones, there is Bluetooth connectivity and a good stereo as standard. Higher models feature a satellite navigation and media system, which includes a large in-built hard drive for storing music. It means there are a range of options whether owners prefer convenience, neatness or both.
Colours and trim
The 3008 Hybrid4 is understated in many ways, including colour choice. The colours are subtle, with black being the most dramatic option. It's a poor selection for buyers who prefer a stronger colour. Inside the car, the trim is of a high standard and comes in shades that are complementary no matter what the outside colour is.
Parking
Rear parking sensors are standard on all Hybrid4 models, and while the range-topping version has front parking sensors as well, they can be added as an option on the mid-range model. Visibility is acceptable around the front quarters of the car thanks to the lowered shoulder line of the front doors, but visibility all round could be better. It's small enough to cope well with awkward car parks.
Spare wheel
Temporary puncture repair kit supplied as standard.
Range information
Petrol engine options - 1.6-litre (120bhp, 156bhp). Diesel engine options - 1.6-litre (112bhp); 2.0-litre (150bhp, 163bhp). Transmission options: 5-speed manual, 6-speed manual, 6-speed electronically-controlled manual or 6-speed automatic according to trim level. Trim levels: Active, Sport, SR, Exclusive.
Alternative cars
Peugeot 3008 Sport HDi Automatic Similar spec, cheaper and uses the same diesel engine, but potentially costlier to run
Nissan Qashqai 1.6 dCi Pure Drive More expensive to run but much cheaper to buy, with Japanese build quality
BMW 320d Efficient Dynamics Similar price to the 3008 Hybrid4, also cheap to tax but will use more fuel
Audi Q3 2.0 TDI SE Costs around the same and is better built, but costs more to use and maintain