May 2009
Nissan Pixo 1.0 Acenta 5dr
Nissan's Pixo presents a polished and attractive exterior
May 2009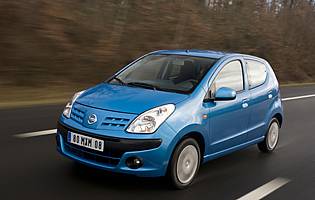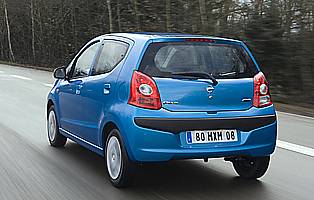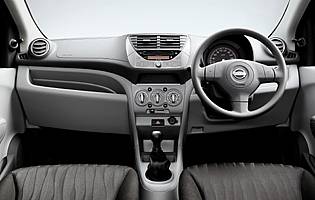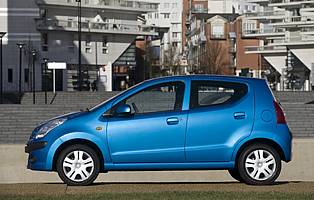 Overall rating

Likes:
No nonsense approach from Nissan is refreshing
Responsive and surprisingly entertaining car to drive
Economy and CO2 claims are impressive
Low cost of ownership not at the expense of a substandard finish
Gripes:
Emphasis is more on comfort than safety equipment
Audio unit's display difficult to read in sunlight and sound quality is poor
No split rear seat on base model
Fascia design and quality less impressive than in other, more expensive Nissans
With its eye-catching entry-level price tag and modest on-paper running costs, Nissan's smallest offering aims to make a big impact in the ever growing city car market. Without resorting to any costly technical gadgets, Nissan has produced a very frugal and low emitting car.
Regardless of whether the world is in the grip of a financial downturn or not, there's a lot to be said for budget motoring. Thankfully, with improvements in technology and cost-cutting practices, the days of hair shirt motoring have long since past. Nissan's Pixo is a good example of what's available if you've got a small budget.
Compromise no longer has to be at the heart of things; the Pixo is visually attractive, a decent size and offers a level of economy that's so far been the preserve of stripped-out tin boxes suitable only for eco warriors.
At its heart is a willing, able and pleasantly refined 1.0-litre, three-cylinder petrol engine. Expensive electronic trickery doesn't play a part in its performance, only sensible engineering, the car's overall light weight and a modest performance envelope.
For the user, the day-to-day experience is pretty good. An easy car to drive, the Pixo performs well around town and fails to come unstuck on longer motorways journeys. Four adults will fit without any major problems, and you never feel shortchanged when on the move. Sure, the cabin can't match the quality of something twice the price and the audio unit is a little lacking, but these are minor points when you consider the asking price.
Our verdict on the Nissan Pixo 1.0 Acenta 5dr
It's easy to be critical of the Pixo's modest safety and security provision. But look at the car's price range - this is true budget motoring from a mainstream manufacturer. Fuel consumption and CO2 levels are impressive, while on the road performance in all situations really shouldn't be this good at this price. Practical, attractive and economical to run, Nissan's Pixo proves that budget motoring doesn't have to be dull.
Costs
With its headline-grabbing low CO2 rating and fuel consumption figures the Pixo is unlikely to casue any financial headaches. Factor in the modest sticker price and reduced tax burden and it's hard to find fault with Nissan's economy model.
Space and practicality
As a five-door car the Pixo should prove versatile enough for most buyers. Front seat space is good, while those in the back shouldn't feel cramped thanks to ample the head and legroom available. Storage space largely comprises open areas in the cabin and good size door bins. The Pixo's boot is better than some others, although it would be foolish to expect too much at this level. The base model doesn't get a split-fold rear bench, though.
Controls and display
In a car this basic there's not much to say regarding its few controls. What there is has been designed to be clear and easy to use. The main dials fall into this category, while the steering, brakes and manual gearshift are all light and accurate in use. The Pixo's high maounted audio unit sports some small controls and its output could be of a higher standard.
Comfort
For a small car the Pixo's cabin is pleasantly comfortable. The car's seats are supportive, head and legroom is good for something in this class and road and tyre noise has been kept to a pleasing minimum. The car's ride quality is also good - important as it will spend much of its time in the city.
Car security
Central locking isn't standard kit across the range - only the top spec model, so you will need to take care when locking up at the end of a journey - if you're used to more sophisticated cars. That said, at this price you can't afford to be too picky. Keeping valuables out of sight and purchasing a third party steering lock will do more for peace of mind and to deter the casual thief.
Car safety
As you would expect, ABS is standard across the Pixo range. ESP is, sadly, only present on the flagship Tekna model. Twin front and side airbags are fitted, although only Tekna models gain the all important lateral side airbags.
Driver appeal
For a car that's not been designed to excite drivers, the Pixo is a pleasant surprise. Light on its feet, agile, responsive and brisk considering its modest engine, the compact Nissan is easy and fun to drive. It's also refined; even when driven hard the petrol engine never sounds rough. The Pixo is good at dealing with rough city road and feels comfortable keeping up with motorway traffic.
Family car appeal
Although hardly an ideal family car, if the Pixo comes before any new arrivals there's no need to immediately rush out and buy a bigger model. The boot will struggle with pushchairs, but the cabin will prove sufficient for the medium term. At least the litle Nissan won't the earth to run.
First car appeal
The Pixo couldn't b a more suitable first car; it's small, easy to drive and park, boasts some of the lowest running costs in its class and is visually appealing to boot. Some might be concerned over the car's modest safety kit list, although spending more does improve matters.
Quality and image
Nissan as a brand has benefited greatly in recent years; it's more upmarket cars have reversed the car maker's decline. These desirable products have done wonders for the company and the general ramp up of quality has been most welcome, lifting it out of the shadow of the likes of Ford and Vauxhall.
Accessibility
The five-door hatch form - large or small - is a tried and tested format, and the Pixo offers no surprises. Front seat access is fine, with rear seat access better than you think. At the rear the hatch requires little effort to raise or lower.
Stereo and ICE (In car entertainment)
The basic unit is actually more than you would have got a few years ago in a car like the Pixo. That said, we're all used to much better things no but the Pixo's audio unit lags behind most other offerings. Although conveniently mounted high up, sound quality and the various controls aren't terribly impressive.
Colours and trim
Jaunty exterior colours do much to flatter the Pixo's compact shape. Inside it's a little more straightforward. The Nissan's simple fascia and modest cabin benefit from being kitted out in light colours, although it's easy to see that the Pixo comes up short compared to other, more expensive rivals.
Parking
Given its compact dimensions, the Pixo is dead easy to park. The car's light and accurate steering is the main aid to success, while the good allround visibility cannot be ignored.
Spare wheel
Space saver fitted.
Range information
Petrol engine options - 1.0-litre (68bhp). Transmission options: five-speed manual gearbox and four-speed auto gearbox. Trim levels: Visa, Acenta, Tekna. Four-speed auto not available with Visia trim level.
Alternative cars
Suzuki Alto Badge engineered cousin to the Pixo
Kia Picanto Slightly higher quality alternative
Peugeot 107 French alternative boasts more style and driving talent
Hyundai i10 Competent Korean alternative boast a longer warranty