May 2013
Nissan Leaf Tekna
Nissan has kept the Leaf's divisive front-end styling largely the same
May 2013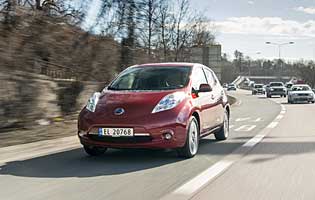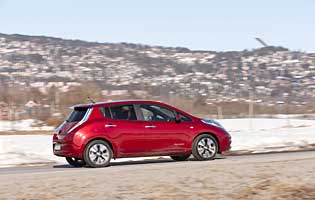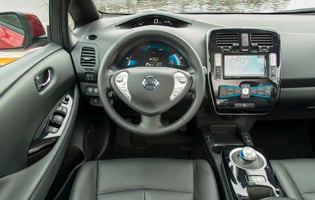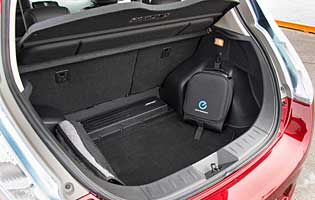 Overall rating

Likes:
Relaxed, smooth progress courtesy of the electric drivetrain
New suspension settings dial out unwanted handling quirks
Black interior is classier and much harder-wearing than its beige forebear
Fast-charging capability makes daily use easier
Gripes:
Constant vigilance needed to maximise effective range
Largely unchanged and still divisive styling will not win new buyers
Home-based fast-charging station costs extra
Parallel buying and leasing options could create confusion on the used market
Nissan's Leaf has maintained a reputation as the only mainstream electric family car to have been built as one from the ground up, with driving characteristics that truly suit the car and its unique construction. The new version looks much the same as the old one for aerodynamic reasons, but small improvements across the board have lifted its game.
The Leaf deservedly won plaudits upon its release for having many qualities simply not seen before in electric cars. High build quality, a thoroughly comfortable ride and acceleration forceful enough to spin the front wheels made the Leaf a much more familiar and appealing prospect than other plug-in cars, and as a result Nissan sold tens of thousands.
The new one builds on key areas that customers felt were lacking in the original, like the interior trim colour and cornering stability. Of course, no refreshed electric car would be complete without an injection of extra range and the new Leaf obliges, raising its potential maximum to around 120 miles - but such a feat would require continuously ideal conditions.
On the inside the dominant shade is now black, moving on from the much-maligned beige of the first Leaf following overwhelming feedback from European buyers. Technologically the car gets Nissan's latest in-car monitoring systems to assess range and power consumption, while a new selectable driving mode vastly increases the amount of off-throttle energy recuperation, especially on descents.
The suspension now has firmer anti-roll settings to keep the body flatter through corners and to eliminate the mid-turn pitch and bounce that bugged owners of the outgoing Leaf. But the bulbous headlight clusters, which have in the past divided opinion, remain on the new car - existing owners love them and they also deflect air away from the door mirrors.
Our verdict on the Nissan Leaf Tekna
The Leaf was always a useful car, just hampered by a few small but important details. With these latest changes it has become a uniquely charming second family car only limited by the current lack of public charging infrastructure in the UK. It can be used daily for any task any other family hatchback could do, but it's important to link it with a home charging station.
Costs
The initial outlay for the Leaf is high enough to be off-putting for some people, but running costs and tax benefits are where it regains ground. A full charge costs a few pounds at most; cheaper if performed overnight, and it could easily last for 90 real-world miles or more. Business users will find the Leaf extremely tax-friendly and the car is also exempt from all current UK city centre congestion charges.
Space and practicality
This generation of Leaf has had a key part of the drivetrain moved from behind the rear seats to under the bonnet, freeing up extra space in the boot that now brings the Leaf into line with the best cars in the class. There will be a convincing amount of room in the eyes of any potential buyer moving up either from an older Leaf or from a B-segment car like Nissan's Micra. In the cabin there are a limited number or storage solutions.
Controls and display
In an attempt to keep the controls as neat and intuitive as possible while striking a balance with the forward-thinking nature of the car, Nissan has adopted a large, high-resolution touch-screen interface in the centre console. It is the centrepiece display and can show media, navigation data and the extensive CarWings monitoring system that measures myriad aspects of the car's condition to predict range, map energy usage and much more. The device responds quickly to touch and helps the car feel entirely up to date.
Comfort
There is a perfectly adequate amount of rear leg- and headroom in the Leaf, but three people will find themselves squeezed if sat across the rear bench. The front seats in particular are notably plush and cosseting, which on a basic comfort level helps to sell the car via any test drive. There are a number of luxury features like dual-zone climate control and heated seats, should those in the front seats wish to take advantage of them.
Car security
The Leaf has an alarm and an immobiliser, optimised to consume as little electricity as possible. In truth such electronics have so small a drain on the batteries that it makes no perceptible difference at all to have them active when away from the car, so there is little risk of them flattening the power source. Remote central locking, locking wheel nuts and a boot that can be opened independently are all other standard security features.
Car safety
Nissan has been able to use the benefit of its experience with the first Leaf to enhance the safety of its replacement. It has always been a very safe car, with the batteries well protected against potential impacts and with much less combustible fluid on board than in an internal combustion-engined car. The breadth of active safety systems is on par with the best in the class so all occupants can feel reassured.
Driver appeal
Driving the Leaf is a real joy, with a wonderfully smooth and vibration-free nature that proves exceptionally relaxing. The ride quality is excellent thanks to relatively expensive suspension components, and the front seats are big enough to impress upon the driver a certain sense of luxury. Although bursts of acceleration are available it isn't sustainable beyond around 50mph, and also harms the projected driving range. Improved suspension settings have now also tightened the handling characteristics somewhat.
Family car appeal
The Leaf is a geniunely viable family car for parents whose lives revolve around one locality. The car offers more than enough range for daily commuting, picking children up from school, shopping and visiting friends and family, and it has Isofix child seat mounts on the outer rear seats to make carrying very young children safer. The boot is comparable to any other car in the class and as such stakes a useful extra claim for family business.
First car appeal
This is something of a difficult situation for Nissan at present, because while young people might be more switched on to environmental concerns and more open to the idea of an all-electric car, the vast majority could not even hope to be able to afford a Leaf. Otherwise, the automatic transmission, smooth drivetrain and unintimidating driving dynamics would be quite suitable for an inexperienced driver or perhaps one lacking in confidence.
Quality and image
Nissan is well thought of when it comes to build quality and reliability, and generally for good reason. The firm tends to lag slightly behind Toyota and Honda for outright reliability but the Leaf is among Nissan's most confidence-inspiring models, blessed with a tangible sense of solidity that also resonates through the driving experience and provides a welcome feeling that it won't let you down or shake itself to pieces.
Accessibility
Front seat passengers will find the Leaf no harder to get into or out of than any other mid-size hatchback, although the roof line has been slightly lowered compared to the old one for the sake of minimising wind resistance. Rear occupants will be grateful for the fact that the roof line maintains most of its height until past the point of the rear door, so there's little risk of banging heads on the metalwork.
Stereo and ICE (In car entertainment)
This range-topping Tekna model is the only one to feature an upgraded Bose system designed specifically to use minimal energy while turned on. Connected to this efficient amplifier are seven speakers plus a subwoofer for more bass. A large colour screen in the centre console displays media information and includes touch-screen technology that neatens up the controls. Users can choose from traditional radio or CD inputs, alongside the new-age USB, SD card and Bluetooth connection options.
Colours and trim
The Leaf has a specific target audience in its sights, and the older generation in question does not appreciate what its population sees as gaudy colours and outlandish trim options. The exterior colours are therefore limited to reatively sensible tones with a small number of brighter colours for the more daring. Bigger news is found on the inside, with an all-black interior that looks much classier and upmarket than the old model's beige.
Parking
The car's dimensions are typical of a C-segment hatchback and as such it can slot into the majority of typical car park spaces. It may sometimes struggle to find suitable on-street parallel parking spaces compared to Nissan's smaller cars. Because of its silent nature, the Leaf emits a noise at parking speeds that warns pedestrians of its presence and hopefully avoiding any incidents, and there are parking sensors installed as standard.
Spare wheel
Emergency tyre repair kit supplied as standard.
Range information
Transmission options: automatic single-speed reducer type transmission only. Trim levels: Visia, Acenta, Tekna.
Alternative cars
Renault Fluence Z.E. Cheaper alternative to the Leaf is surprisingly competent, but feels low quality
Vauxhall Ampera Range-extending hybrid offers electric-only running but has ownership quirks
Toyota Auris Hybrid An efficient and always active closed hybrid system makes a convincing package
Volkswagen Golf High interior quality and efficient diesel engines produce a cost-effective option