October 2014
Mini Mini 5dr Cooper S
From the front the five-door's looks are shared with the three-door
October 2014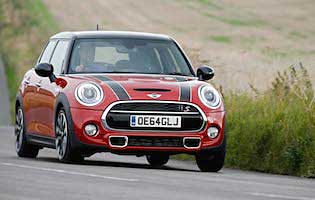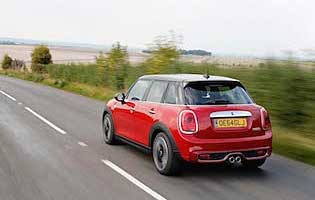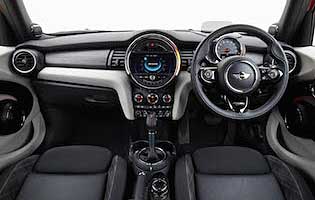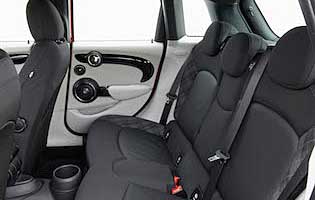 Overall rating

Likes:
Revised exterior remains in proportion even with the extra doors
Ride and handling has a 'big car' feel
Cabin quality is much improved over predecessor
Powertrain improvements result in welcome economy advances
Gripes:
Engines need to be pushed hard to sound good
Changes to minor switchgear dilute the Mini's USP
Optioning a car remains a costly business
Rear space and cabin access still modest by regular five-door standards
Notwithstanding the larger, SUV-like Countryman, it's taken close to a decade and a half for a five-door Mini hatchback to appear. Based on an all-new platform shared with its three-door cousin, this five-door, family-friendly car is what many Mini aficionados have been waiting for.
BMW has upped its game with regards to the Mini in its bid to keep pace with the increasing number of compact premium hatchbacks. This third-gen car boasts an all-new interior complete with higher-grade materials and a new suite of infotainment technology.
And until the arrival of this five-door model, Mini fans had to either embrace the firm's larger, SUV-themed Countryman or look elsewhere. No longer the case, this family-friendly Mini boasts two extra doors and more cabin space.
As a family the Mini range has grown incrementally over the years but never quite matched the needs of families or those seeking more space. This five-door car aims to put an end to such issues, and while it does possess more room the increase is modest by the standards of its more conventional rivals.
Still, even if rear legroom is modest and access to the rear seats can be a squeeze for some adults, the car is considerably more versatile than its three-door namesake and likely to account for the lion's share of sales in years to come according to Mini bosses by virtue of its enhanced practicality alone.
Our verdict on the Mini Mini 5dr Cooper S
For all the fuss surrounding the arrival of a five-door Mini hatch - a day its detractors hoped would never come - the basic concept adds a welcome injection of enhanced practicality. There are larger family hatchbacks out there but none offer the character, brand image and personalisation potential of the Mini. And for those reasons alone it's likely to be a hit.
Costs
Purchase price aside - which can include a tempting array of cost options - running costs should be reasonable thanks to the new range of more fuel efficient petrol and diesel engines. Low fuel consumption and CO2 figures should se you spending less on tax and at the pumps. Mini's popular fixed price service package also ensures that the total cost of ownership remains low.
Space and practicality
The Mini hatch line-up has been steadily growing in size for years, but it's taken this long for a genuine five-door variant to appear. The result is more space for all, but the car can't match more conventional rivals for ease of rear access. Thankfully boot space has also improved, with the ability to fold the rear seats to accommodate large items a welcome boost.
Controls and display
Just like with the three-door model, cabin redesign includes a new infotainment display and changes to the minor controls. The former ensures a more enjoyable user experience thanks to the redesigned controls and large, bright display. The latter includes a convenient ignition toggle switch and the relocation of the window switches to the doors - a move purists are unlikely to approve of.
Comfort
Don't expect an experience akin to Volkswagen's Golf, as the Mini is a little more engaging. The result is a little more road noise and a firmer ride than your average compact hatchback. It's still 'cosy' for two adults upfront, while the five-door expansion has at least resulted in a more civilised experience for rear seat occupants.
Car security
The Mini's security has been improved with the inclusion of keyless ignition, meaning the starter toggle can be used in lieu of rummaging for the key in a pocket or bag. Elsewhere, the glovebox is a good size and the rear load cover looks and feels suitably sturdy.
Car safety
Aside from the usual tally of airbags and electronic stability systems, higher value features are starting to appear as they trickle down from the larger, more expensive BMW products such as active cruise control, a head up display and collision avoidance technology.
Driver appeal
Despite the perception that this five-door Mini is all grown up, fun remains a priority even though it's now a more refined and larger proposition. The car's steering is accurate and responsive while, in Cooper S guise, ride comfort balances nicely with a pleasing lack of roll although the ride can be a little firm at times on poorly surfaced roads. Grip levels are high, which adds to the confidence-inspiring driving experience.
Family car appeal
Yes you have five doors now, but it can still be a bit of a squeeze to access the rear seats if you're an adult. For children the situation improves considerably, although the door aperture isn't huge - something to consider when fitting a child seat. Overall, though, this five-door Mini adds some welcome extra space and practicality. For those with more demanding lifestyles there's always the larger Countryman.
First car appeal
Despite the minor increase in size and subtle move upmarket, the Mini remains an excellent first car, with this five-door variant offering an added practical dimension that was only previous available in the lofty Countryman. It's not the cheapest five-door hatch on the market, but cost is rarely a consideration among buyers.
Quality and image
Since its relaunch under BMW, the Mini brand remains near-bulletproof. The high degree of personalisation also allows buyers to create a car that feels individual, which is a major attraction. Quality has improved significantly and, crucially, the introduction of the five-door model opens the car up to a new buyer profile.
Accessibility
As a five-door, the Mini's front doors are a little shorter - making it easier to access and egress in tight parking spots while hardly impacting on the overall experience. And while the presence of two rear doors is most welcome and long overdue, the execution could be better; the aperture is small and access and egress for adults is modest at best but should be fine for children. Access to the boot is easy, with a low loading sill.
Stereo and ICE (In car entertainment)
The car's oversize main dial now houses the infotainment display, enhancing the overall experience. The Mini's main control input device has also been improved and is now much more like a version of BMW's i-drive system. The basic package of radio, music player and mobile phone connectivity works well, and can be upgraded with navigation and Internet music streaming.
Colours and trim
Predictably, bright colours work well - even on this larger five-door canvas - and can be enhanced with a range of optional trim packages. The cabin is a little more sombre thanks to the dominant dark plastics, although LED mood lighting and bright trim accents boost the ambience.
Parking
The view through the rear is slightly restricted by the pillars, but it remains easy to judge the extremities of the car. Parking sensors and, where fitted, a reversing camera makes life easier, as does the optional automated reverse park function.
Spare wheel
A mobility kit is fitted as standard.
Range information
Petrol engine options - 1.2-litre (102bhp), 1.5-litre (136bhp); 2.0-litre (192bhp). Diesel engine options - 1.5-litre (95bhp, 116bhp); 2.0-litre (170bhp). Transmissions: six-speed manual and six-speed automatic. Trim levels: One, One D, Cooper, Cooper D, Cooper S, Cooper SD.
Alternative cars
Ford Fiesta More practical, conventional and affordable in execution yet no less fun to drive
Audi A1 Premium alternative that's practical and good to drive
Volkswagen Beetle Lifestyle alternative is big on image and better to drive than of old but three-door only
Vauxhall Corsa Improved Corsa is now better all-rounder but still can't match Mini for desirability