February 2015
Mercedes-Benz GLC 220d AMG Line
All-new model's styling is conservative and fits the Mercedes family styling
September 2015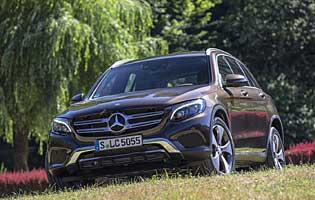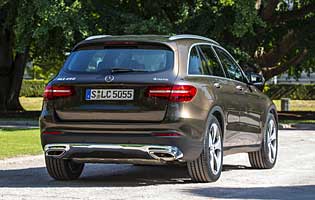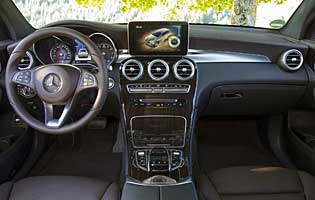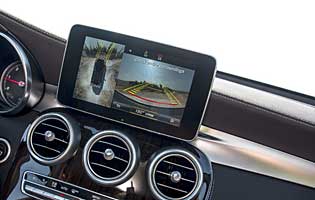 Overall rating

Likes:
Solid interior gives highly persuasive premium feel
Large boot is good for family life
Intuitive interface allows easy media playback and menu navigation
Spacious cabin offers lots of room for passengers
Gripes:
Desirable optional extras can be expensive
Diesel engine is comparatively unrefined
Tablet-style main screen looks like an afterthought
Rear styling is quite boring
On the continent Mercedes-Benz has sold a compact SUV for some time, but the boom in right-hand drive sales among these models came just too late for the company to adapt their car to suit. That is why the GLC has seemingly been a long time coming, and it leaves the car with catching up to do.
The GLC is set to be the lower mid-range SUV option from Mercedes, as part of an expanded line-up that will stretch from GLA to GLS via GLC and GLE. The range starts small, with two versions of one diesel engine and four-wheel drive only, to begin with.
It uses height to its advantage by increasing interior space, perceived legroom and boot space without extending the length to impractical or undesirable levels. The GLC can therefore offer cabin space more reminiscent of the E-Class saloon, which when combined with shorter length and a higher driving position for a better view, makes the GLC better in town.
Mercedes has a tough task to catch up with the longer-established rivals from BMW and Audi, whose model cycles were kinder and allowed the X3 and Q5 to be built in right-hand drive sooner into this type of car's popularity surge. It has been built to a high standard, though, and aims to use perceived quality as a key point of appeal.
Robust build and a familiar series of engines will make choosing the GLC easy, and with a revised naming structure each model is now more clearly identified, including the type of fuel used - something that was often lost in translation in other Mercedes models. It is well equipped to have widespread appeal.
Our verdict on the Mercedes-Benz GLC 220d AMG Line
Mercedes is reportedly cautious about the GLC's sales predictions, but the car feels at least as well built as those it competes with, and it's arguably better looking than the larger GLE. It has impressive off-road ability when ordered in the appropriate specification, too, and manages to still have good manners on the road. Some people won't like the tablet-style media interface, but this is a very good car.
Costs
The range has been designed to offer a modest sequence of steps upward to higher models, but since all come with features like a powered tailgate, four-wheel drive and a nine-speed automatic gearbox, all feel like strong value for money. Fuel consumption is only good at a gentle cruise, but road tax is low for a car of this type.
Space and practicality
Despite being only a little longer than a compact family hatchback, the GLC has a much larger boot, at 550 litres. It's broad, deep and offers plenty of height for stacking cases. There is a surprising amount of legroom, too, thanks to the additional height of the seats. A powered tailgate is a very useful practicality feature.
Controls and display
While the essential functions of the media interface are incredibly straightforward, the Mercedes Comand dial between the front seats is partly obscured by a clumsy touch pad, which is bulky, gets in the way, and fewer people will be able to use it well. The rest of the controls fall into a familiar pattern and most fall to hand easily. It could be argued that too many controls are crammed onto ancillary stalks, though.
Comfort
Chunky seats offer good support for thighs and backs, and there is enough electrical adjustment on hand to cater for most needs. If there is a problem with comfort it's that the AMG Line's harder suspension settings are too hard for British roads. The normal setup is much smoother across crumbling road surfaces and provides a much more relaxed everyday experience.
Car security
An alarm with an engine immobiliser and 'interior protection', which means sensors to detect any movement within the car, is standard. The interior sensors can be switched off if a child or pet is left inside. The GLC is a bold-looking car, so may attract attention, but is not as flamboyant as some other SUVs.
Car safety
Mercedes treats safety as a main priority. Innovations like an active bonnet, which cushions pedestrian impacts, have filtered down to this level, but the systems are largely built around Collision Prevention Assist Plus, which covers forward distance warnings, potential collision warnings, automatic emergency braking and more. Automatic braking only works from 4-31mph with stationary objects and 4-65mph for moving ones, making it redundant at the motorway speed limit.
Driver appeal
While its makers are hedging their bets by offering only one engine and drivetrain configuration, albeit in two power outputs, this limits the good news from the driver's viewpoint. The 2.1-litre diesel is effective, if uninspiring, and could primarily benefit from greater refinement. The ride quality is good, though, and as long as you can avoid looking at the rev counter too much, you won't notice how the gearbox hunts frequently between ratios.
Family car appeal
Families are expected to make up a significant proportion of GLC customers. They will find a lot to like in the spacious interior, seats mounted at a good height to add child seats, a large and broad boot and plenty of safety equipment. Parents will need to be careful about food and drink spillages on the expensive materials, though.
First car appeal
With the increasing popularity of compact SUVs, and the prediction among market analysts that the 'millennial' generation will heavily buy into this type of car, the idea of buying something like this as a first car will become increasingly common. However, it is still an expensive car to consider as a first buy, and is therefore unlikely to make much headway against affordable superminis.
Quality and image
At the top end of the range the GLC feels extremely high quality from the contact points to the carpet and dashboard. The 'Artico' standard synthetic leather seats feel noticeably harder and less plush than the real leather ones, though. Mercedes is enjoying a strong image boost with its latest models, and as a newcomer to the sector the GLC has the rest of the Mercedes range to thank for its perceived quality.
Accessibility
As a compact SUV the car's seats are set higher than in a saloon or hatchback, and while younger and middle-aged buyers are likely to find that height just about perfect, older ones or shorter people may find them a little too high for a comfortable entrance. Exiting is universally easy, with plenty of headroom giving space even for hats. A powered tailgate is one of many impressive standard features on the GLC.
Stereo and ICE (In car entertainment)
All versions feature the seven-inch colour touchscreen interface, which is also controlled via a dial between the front seats. The system has a CD player, two USB ports as standard, DAB radio and Bluetooth. The speakers feature a technology called Frontbass, which increases the power of the lower frequencies in music
Colours and trim
Black and white are the two flat, free paint colour choices, while the other options predominantly span metallic blacks and greys, plus special metallic brown, white and red. The brown is a fashionable and surprisingly appealing option. On the inside there are two synthetic leather colours that look good but lack tactile quality, while Sport and AMG Line cars can be upgraded with plush real leather.
Parking
Sport and AMG Line models feature Active Parking Assist, which when activated can control the steering as a driver gently operates the accelerator and brakes to manoeuvre into parking spaces. The same trim grades also share Parktronic, which includes 12 exterior sensors linked to an audible proximity warning for the driver.
Spare wheel
Emergency tyre repair kit supplied as standard.
Range information
Diesel engine options - 2.1-litre (167bhp, 201bhp). Transmission options: nine-speed automatic gearbox only. Trim levels: SE, Sport, AMG Line.
Alternative cars
Audi Q5 Entirely competent in every way, but a little dull
BMW X3 Drives well and latest generation has much-improved looks
Land Rover Discovery Sport Capable and straightforward, but can't match the Mercedes' premium feel
Lexus NX Unconventional but well-executed and smooth option