August 2013
Kia Pro_cee'd GT
GT captures a visual drama that few rivals can match
August 2013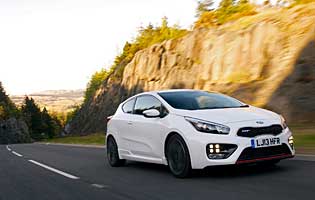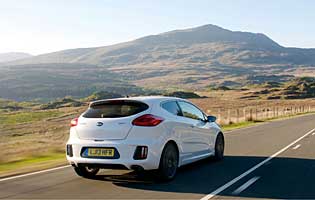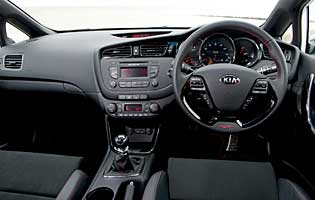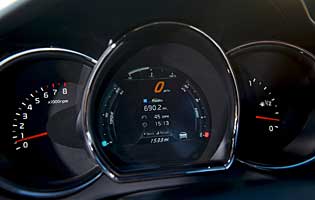 Overall rating

Likes:
Outrageously good looking, even in completely standard trim
Intelligently tuned engine rewards both easy and hard driving
Recaro front seats offer perfect support, comfort and grip
Good ride quality makes everyday driving comfortable
Gripes:
Deep boot can make lifting heavy luggage out more difficult
Sports front seats can't fold forward as much as the standard items can
Rear visibility is poor thanks to thick C-pillars
Engine note could be a little more engaging
Kia has never before entered into the realm of hot hatchbacks, which have been something of a European phenomenon since the advent of the Volkswagen Golf GTi in the 1970s. The company has decided that the time is right to end its absence from the sector and introduce a car designed to steal sales from the much more established rivals.
Kia has been very clear in the run-up to the Pro_cee'd GT's launch that it's not designed to be an all-out driver's hot hatch in the same mould as the Renaultsport Megane 265 and the Vauxhall Astra VXR. Instead, it's meant to be a more everyday, user-friendly hot hatch along the lines of the Volkswagen Golf GTi.
Arguably it exceeds expectations immediately, with a collection of styling cues that give it much more of a 'wow' factor than its rivals, many of which have lost their way in the visual stakes. The quad-piece LED daytime running lights on the lower front bumper are a spectacular and unmistakeable choice, while the dark alloy wheels are framed perfectly.
The car represents uncharted territory for Kia, as the first 'performance' car it has ever made. It's also a Europe-only model, with Kia sticking fast to its policy of catering to different continents and car-buying cultures in different ways. This is still a high-risk venture, though, with an important reputation about to be made or broken.
Existing technology has been used wherever possible, including an adapted version of the 1.6-litre turbocharged petrol engine seen in the Hyundai Veloster Turbo, but Kia has tried to maintain as much of the three-door Pro_cee'd's practicality as possible. The boot, for example, is the same size, and the brilliant Recaro sports front seats still allow passable access to the rears.
Our verdict on the Kia Pro_cee'd GT
The Pro_cee'd GT is incredibly good, and not just for a first effort. Blessed with practical touches from the standard car, looks from a show-ready concept and thoroughly enjoyable driving characteristics that belie its novice status, this is a car that, as well as outshining its rivals on the car park, can live with the best of them on the road. Its mix of talents could be just about perfect.
Costs
Kia is under no pretence that this model is an economical one, and nor is the Korean firm marketing it as such. Fuel economy is a good deal less than can be found in a cheaper diesel Cee'd, but for the class of car it's not bad. Likewise, cheaper road tax can be found elsewhere, including in one or two of the Pro_cee'd GT's rivals, but compared to the huge purchase price difference between the Kia and its competitors, the running cost increase is tiny.
Space and practicality
The car makes the most of the space it has, with large storage bins ahead of the gear stick and under the armrest between the front seats. The front doors have sizeable pockets, too, although the armrests get in the way of A4 paper. The boot is generously sized thanks to the lack of a spare wheel, and the only slight drawback is the load lip, which is higher than would be ideal for people who regularly carry heavy luggage.
Controls and display
Kia has installed a brilliant part-digital instrument cluster that puts some equivalents in much more expensive cars to shame. The high-resolution, stylish central circle surrounding the trip computer readout can display either a traditional analogue-style speedometer or a GT Performance Mode setting with performance driving data like torque output. Either way, the system gets the look and feel just right, exceeding expectations.
Comfort
Although the Pro_cee'd GT is fitted with stiffer sports suspension to reduce body roll and increase its damping capabilities for brisk road driving, it doesn't overly reduce outright ride comfort. Sharper bumps feed back to the cabin with gusto, but this is more than made up for by the special sports seats, which with their half leather, half faux-suede finish and contrasting red stitching are as comfortable and supportive as they are stylish.
Car security
Among the security features included as standard are an alarm, an engine immobiliser that should make it near-impossible to steal the car without the key, locking wheel nuts to prevent alloy wheel theft and remote central locking. The latter also comes with deadlocks, which when activated will prevent thieves from unlocking the doors from the inside after smashing a window. Further to that, there is a driver-selectable auto-lock mode that activates the first time the car climbs above 4mph or so.
Car safety
The GT's cruise control includes a speed limiter to be sure of avoiding a brush with the law, or of unintentionally straying beyond the limits. Stability control, anti-lock brakes and a hill-start assist system are all standard, while a tyre pressure monitoring system looks for punctures. Six airbags are standard, with Isofix child seat mounts to ensure a safe car seat fit. The doors will automatically unlock in the event of an accident to allow people to exit easily.
Driver appeal
Here Kia has perhaps sprung the greatest surprise, in that the Pro_cee'd GT drives brilliantly. It does away with its non-performance sibling's variable rate steering in favour of a simpler, more satisfying setup and in combination with the great Recaro sports seats the GT is a joy to drive quickly. The 201bhp engine may not be the most aurally satisfying but it's extremely responsive and encourages hard use, but it's equally happy at low speeds in an urban setting.
Family car appeal
There are definitely more family-friendly versions of Kia's mid-size hatchback out there. The three-door layout immediately impinges on family friendliness when trying to mount a child seat. The Recaro seats won't fold forward quite enough to give enough space to make the job easy, and it's not always easy to squeeze a wriggling child past the B-pillar either. The boot is large enough for most duties, but the five-door Cee'd GT is a better alternative.
First car appeal
With power, poise and buckets of style on tap, the Pro_cee'd GT is the sort of car that many a new driver will dream about owning. It ticks all the boxes in terms of desirability and in some ways it's also very easy to drive, but there are a number of reasons why it would make a poor choice. Its power would be a potential cause for concern in the hands of a relatively inexperienced driver, and it would be extremely expensive and in some cases difficult to insure.
Quality and image
Kia has been on an enviable upward trajectory for years, with a brand new model range conveniently coinciding with the government's 'scrappage' scheme some years ago. Its seven-year warranty is the longest multi-owner scheme in the business and helps to give real peace of mind, not that the firm really needs it. Its cars perform consistently well in reliability and ownership satisfaction surveys, and the overwhelming sense of value within the Pro_cee'd GT will help to bolster that.
Accessibility
This is the three-door version of Kia's first performance car, and it suffers the same practicality handicaps as many other cars of its type. The doors are long, which means they need to open wider before they present a suitable entry or exit aperture. It's also a longer step forwards into the seat, and the low, sleek roof line makes things a little more awkward. These are fine increments but if accessibility is a priority Kia also makes a five-door Cee'd GT.
Stereo and ICE (In car entertainment)
The standard GT trim level brings with it a simple but undeniably effective stereo with speakers spread throughout the cabin, operated by traditional buttons and dials on the centre console. Upgrading to the GT Tech trim level brings with it a large colour screen that much improves the look of the media interface and offers more information about the music being played. As with all touch-screen systems, though, it can be hard to work on a bumpy road.
Colours and trim
Only three colours are available on this performance version of the Pro_cee'd. The standard colour, included in the price, is a flat red, but for an extra cost metallic black and pearlescent white are also available. The car looks marginally better in one of the optional shades, but which is down to personal taste. The relatively sensible interior trim looks good thanks to subtle black detailing and liberal use of red stitching, but the standard centre console is a little bland.
Parking
Crash safety and styling trends have both had the effect of reducing rear visibility on the majority of modern cars, and the Pro_cee'd GT is a particular victim of the inconvenient results. Its high rear window line and thick C-pillars mean that trying to watch for obstacles can be a tricky business. Kia knows this though, and supplies base GT-spec cars with reverse parking sensors. GT Tech models get a reversing camera too.
Spare wheel
Emergency tyre repair kit supplied as standard.
Range information
Petrol engine options - 1.6-litre (201bhp). Transmission options: six-speed manual gearbox only. Trim levels: GT, GT Tech, GT First Edition.
Alternative cars
Volkswagen Golf GTi The default choice and hot hatch benchmark looks absurdly expensive by comparison
Ford Focus ST Wonderful to drive and practical with it, the Focus also sounds great
Skoda Octavia vRS Strong styling and huge interior space make this easily the most practical hot hatch
Renault Megane Renaultsport 265 No rival matches the Megane's driving thrill, but it's short on quality and practicality