May 2009
Jaguar XK 5.0 Portfolio Coupe
Improvements should help the XK appeal to keen drivers
May 2009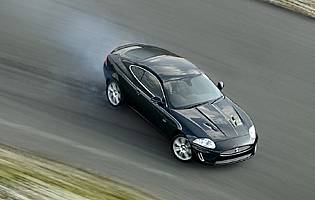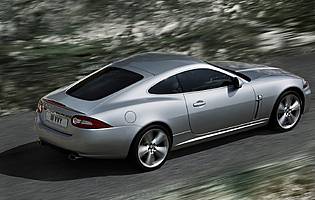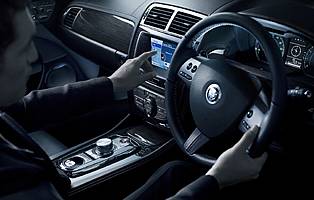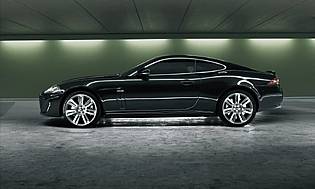 Overall rating

Likes:
Comfortable and refined on the move
The subtle changes have made positive difference
Revised instrument layout and gear shifter work well
No complaints about performance - V8 engine is very good
Gripes:
No complaints about performance - V8 engine is very good
Long nose and overhang can slow manoeuvring in tight spaces
Cabin is snug and driving position too low for some
Rear seats remain for decoration only
There may not be much to see from the outside but it's fair to say that this XK is a welcome improvement over the car it replaced. The visual clues might be largely absent, but to Jaguar the suspension and engine changes keep the XK in the limelight for a little longer.
Jaguar holds an enviable reputation for being a maker of sporting cars. What's not known or appreciated by many is the firm's ability to match and often beat what the German competition can turn out. In the case of the XK, it was always a good car, just one that was ever so slightly biased towards the luxury end of the scale.
Keen drivers everywhere will be pleased to hear that the balance has been redressed ever so slightly. No with an added 'edge' to its character, the XK is capable of things only the likes of Porsche and BMW like to brag about. The XK remains a beautiful-looking car, which goes some way to creating the initial surprise when you experience it first hand.
Thanks to a combination of clever updates to the car's already praiseworthy suspension system and a new engine, this XK is a significant leap forward over its predecessor. For all the technical intricacies, the end result is a fluid and responsive car that can seamlessly adapt to changing conditions and driver inputs. The 5.0-litre V8 engine is cleaner, greener and meaner than the old 4.2 V8, making that in itself an achievement worthy of note.
Aside form the enhanced performance, Jaguar decided to add more in the way of trim and colour options inside and out. In reality it's more of the same, high class materials, which is no bad thing. Other changes to the cabin include the adoption of the XF's rotary gear selector and an improved audio system.
Our verdict on the Jaguar XK 5.0 Portfolio Coupe
The subtle changes to the XK's exterior offer little clue as to the car's changed personality. There's no yawning gap between old and new, but this XK offers a sharper, more precise driving experience and one that keen drivers will relish. This XK is no 911 though, and as such retains much of Jaguar's trademark velvet-like ride and refinement. It's just been brought up to date for a new breed of buyers.
Costs
If you're in the market for something like the XK, you'll already have a rough idea about how much the car and the associated running costs will run to. If it's any consolation, Jaguar's 5.0-litre V8 engine offers worthwhile improvements not only in performance but also economy. There's not getting away from the fact that fuel consumption, insurance and servicing will be a significant outlay over the life of the car, though.
Space and practicality
You never buy a car like for its class-leading interior space, and the XK is not going to win any awards. The cabin is a reasonable size and boasts a few good storage areas. There's space behind the front seats for a few oddments, while the car's boot is a good size. It passes the golf bag test with flying colours.
Controls and display
Like the XF, the XK employs a mix of conventional-looking dials and high-tech displays. The former are easy to read, while the latter dominates the centre part of the fascia. Then colour touchscreen doubles as the sat-nav, audio and ventilation display, but some of the on-screen 'buttons' are too small to press accurately when on the move. This XK also adopts the XF's rotary gearshifter, something that soon becomes second nature to operate.
Comfort
Despite the XK's newfound sporty character, when you're not charging ahead it can also be a relaxing car to drive. The ride might be a little firmer than before, but it's still miles ahead of other similar cars. The XK's seats are also praiseworthy, boasting ample support. And when driving sensibly road and engine noise is barely perceptible.
Car security
Fully alarmed up and complete with remote central locking, there's little Jaguar hasn't included to keep you and the car safe. Keyless entry and ignition makes like easier - and allows you to keep the key out of sight. Only a tracking device could give you any more peace of mind.
Car safety
As befits are at this price point, nothing's been left out. Airbags and a fully comprehensive suite of electronic aids all make life less worrisome. And for the keen driver, those aids rarely spoil the fun, and can be switched off if you know what you're doing.
Driver appeal
This is where you'll get a surprise; this XK has dropped the previous car's softly-softly approach in favour of something more akin to that of a proper sports car. Although still a GT in every sense of the moniker, keen drivers should warm to the car's sharper steering and handling. There's also the 5.0-litre V8 engine, which is cleaner than before as well as being more powerful - it sounds good, too.
Family car appeal
With no meaningful rear seat accommodation, the XK immediately rules itself out of being a family car. The Jaguar's boot is a good size for most things, but the argument falls apart when you examine the cabin and running costs.
First car appeal
It's obvious that the XK is not a car for the first timer. Being quick, powerful and hardly an inexpensive purchase, as a first choice it wouldn't be a great one. It's not a difficult car to drive, although rearward visibility isn't as good as a regular family hatch.
Quality and image
Jaguar's heritage is not something to dismiss out of hand. It's what has kept the company in the public's mind for many a year. The car's themselves are also significant; looks and performance are synonymous with the brand. And with all the damaging durability issues from past decades a distant memory, there's nothing to complain about.
Accessibility
The XK's big doors might prove a hindrance when opened in tight spaces, but that's true of any large, two-door car. Getting in and out isn't that difficult, though. Assuming you're reasonably agile the car's low driving position shouldn't' be an issue. At the back the car's tailgate requires little effort to operate.
Stereo and ICE (In car entertainment)
With a pretty good-sounding audio system fitted as standard, to some the premium option might sound like overkill but it's impressive nonetheless. The main screen is your control centre for most of the various functions, with supplementary controls located on the steering wheel. The sat-nav function is quick to calculate routes and easy to use.
Colours and trim
This revised car can be had with a number of appealing trim combinations involving quality leather, wood and metal finishes. As you'd expect, all are in Jaguar's usual good taste. The same is true of the car's exterior colour palette, which offers a wide range of rich-looking hues.
Parking
This is a big car, although the power steering offers an excellent level of assistance at low speeds. Visibility is good to fair when viewing from front to back - the car's long nose and small rear screen can hinder you sometimes. Rear parking sensors are a welcome aid.
Spare wheel
Space-saver spare wheel included.
Range information
Petrol engines - 5.0-litre V8 (385bhp); 5.0-litre V8 supercharged (510bhp). Transmission options - six-speed automatic gearbox. Trim levels: Coupe, Coupe Portfolio.
Alternative cars
BMW 6 Series Wider range of engines but looks remain controversial
Maserati GranTourismo Left-field choice performs well but not without some quirks
Porsche 911 Thoroughbred performer - maybe too clinical for some
Mercedes SL-Class A wise and sensible choice that's also extremely capable