November 2009
infiniti G37 GT
Distinctive looks set G37 saloon apart from the competition
November 2009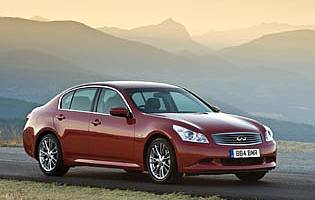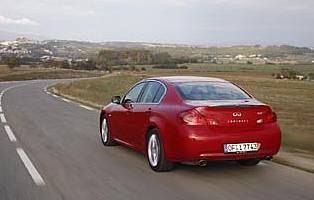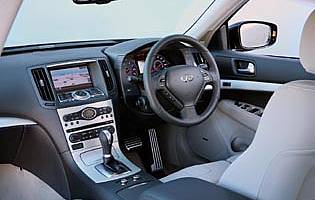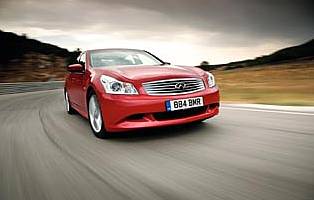 Overall rating

Likes:
Rear-wheel drive layout will please keen drivers
Refreshing and competent alternative to the German opposition
First rate build quality and refinement
Exterior is pleasing to the eye
Gripes:
Newcomer to Europe lacks the brand history of its more established rivals
Cabin design a little too close to parent firm Nissan's products
Petrol-only range will put off some company car drivers
Can't quite match counterpart Lexus for levels of standard equipment
Recent years have seen the premium compact sector revolve around three main players: Audi, Mercedes and BMW. For many people this is all the choice they will ever need, although there is an increasing number seeking a break from the accepted norm. Japanese car maker infiniti hopes it can be one of those alternative choices.
It's a fact of life that the executive market is rife with badge snobbery. Lexus found this out when it entered the sector with its groundbreaking LS. It's taken a while for the brand to become established, and it's had to go the extra mile - customer service, equipment levels, pricing - to convince buyers. This is exactly the same approach being taken by Nissan with its infiniti premium brand.
Like Lexus, infiniti has already been around for a while. A major player in the North American premium market, Nissan's luxury division promises a more sporty character than that of Lexus, but without sacrificing comfort and refinement. In real terms you could say the brand is positioned between BMW and Audi.
This is where infiniti's G37 comes in. In saloon form the car is comparable with BMW's 3 Series and Audi's A4 for size. Unlike the latter, the G37 is rear-wheel drive - an important factor if you are leaning towards the 3 Series. And continuing the performance theme, this iteration of G37 comes with a 3.7-litre V6 petrol engine.
The North American influence is not just clear in the engine choice, though. The G37's styling is typical of cars from that part of the world. Soft curves dominate, while the bold grille is a way of signalling its individuality when viewed alongside the more familiar European offerings.
Our verdict on the infiniti G37 GT
At the end of the day, a car like the G37 is always going to be an emotional purchase. There are cars with lower CO2 ratings, which make them better suited to cost-conscious company car drivers, but the infiniti offers a greater level of exclusivity in an otherwise crowed marketplace. That it drives well is a plus that could steer a few enlightened buyers from BMW's range of ultimate driving machines.
Costs
The one issue some might have with the G37 is the lack of a diesel option. Granted, you will save more with a rival car but the upside to anything from infiniti is a long list of standard equipment - more than the established competition can offer. With familiar Nissan group underpinning the infiniti range, the mechanical side shouldn't present any unwelcome surprises.
Space and practicality
While not designed to be a regular family car, the G37 does a good job. Space is less generous than, say, a compact people carrier but for executive types the cabin should prove more than adequate. Oddment storage room is good; the car's door pockets and other cubby holes easily cope with drinks, mobile phones and maps. As befits a compact saloon, the G37's boot is a reasonable size but not hugely accommodating.
Controls and display
Clear displays and intuitive controls are the order of the day here, much like you'd find in a more run of the mill Nissan. The central display screen offers front seat occupants a no-hassle view of audio and (where fitted) navigation information. Minor controls are no less impressive, while the car's steering offers keen drivers plenty of feel when driving enthusiastically.
Comfort
Supportive seats with a subtle bias towards performance offer occupants plenty of comfort and refinement over both long and short journeys. The G37 might not be a large car but there's plenty of room for four adults, while road and tyre noise has been kept to a pleasing minimum unless you're fully exploiting its potential.
Car security
There are no complaints here - Infinity has equipped the G37 with all the right measures to make you and it feel safe and secure. All the basics are covered, which means remote central locking and an immobiliser package are present, while keyless ignition makes the need to fumble for the key less of an issue.
Car safety
As you would expect from a premium-level car maker, infiniti hasn't cut any corners in the safety depart. There's a full complement of airbags for all occupants, while the various electronic aids present do a good job of keeping you out of trouble but don't spoil the fun if you want to, well, have some fun.
Driver appeal
With its rear-drive layout, the G37 should appeal to keen drivers. The car's V6 petrol engine is responsive and makes all the right noises. The regular manual gearbox proves more than acceptable, while the optional auto unit adds a welcome extra level of convenience without hampering the car's sporting character. The ride is a little firm, but this is no different from BMW's popular 3 Series, and ensures corners can be taken without the usual pitch and roll of lesser vehicles.
Family car appeal
Kitted out with its leather interior, the G37 is unlikely to be the first choice of a growing family - small children and such a plush cabin are rarely compatible. That said, there's enough space even for adults in the back, while the car's boot will accommodate shopping and a pushchair with some careful packing.
First car appeal
There's no question that the G37 is an easy car to drive - all the major controls are light and accurate. It's not a slow car, so might prove a little intimidating at first for the novice driver. If it's a concern, it won't be a cheap car to run either thanks to its BMW-rivalling levels of performance.
Quality and image
It's easier to talk about the G37's quality strengths as it mirrors that of Nissan's latest offerings. Fit and finish is impressive, and easily rivals the established competition. Image-wise the car and brand struggles - it's still very new. It has taken Lexus a long time to become established, and infiniti faces the same long road ahead.
Accessibility
Front seat occupants should have no trouble despite the G37's low-slung, sporty seating position. At the rear, the modest door apertures are par for the course in this sector, although once inside there's a reasonable amount of room. The car's conventional boot requires little effort to open and close.
Stereo and ICE (In car entertainment)
Standard fit is a predictably premium level audio system. It's easy to use and the unit's output is comparable to that of the more established competition. Depending on the model, there's the option of a full-colour sat-nav system, which offers an intuitive control system and easy to understand voice commands.
Colours and trim
As befits a premium car, the G37 looks best in sombre, low-key colours. Such a choice also does much to flatter the car's looks and accentuate its pleasing curves. To maintain the premium ambience, the accepted view is to stick to darker cabin trim options.
Parking
Saloons will always play second fiddle to hatchback style cars when it comes to rear visibility, and the G37 is no different. It's not a disaster, but the visibility over your shoulder is modest. Thank goodness for the parking aides, which make life much easier. That aside, steering assistance is high at low speeds.
Spare wheel
Space saver tyre included.
Range
Petrol engine options - 3.7-litre (316bhp). Transmission options: six-speed manual gearbox, optional seven-speed automatic gearbox. Trim levels: base, GT, S.
Alternative cars
BMW 3 Series Market benchmark is great to drive and greener than most
Mercedes-Benz C-Class Masculine-looking C-Class is now more enjoyable to drive but cabin ambience is only average
Audi A4 Closing on BMW for driving thrills and boasts exceptional cabin quality
Honda Accord Low-key alternative is a cheaper proposition but lacks the infiniti's exclusivity