Ford Mustang V8 Fastback review
Good value, great fun and a good deal of character
Dec 2004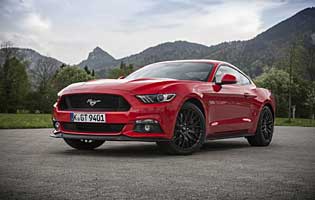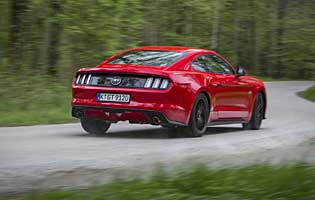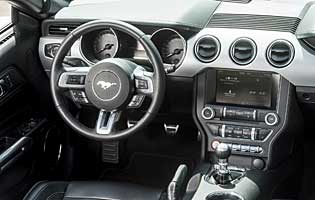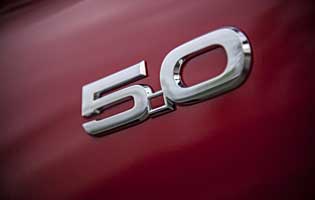 Overall rating

Likes:
Fine modern interpretation of a classic shape
Performance and character from V8 engine
Impressive value for money
Fun to drive and likely to be fun to own too
Gripes:
Can feel unsophisticated compared to European rivals
Four-cylinder version lacks character
Rear seat space is poor
High running costs for V8 version
A famous name in motoring is returning but with genuine relevance for the UK market. For the first time since the original car was launched in 1965 Ford is selling right-hand-drive Mustangs officially in the UK.
Available in convertible or coupe Fastback version with a choice of engines, the Mustang has the potential to upset established rivals. Ford is undertaking a serious offensive on the performance car market, with halo products such as the new Ford GT supercar as well as a new generation of Focus RS. However the new generation of Mustang, with official sales into the UK in right-hand-drive is a first, and shows clearly that the company is taking this new generation seriously.
Effectively a clean-sheet design the new Mustang mixes new technology with design touches that echo those of previous generation cars. Most notably the latest Mustang features the trapezoidal front grille, vertical tail lights and the strong silhouette, all updated features from the original car. The same goes for the cabin, which has a twin-cowl arrangement deliberate designed to echo that of the original car.
Underneath the skin the Mustang is refreshingly modern, with new architecture and independent suspension designed to offer the kind of ride and handling sophistication expected by a European audience. The engine options are limited to an updated naturally-aspirated V8 and a four-cylinder turbocharged petrol unit which will see service in other performance Fords.
There are plenty of modern features on the Mustang, dispelling any notion that it would be a completely retro experience. A choice of driving modes allows changes to the steering response and traction control, while launch control and even a 'line-lock' system are inspired by the Mustang's history on the race track and drag strip. The Mustang also benefits from the latest Ford touchscreen infotainment system.
Our verdict on the Ford Mustang V8 Fastback
It's difficult not to be charmed by the Mustang and its honest approach. It offers good value, great fun and a good deal of character, something which can be lacking in more sophisticated European rivals. Overall it is less capable and refined than some other offerings, but the flip side is a car that delivers a sense of occasion from behind the wheel.
Costs
The Mustang may be a relatively inexpensive car to buy but running costs will certainly be higher than average. Fuel consumption is high, insurance costs are likely to be above average and servicing will be more costly than a regular Ford.
Space and practicality
Standard sports seats with generous support make for a comfortable driving position in the Mustang, and there is reasonable headroom despite the relatively low roof. Leg and elbow room are both good for front-seat occupants. In the rear it's less impressive, and adults even of average height will find head and legroom in short supply. Boot space however is good, with 408 litres of space on offer in a well-shaped area.
Controls and display
Happily the Mustang has a relatively simple layout, with the main instruments finished in classic black and white. Minor controls are located on the steering wheel and centre console, although some functions can only be accessed through the vehicle menu displayed between the main instruments.
Comfort
Considering the performance on offer the Mustang is quite a comfortable car in which to spend time. The ride quality is relatively firm but not harsh, and although noise levels do pick up a little at speed
Car security
As standard all Mustang versions come complete with an alarm and immobiliser system, electronically locking steering wheel and centre console and locking wheel nuts.
Car safety
The new architecture that underpins the Mustang is designed for maximum crashworthiness, and the long bonnet provides a generous impact structure. On the active safety front the Mustang comes with a three-stage ESP systems as standard, EBA and ABS. One new feature is dubbed Active Glovebox, which uses the door of the glovebox as part of the airbag system to help protect the passenger's knees.
Driver appeal
What sets the Mustang apart from its rivals is the emphasis on fun rather than outright prowess or lap times, and it is this that makes it enjoyable to drive in a variety of conditions. The V8 engine has character, although it is not as loud as it could be, but the generous torque makes short work of regular driving but also rapid acceleration when demanded. The rest of the driving experience is engaging too, although the steering works best when in Sport mode. Grip is plentiful and it responds accurately to inputs, and while it is not a scalpel-sharp driving tool it flatters the driver and is unquestionably great fun.
Family car appeal
As much as children may well find the Mustang an exciting car to have on the driveway it is not best placed to perform as a family wagon. The rear seats would be awkward for getting small children in and out of, and while older children will be able to squeeze in the back themselves they will soon run out of headroom as they approach adulthood.
First car appeal
The Mustang is not a suitable car for new drivers; even in lower-powered form it is a fast, rear-wheel-drive machine with reduced visibility. Even though it offers good value it still requires quite a sizeable outlay and will be expensive for an inexperienced driver to insure.
Quality and image
The Mustang is designed to be an affordable car, as with its predecessors, and one area where the saving of money is evident is with some of the cabin materials. Although relatively sturdy some elements are of lesser quality than might be found on rival offerings, although the actual build standard appears to be good. The Mustang makes up for this with an image that is hard to bear; its highly distinctive looks and long history are a huge appeal.
Accessibility
Getting into the front of the Mustang is the work of a moment with a long door on each side, and although the roof is relatively low it's easy to drop down into the low-set seat. Getting into the rear is more troublesome however, with a slightly fiddly release mechanism and limited room once you are there.
Stereo and ICE (In car entertainment)
As standard the Mustang comes with an 8-inch touchscreen system including nine speakers, DAB radio, USB and Bluetooth connectivity. For a small additional sum a premium Shaker system can be added which includes satellite navigation. With a large and clear touchscreen the system is easy to operate, especially with the standard voice control system.
Colours and trim
As expected for a car with a strong visual style the Mustang can be specified in a range of hues from sober to vivid. Brighter shades such as red and yellow work very well, while darker offerings give a more discreet option. The same goes for the cabin where there is a choice of three colour finishes with leather as standard.
Parking
With a relatively restricted rear view the Mustang does require a little care when parking. Parking sensors are not standard but can be added for a modest sum, or are bundled in with the Custom Pack.
Spare wheel
Emergency tyre repair kit supplied as standard.
Range information
Petrol engine options – 2.3-litre (310bhp)Â ; 5.0-litre (412bhp). Transmission options: six-speed manual gearbox as standard, six-speed automatic optional. Trim levels are engine-dependent.