November 2011
Fiat 500C TwinAir
Timeless styling has aged well since the new 500's release
November 2011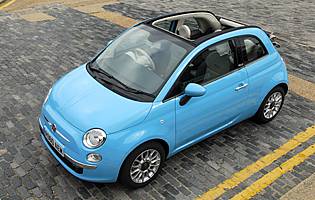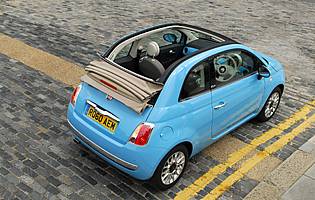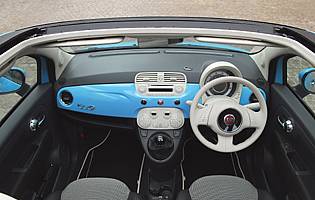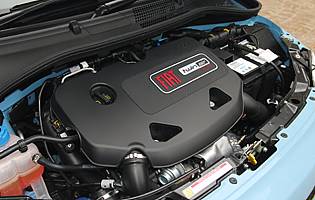 Overall rating

Likes:
Powerful, characterful engine adds extra appeal
Economical alternative to a four-pot motor
City-friendly with small dimensions
Cheerful cabin helps inspire a happy driving experience
Gripes:
Roof obscures rear view when folded back
Lack of roof soundproofing is irritating at higher speeds
Narrow boot opening restricts access to luggage space
Sliding roof adds cost over hatchback version
The original Fiat 500 had a twin-cylinder engine that gave it a unique character among small cars at the time. Fiat wanted to recapture that for the modern age, but with safety constraints generally making cars heavier than they used to be, the company had to devise a clever solution to create enough power to serve the new 500 effectively.
The solution for the modern era was turbocharging, and the results are dramatic from the car's 875cc twin-cylinder petrol engine. It's by far the most torquey engine within the ordinary Fiat 500 range, which gives it a cheeky feel that always inspires a grin. Around town it's nippier and more entertaining than the other petrol and diesel engines available, as well as being much more characterful thanks to a very different aural quality.
Another feature brought back from the original soft-top 500 is the sliding canvas roof that slides back between the arched frames at the side of the roof. It's not a full convertible but it is enough to enjoy open-air motoring. Unfortunately, the roof folds up just above the boot, obscuring rear visibility. The roof also has very little soundproofing to make higher-speed journeys a refined experience.
The 500C is well suited to driving in town, where its small size, impressive turning circle and lightweight controls are a perfect fit. It's as low stress as any car can be around a busy town, especially considering the button that increases the power assistance to the steering and lightens it to the point where even the tightest parking manoeuvres take just one finger on the steering wheel to perform.
While the interior of the 500C TwinAir is a cheerful place to be, it isn't expensive or particularly high quality. There is, though, as with all variants of the 500, wide scope to customise and personalise the car so that it's completely unique. Even the flip-out key fob can be ordered in different colours and patterns, with options available to match the colour of the car.
Our verdict on the Fiat 500C TwinAir
The 500C TwinAir is the best Fiat 500 on offer because of its engine, although the retractable roof could be viewed as a compromise. The twin-cylinder engine has more character than the four-cylinder ones, and lifts the whole car in terms of desirability. The roof is both a blessing and a curse, and given that it's an expensive feature to add, the hatchback makes more sense if rear visibility is important.
Costs
Downsizing the engine in the 500 to a two-cylinder design has delivered noticeable economy and emissions gains. Overall it's not the cheapest of models in the 500 range but the TwinAir's appeal is largely its unique appeal. In general terms the 500 is a relatively low cost car to run, although this has to offset against the asking price and the ability spend more at the point of sale on customisation.
Space and practicality
Although the 500 is not a car built to maximise interior space in the first place, the 500C lags behind its tin-top cousin. While the rear seats retain much the same amount of space around them, the boot is made more difficult to access as a result of losing a proper hatch back. Coloured plastics and fabrics are also less practical and likely to show their age sooner than black or grey.
Controls and display
A dual-layer rev counter and speedometer is very stylish and allows the instrument cluster to be kept largely to one round shape, which fits in with the cute exterior of the car. The ancillary stalks are designed to a common standard so will be familiar to use for most people.
Comfort
The seats are reasonably comfortable, if quite flat, so they don't offer much lateral support. In a car designed for travelling short distances there should be no worries at all, but those needing to take their 500C down the motorway for any length of time will probably want for greater lower back support. The car's short-travel suspension can struggle over rough surfaces.
Car security
There's an alarm included which will detect any intrusion into the car, but there is little other security equipment defined by Fiat. Canvas-roofed cars are inherently less secure than hard-topped versions, and this one is neither the thickest nor strongest. As a pretty little car it also attracts quite a lot of attention, which is great when it's moving, but it can be bad when it's parked.
Car safety
Occupants will find themselves surrounded by airbags in the 500C. There are also the basic but essential electronic safety systems including ABS, Electronic Brake Force Distribution and Electronic Stability Program. There's a lane change indicator to warn of an accidental drift to the edge of a lane on the motorway, for example, and overall there is a respectable amount of safety gear on board.
Driver appeal
The real selling point of the TwinAir version over the other engine options is the way it drives. Although there is little feel through the steering wheel, the offers a swell of torque through its midrange while sounding completely unique in today's new car market. It's an addictive car to drive.
Family car appeal
The small size of this car makes it impractical for families unless as a second, urban-only car. In that role the 500C makes a lot of sense, being much more useful than a large car around town. Finding a parking spot close to the school gates is easier as well. There are Isofix child seat mounts should owners have small children.
First car appeal
This is one of the most desirable cars on the market for young buyers, and in other forms makes an excellent first car. The TwinAir version is more expensive, but if a young driver can afford it then there a probably very few cars that would have the same appeal. Predictably, young men tend not to be so keen on the 500, especially in convertible form.
Quality and image
The 500C is a car that manages to combine an enviable image with relatively low physical quality. Some of its interior plastics are hard and utilitarian, the canvas roof lacks sufficient soundproofing and Fiat's reputation for build quality wasn't always impressive. However, this is one of the most desirable cars on the market. Its cute looks and heavily-customisable nature appeal to a young audience.
Accessibility
Although it's small, the 500C is not as low as potential buyers might fear. To drive it almost feels like sitting on it rather than in it. That means that, while it's no SUV, it's easier to get in and out of than it might be. The low point here is that access to the boot is via a fairly narrow letterbox-type flap that restricts access to the available space.
Stereo and ICE (In car entertainment)
One of the biggest surprises in the 500C is that it actually has a very good stereo. All kinds of music sound great. Pop and rock music do sound very good, albeit with treble frequencies getting harsh as the volume rises. It's more than enough for such a small car.
Colours and trim
As well as the traditional and fashionable car colour choices like reds, blues, blacks and whites, there are several more unorthodox hues to choose from. Combined with the exterior customisation options from stickers to different coloured door mirrors, there is a lot of potential for colour and style personalisation. The trim inside the car feels cheap in places, but it's definitely cheerful.
Parking
With the roof up, rear visibility is quite restricted due to the combination of chassis frame and roof. With it down, there is no rear visibility to speak of. That means that careful use of the wing mirrors is needed to park successfully, and the effort it requires might not suit all potential buyers. Fortunately the 500C is small enough to make it easy to find a good space.
Spare wheel
Space saver spare wheel supplied as standard.
Range information
Petrol engine options - 0.9-litre (85bhp); 1.2-litre (69bhp); 1.4-litre (100bhp). Transmission options: 5-speed manual gearbox standard. Trim levels: Pop, Lounge, TwinAir, byGucci.
Alternative cars
Smart ForTwo Cabrio Well-proven city specialist is cleverly packaged
Mini Cooper Convertible The 500C's main rival for style, but outwardly much bigger
Renault Wind Great looking and good value next to the 500C
Toyota Aygo There's no convertible option but this quirky city car offers similar thrills