August 2004
Chrysler Grand Voyager 2.8 CRD Limited XS
Revised nose gives the Voyager a more refined look
August 2004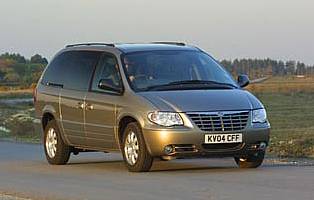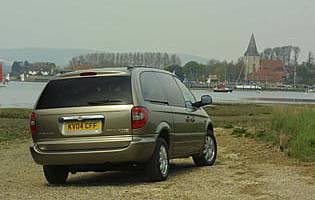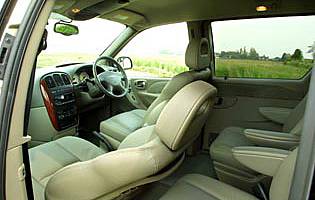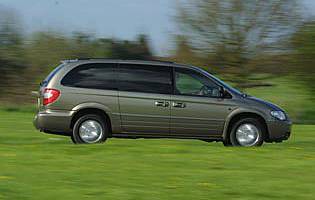 Overall rating

Likes:
Good value for money, especially when in long wheelbase Grand specification
Diesel-auto powertrain combination is smooth, frugal and takes the strain out of urban driving
Powered doors and tailgate are not gimmicks
Spacious cabin makes accommodating both passengers and luggage easy
Gripes:
Overall cabin build quality could be better, despite the obvious upgrades
Mercedes-derived audio unit is fiddly to use
Although easy to pilot, Grand Voyager will pitch and roll if driven like a conventional car
While rear seats can be removed, they are heavy and cumbersome
Although Chrysler's Voyager range has cut a distinctive dash for many years, it has always played second fiddle to the likes of Ford's Galaxy and Renault's Espace in the minds of private buyers, despite proving a big hit with the corporate sector. This latest iteration comes with a host of safety and equipment upgrades plus a new nose mirroring that of the firm's exciting Crossfire coupe.
Chrysler may not shift anywhere near the same number of units as that of the big European car makers, but the American brand is slowly attracting more buyers thanks to a combination of value for money products and an unashamedly 'feel good' style of marketing that the main European firms have failed to tap into.
Nowhere is this more obvious than with Chrysler's full-size people carrier, the Voyager. In typical American fast food fashion, you can opt to super-size you purchase by going for the Grand Voyager, a larger vehicle offering more cabin space but, surprisingly, not at the expense of the driving experience or the car's exterior aesthetics.
In fact, the Grand is probably the better choice out of the two Voyager models. With no discernable drop in the vehicle's ride and handling, or ability to negotiate crowded urban streets, the more airy cabin of the Grand Voyager and enhanced luggage carrying capacity is a pleasant surprise. Renault's Grand Espace might be the more obvious choice for some, but it's worth noting that critics often mark down Renault's largest MPV offering for feeling big and cumbersome - hardly appealing traits, even for a people carrier.
The Grand Voyager doesn't just have its rivals licked in terms drivability. Pound for pound, the American interloper offers more toys, too. Aside from the usual electric windows and mirrors, top spec cars even boast powered sliding side doors and tailgate. Once experienced they soon shed their novelty tag and become handy labour saving devices.
Look past the Voyager's increased creature comfort count - which is considerable - and there's also a welcome increase in safety kit. The Espace may be ahead of the game on this front but the Voyager has raised its, as it now boasts full length curtain airbags to compliment the existing twin front airbags.
Our verdict on the Chrysler Grand Voyager 2.8 CRD Limited XS
Clearly tasked with appealing more to the private buyer thanks to the increased creature comfort count, this latest Grand Voyager is visually sharper and even better value for money than before. And as usual, the diesel options are the most sensible. The Voyager range will never match the Galaxy/Sharan/Alhambra trio for driving enjoyment, but for versatility Chrysler's people carrier has them beat.
Costs
On paper the Grand Voyager is an attractive purchase. With even the entry-level car fitted with a number of key creature comforts, certain rivals look expensive by comparison. And on economy grounds the diesel variants are the only options worth considering. Another bonus is that a top-spec Grand Voyager is likely to cost less to run than a similar sized and specified premium estate - further highlighting the big Chrysler's value for money angle.
Space and practicality
There's no doubting the amount of space available in Grand Voyager. Unlike smaller vehicles, there's no obvious compromise between occupant and luggage space as not only is the cabin more commodious but the rear bench can slide to further enhance the car's flexible nature. Numerous smaller touches abound such as the ability to fold the middle seats forward to use as tables, while loadspace is further enhanced when the middle and rear seats are removed. These items are heavy, though.
Controls and display
There are no surprises in the Voyager cabin, as all the main instruments are easy to read and logically placed. Even the auto gearbox's shift lever is conveniently placed on the steering column - freeing up valuable floor space. This is somewhat negated by the handbrake, which remains floor mounted and a long reach from the driver's seat. Another oddity is the trip computer, which is roof mounted and in front of the rear view mirror. Whilst it contains some valuable functions, its display could be better located. The fascia's 'infotainment' console is another disappointment, as too many button presses are required to access common features - making it difficult to use when on the move.
Comfort
A long wheelbase coupled with soft damping makes traversing patchy urban road surfaces less of a chore than it would in the more driver-focused Seat Alhambra. And, thanks to the influence of Chrysler's home market, the Grand Voyager's seats are supportive, yet pleasingly forgiving. There's no chance of feeling crowded either, as even with a full complement of passengers the cabin always feels light and airy.
Car security
Everything is as you would expect in Voyager's security inventory. Aside from remote central locking, an immobiliser and Category One alarm are both part of the standard package.
Car safety
Improvements to the latest generation Voyager range include the long awaited inclusion of curtain airbags for the full length of the cabin. ISOFIX seat anchors feature on the second row, and there are anti-trap sensors on the powered sliding doors and tailgate. Active safety features include ABS across the range, with traction control restricted to Limited and XS models.
Driver appeal
Make no mistake, the Grand Voyager - and its smaller cousin - is no driver's car. Light steering and the people carrier's tall stance make navigating bends at speed a chore. Roll is noticeable, ensuring an uncomfortable ride for passengers. The best bet is to slow down and enjoy the 2.8 CRD's relaxed gait. In contrast, motorway driving is a tranquil activity, the Grand Voyager confidently soaking up undulations and fending off cross winds. You may curse it at speed, but the car's light steering comes into its own around town.
Family car appeal
This is where the Voyager excels - effortlessly transporting numerous passengers of varying sizes and shapes. Powered or not, the car's twin sliding doors are invaluable - and easily more practical than the conventional items fitted to the likes of the Espace and Galaxy. The Grand Voyager's numerous seating permutations are also welcome, although shifting and removing the seats is often and two person job. Combine the big Chrysler's flexible seating arrangement with a wealth of cubbyholes, cup holders, oddment trays and even a flip-down TV screen for playing DVDS on top-spec cars, it's no exaggeration to say that this people carrier has got the lot.
First car appeal
Unless you're super-confident at manoeuvring large vehicles straight after passing your test, the Voyager - in either configuration - is probably not the best car in which to go solo in. Speed - or lack of it in this case - is not the issue here, just the sheer size of the thing.
Quality and image
Despite delivering above average levels of equipment, Chrysler has never been good at matching the build and material quality levels of its European rivals. Things have improved with the latest generation Voyager family, but VW's Sharan easy beats the American firm's efforts. Even the leather upholstery fails to look 100 per cent convincing, which is a shame given its liberal application. On the plus side, Chrysler's brand image is in the ascendancy. Positioned as a stylish alternative to rivals' products, the Voyager's status has improved immensely in recent years.
Accessibility
As with any full-size people carrier, there's a noticeable step up to the Chrysler's cabin. Once in, the raised seating position and good view out is instantly noticeable. Where fitted, the powered doors can be activated by the keyfob, switches on the car's fascia or buttons by the doors themselves - all of which helps to make a case for their inclusion. Rear passengers enjoy modest levels of seat adjustment, with the back bench able to slide fore and aft to allow either more legroom or luggage space.
Stereo and ICE (In car entertainment)
As with other aspects of the Voyager's standard kit list, the car's audio equipment is generous. The default unit is a single disc CD/radio head unit and six speakers. On Grand-spec LX and above that changes to 10 speakers plus steering wheel mounted controls, while on Limited and above you get a six-disc in-dash CD changer. The flagship Limited XS also gets sat-nav and rear seat DVD entertainment system.
Colours and trim
Any dark metallic hue will be a sound choice, as lighter colours tend to over-emphasize the Grand Voyager's size. Inside, dark plastics are more flattering than lighter options, and also serve to hide the sometimes less than sparkling quality of the raw materials. Sadly the same cannot be said of the, admittedly, small amounts of wood trim in the cabin, which are no match for the stuff found on Audi and BMW fascias.
Parking
For such a large vehicle, parking the Grand Voyager is made surprisingly easy thanks to decent levels of steering power assistance and good all-round visibility. Once familiar with vehicle's external dimensions, the whole exercise is anything but intimidating. Parking sensors help matters enormously, though.
Spare wheel
Steel spare fitted as standard and located externally under boot floor.
Range information
Two engine options - 3.3-litre (205bhp) petrol; 2.8-litre (150bhp) diesel. Both 2.8 diesel and 3.3 petrol get four-speed auto gearbox. Trims levels are LX, Limited and Limited XS.
Alternative cars
Renault Grand Espace Question marks remain over build quality but largest Espace is more stylish. Can be costly
Kia Sedona Bargain Kia is almost as capacious but lacks the Voyager's upmarket image
Volkswagen Sharan Classiest of the VW/Ford/Seat trio, but smaller than the Grand Voyager. More fun to drive, though there's no long wheelbase variant
Fiat Ulysse  Most stylish of Fiat/Citroen/Peugeot alliance and offers more toys than Sharan. Surprisingly good to drive but another with no long wheelbase option