Chevrolet Tacuma 2.0 CDX
Designed by Pininfarina, but not one of their more memorable jobs
May 2005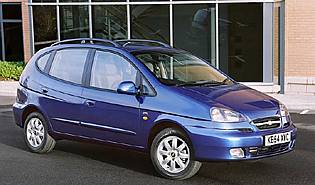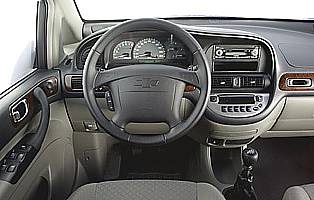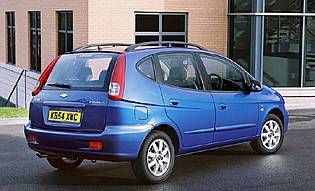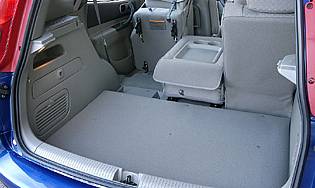 Overall rating
Likes:
Lots of interior space
Delivers a comfortable ride
Useful hidden storage areas
Competitive servicing package
Gripes:
Anonymous styling is instantly forgettable
Cabin materials lack quality and finish
Lack of diesel engine limits appeal
Holds value extremely poorly
Sold as a five-seat compact MPV, the Tacuma - formerly sold as a Daewoo - actually feels more like a traditional estate car than a people carrier. It has a few things going for it but is largely outclassed by more recent arrivals and big-name brands such as the Renault Scenic, Citroen Picasso and Ford C-MAX.
If ever a car was destined to be damned by faint praise, it's the Tacuma. That's a shame, as this is by no means a bad vehicle, simply a very, very average one. It is competent, conventional and thoroughly conservative. It does the job and nothing more, with a complete lack of 'surprise and delight' features. And yet perhaps because it has such journeyman characteristics, it is rather likeable, if only because it will always be one of the automotive world's unloved underdogs.
So what does the Tacuma offer? Low pricing, excellent interior space, reasonable specification and a comfortable ride. It might even be said that this is a 'crossover' vehicle or sportwagon ahead of its time, as newcomers like the Mercedes-Benz B-Class take the same basic shape and add luxurious appointments, powerful engines and a hefty price tag. The Tacuma isn't as different as the price tag would suggest.
Yet it's hard to escape the feeling that the Tacuma is just marking time until it is replaced. Chevrolet's Lacetti Station Wagon offers many similar features in a more attractive and cheaper package and should certainly be sampled on a comparative test drive.
Our verdict on the Chevrolet Tacuma 2.0 CDX
There are reasons to consider a Tacuma but few compelling ones to actually make a purchase. Second-hand it'll be a steal thanks to vertiginous residual values, but a dealer may be willing to offer a discount on a new example simply to get it off the forecourt.
Costs
Like the rest of the Chevrolet range, the Tacuma benefits from Chevrolet's impressive complete care package, with three years' free servicing as standard. List prices are lowish, but securing a significant additional price reduction is a requirement if a purchase is to be made. Fuel economy is nothing special and bear in mind that real-world figures very rarely match up to quoted manufacturer figures.
Space and practicality
There are numerous storage areas, with a sunglasses compartment in the roof console, cup holders in the centre console at the front and in the armrest/picnic table on the back of the centre rear seat, pop-up picnic tables at the back of the front seats themselves incorporating cup holders, a hook for shopping bags or that evening take-away and a 12-Volt sockets in the centre console. All three rear seats can be removed individually to create a loadspace of 1,847 litres - almost commercial vehicle proportions.
Controls and display
Functional yet uninspiring, the controls are rudimentary at best. The LED digital clock looks like it was designed in the late 1970s with the rest of the instruments following on approximately one decade later. The one exception is a rather neat switch to operate the radio controls located on the side of the steering wheel. Fit and finish leave a lot to be desired.
Comfort
Steering wheel adjusts for rake but, sadly, not reach. The rear compartment of the Tacuma is fitted with three individual seats. Each seat can be folded up separately, pushed up against the front seats for a flat load floor or taken out completely. Overall, the cabin boasts a decent amount of room, with rear seat passengers particularly well catered for.
Car security
Beyond central door locking and an engine immobiliser, there's not much in the way of security features. Trays under both the front seats are useful for keeping valuable items away from the eyes of opportunist smash and grab thieves, as are hidden storage boxes sunk into the rear floor. At least the Tacuma's anonymity and modest resale value means it is unlikely to attract the attention of car thieves.
Car safety
Every Tacuma comes with standard driver and passenger airbags, new side airbags, five height-adjustable head restraints, and three-point belts on all seats. You'll also find a standard-fit ABS braking system, with electronic brakeforce distribution (EBD). All in all, not too bad, as the Tacuma does feel quite solid.
Driver appeal
Believe it or not, the Chevrolet design team enlisted the support of engineers from Porsche to help tune the chassis. There's not much evidence of results, though. Ride is biased towards comfort, which is right and proper so that the Tacuma absorbs potholes and uneven surfaces quite well. But there's little in the way of feel or involvement for the driver to enjoy. Piloting the Tacuma is a neutral experience at best.
Family car appeal
As a family wagon the Tacuma is not bad at all. Three kids can fit in the back comfortably and there are a few MPV-like features such as the seatback trays. The Tacuma also offers more luggage space than most people carriers and drives in a car-like fashion. As cheap family transport it's a definite contender, though the smaller 1.6-litre engine struggles with a full load aboard and fuel economy is unexceptional for both engines.
First car appeal
It is hard to believe anyone would consider a Tacuma as a first car, unless they found themselves suddenly with a family of five soon after passing their driving test.
Quality and image
This is a car so lacking in charisma as to render it virtually invisible to other road users. Still, the Chevrolet bow tie badge at least adds an ounce of credibility to the package. The Tacuma was designed by Pininfarina of Italy, the styling house responsible for many of Ferrari's greatest creations. There must be some mileage in that at dinner parties.
Accessibility
Rear doors open almost to a full ninety degrees and even though they are narrow at floor level, getting in and out of the Tacuma is pretty easy. The rear tailgate opens in estate fashion so long loads can easily slide in, though beware of the rather too enthusiastic assistance offered by the tailgate strut which could catch an unwary owner quite nastily. This is likely to calm down over time, though.
Stereo and ICE (In car entertainment)
A Blaupunkt single CD/RDS radio with six speakers comes as standard in all Tacumas. Sound quality is surprisingly good, even if it lacks power. Some of the controls can be rather fiddly, though.
Colours and trim
In all there are seven exterior colours, but to avoid the worst ravages of already painful depreciation, stick with one of the silver or blue options. The burgundy colour called Red Rock makes the Tacuma look like a giant plum while Mint Green transforms it into a prize-winning marrow. Only one interior treatment is offered, a fabric of unremitting greyness.
Parking
Because of a raised driving position and the low waistline that gives the Tacuma its slightly heavy-looking exterior styling, visibility is actually better than one might expect and probably outdoes most other small MPVs and family estate cars. Though it has a fairly long wheelbase, parking the Tacuma isn't nearly as problematic as it could be. Steering, which can be too light at high speeds, is well suited to low speed manoeuvres.
Spare wheel
Full sized steel spare wheel, located beneath the loading bay.
Range information
The Tacuma range consists of just two models - the 1.6 SX and the 2.0 CDX. Engines are 1.6-litre (104bhp) or 2.0-litre (121bhp). As an alternative to the standard five-gear manual transmission, the larger engine can be ordered with a four-speed automatic gearbox.
Alternative cars
Citroen Picasso Cheap and practical family transport
Renault Scenic Latest models have classy feel
Chevrolet Lacetti Station Wagon Good looks and good value
Hyundai Trajet Five-year warranty compensates for ugliness