May 2009
Chevrolet Cruze 1.6 LS
First Chevrolet to sport the company's new identity
May 2009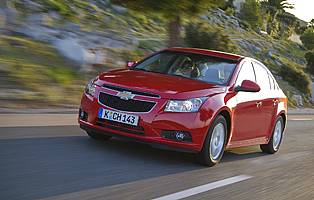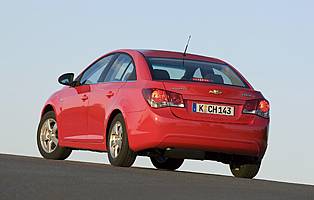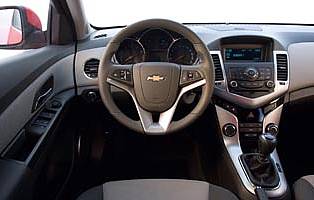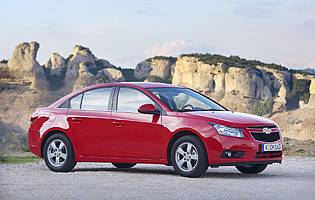 Overall rating

Likes:
Stylish exterior is a welcome departure from Chevrolets from the past
Roomy cabin belies the car's compact dimensions
Pleasing car to drive; well mannered and competent on the road
Auto gearbox option on selected models
Gripes:
Economy and emissions performance won't have rivals worried
Low brange image and buyer awareness a result of ignorance and badge snobbery
Loadspace versatility isn't special - largely a result of the saloon bodystyle
Some cabin materials not up to the class standard
If you think Chevrolets are at the bottom of the budget pile, you might have to think again. That's the attitude of Chevrolet in the context of its first all-new model, the Cruze. Pitched less of a blatant budget model as some of the firm's other models, the Cruze boast an upmarket feel and more bolder styling.
Breaking away from Chevrolet's of the recent past, the Cruze has been ddevised from the ground up to spearhead the company's new attack. No longer simply a car maker happy to use older technology as the basis of its products, the Cruze's new platform promises improved refinement and dynamics.
Not convinced by the focus on driving appeal? Anyone can cut costs but to stand out from the affordable crowd it's important that a car is at least enjoyable to drive - competition is fierce, after all. Chevrolet believes this car - its first all-new effort - goes along way towards silencing critics with long memories of Chevrolets from the past.
And you've got to look good, too. These days much of the focus is on image, and while the Chevrolet name might not be at the top of every European buyer's list, there's little doubt that the Cruze is a lot more attractive than some others in the current line-up. Thanks must go to the car's attractive coupe-like profile, despite it being a four-door saloon.
With a gradually increasing amount of standard kit available as you move up the range - all the basics are covered, plus a modest choice of perfectly acceptable engines, it's unlikley to be a surprise that the Cruze will attract buyers from the mature end of the spectrum seeking to downsize without taking too big a financial hit. The car's looks ensures that owners feel like they're getting a sophisticated-looking car for not a lot of money.
Our verdict on the Chevrolet Cruze 1.6 LS
Chevrolet is playing it smart with its Cruze. The car might be part of a global motorsport claim, but it's unlikley actual buyers will make any connection. On the wider scale Chevrolet gains some much needed credibility, while buyers will see the car as an attractive, low cost alternative to more expensive four door cars of the same size. And that's the key to the Cruze's success - the compact saloon market is small, with little direct competition to hinder the Cruze's progress.
Costs
Insurance companies might view the saloon-only Cruze in a sympathetic light due to its percieved extra security, but the main focus will be on running costs. Chevrolet products have proved to be durable, making this a significant plus point. The Cruze's engine line-up average in terms of fuel ecomony and emissions, so don't expect much in the wayo of significant savings.
Space and practicality
The Cruze is not intended to be a family car. It's the wrong type for starters, as a five-door hatch would be a better option. However, the Cruze does offer a reasonable level of practicallity. A split and fold rear seat is present, expaning the load space area, while oddment space in the cabin is generous.
Controls and display
Budget cars are often fitted with cheap and nasty controls, which undermine any honourable cost saving intentions. The Cruze has not been so afflicted; everything works in a well oiled fashion and feels like the quality items they should be. The car's various displays are also first class, with the audio unit a particularly easy device to use.
Comfort
While no limousine, the Cruze's cabin offers a ddecent amount of room for four adults. Wind, road and engine noise nevers proves to be an issue, and the seats offer a good balance of support and comfort. The cabin is also wide enough to avoid the driver clashing elbows with the front seat passenger.
Car security
One plus over a hatchback-style car is the Cruze's boot, a feature likely to appeal to anyone needing to store items out of sight. Along with the standard issue remote central locking, there's little else to separate the compact Chevrolet from other cars these days, though.
Car safety
Despite the car's low cost positioning, you do get the full compliment of twin front and side airbag right across the range. Electronic stability control is another standard feature, which will no doubt be welcomed by all who find it hard to believe that some makers still charge for it. The top spec ca ralso gains cruise control to make long motorway journeys more relaxing.
Driver appeal
Built on a proven General Motors platform, critics will find the Cruze a pleasant surprise on the road. Dynamically a match for some European rivals, the car's ride feels sophisticated and doesn't fall apart when dealing with poorly surfaced urban roads. Accurate steering plus good brakes complete the package. Engine-wise there's no bad apple in the range. The petrol motors are refined and willing, and likley to form the bulk of sales, while the diesel option is a smart one for high mileage drivers.
Family car appeal
This is where the Cruze will fall short in the eyes of family-focused buyers. The modest boot will struggle with a full weekly shop and the odd pushchair or two, if only because a hatchback tailgate allows better access. Elsewhere the Cruze performs like any other mid-size car, and it's only the likes of leather trim that might prove inappropriate when in combination with children.
First car appeal
There's no reason while the Cruze cannot be driven by a novice driver. It's not a complicated or overly powerful car and therefore is unlikely to be a challenge to drive. Forward visibilty is good, but more care will need to be taken when reversing than with a hatchback due to the modest visiblity available - a factor to consider with eny saloon.
Quality and image
That bowtie badge on the Cruze's nose will mean little to most European buyers. Although originally an American brand under the General Motors umbrella, Cheverolet is pitched as an affordable line-up for the rest of the world. UK buyers familiar with the old Daewoo name will notice current Chevrolets are little more than revamped offerings. The Cruze is a clean sheet design that aims to reverse any negative opinions of the brand.
Accessibility
Front seat occupants are well catered for in the Cruze - access and egress is no worse than any rival. The seating position is high enough so you never have to fall down into position, and struggle up and out when exiting. Despite being a compact four-door car, rear seat access is reasonable. The door opens to an acceptable angle and you won't struggle to exit from the car, either.
Stereo and ICE (In car entertainment)
There's no need to feel shortchanged despite the Cruze's leanings towards the budget end of the spectrum. The standard fit audio unit is perfectly acceptable, offfering the usual radio and CD functions. The unit's split level control area and display is a handy anti-theft measure while the various controls are all easy to understand and operate. The flagship LT models gains an uprated version of this unit.
Colours and trim
With its sophisticated looks, the Cruze's appearance is greatly enhanced by choosing one of the traditional hues normally associated with the likes of BMW or Honda. That said, brigher colours also work well and would likley appeal to a yonger buyer. It's a little more subdued inside, although seat and fascia trim combinations can lighten the ambience.
Parking
Being a saloon, there's always going to be an element of guesswork before you're comfortable with your new car. The Cruze is no different, as it's hard to visually gauge where that wall starts and the car's boot finishes. Thankfully rear parking sensors are optional or standard fit depending on the trim level. And for good measure the car's steering is light and accurate to make life easy.
Spare wheel
Space saver wheel fitted.
Range information
Petrol engine options - 1.6-litre (113bhp); 1.8-litre (141bhp). Diesel engine options - 2.0-litre (125bhp). Transmission options: five-speed manual gearbox, six-speed auto gearbox (petrol only). Trim levels: S, LS, LT.
Alternative cars
Seat Exeo More polished and, predictably, more expensive. Very good, though
Dodge Avenger Like Cruze pitched as affordable compact saloon, although comes up short in some key areas
Mazda 3 4dr Similar price to mid-range Cruze but a more polished performer
Proton Gen-2 Persona Undercuts Cruze on price but lags behind in the quality stakes