November 2009
BMW X1 sDrive20d SE
Familiar BMW styling cues are fitted over an SUV shape
November 2009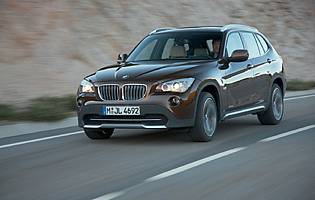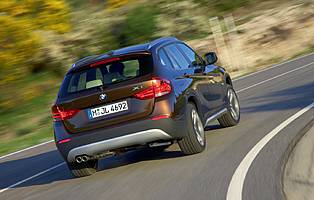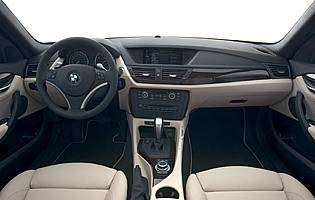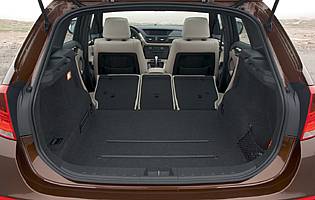 Overall rating

Likes:
Handsome exterior design
A pleasure to drive
Cabin is smart and well designed
Remarkable economy potential
Gripes:
BMW's excellent petrol engines not available
Slight thrum from smallest diesel unit
Off-road potential is slight
Automatic gearbox only available on two models
BMW tore up the rule book when it introduced the X5 in 1999 by producing an SUV that was genuinely road-biased and delivered driving responses worthy of its sporting saloons. Now the 'X' range of cars has been extended downwards to create the X1, a compact SUV with the same emphasis on driving pleasure.
One glance at the X1 immediately reveals its place in the BMW line up. In terms of its size it sits between the 1-Series hatchback and X3 SUV and there are elements of both in its design. The X1 has a slightly raised ride height, enough to make light off-roading a possibility, but in essence it merely provides the loftier driving position that buyers demand for road use. There is also a substantial plastic trim running along the sills and around the wheelarches for a degree of protection but also to provide the visual toughness that locates it in the SUV class.
The X1 sits in the compact class and as such is designed to offer decent space and practicality within modest dimensions. There is seating for five adults in relative comfort, while luggage space is competitive thanks to the hatchback-like rear. The X1 also offers more practicality than a conventional BMW saloon with additional storage dotted around the cabin.
BMW has taken the slightly unusual step of offering an all-diesel engine range, based around one unit with varying outputs. In addition, the X1 range is available with two or four-wheel drive, dubbed 'sDrive' and 'xDrive' respectively, apart from the highest specification diesel, which is four-wheel drive only. A price premium of less than 10 per cent for four-wheel drive gives buyers the option of choosing a model that is just right for their needs and the benefits of doing without four-wheel drive if it is not required.
The diesel powerplants also ensure that the X1 is yet another BMW model displaying impressive levels of efficiency and economy and, as with all new models, it has the Efficient Dynamics package to maximise economy and lower emissions. All manual gearbox versions also come with a stop/start feature, the first X models to do so, increasing still further the potential fuel economy.
Our verdict on the BMW X1 sDrive20d SE
BMW's first foray into small SUV and crossover territory is an instant success, mainly due to the fact that it sticks to the successful formula of the X5. It has the right balance of presence and practicality and is certainly an attractive design, while the peerless dynamics are typical of the brand. A slight question mark over engine refinement aside, BMW has another hit on its hands.
Costs
For a premium product there is of course a premium price, but once past the initial cost the X1 will prove to be remarkably efficient, with low taxation and fuel costs thanks to the diesel economy and efficiency package. Insurance is also reasonable given the premium badge.
Space and practicality
The X1 makes good use of its dimensions and can fit in five adults plus luggage. If anything, the driver is the person who has the least sensation of space due to the intimate design of the BMW facia, but no-one will feel at all cramped.
Controls and display
The usual efficient and attractive BMW layout is present and correct, requiring very little use to become accustomed to its workings. Lesser models do without the i-Drive control making it even easier to navigate around the few dashboard buttons.
Comfort
Despite having quite a sharp chassis, the X1 does not sacrifice ride comfort. Even with run-flat tyres fitted, the majority of road imperfections are dealt with comfortably. Noise levels are also generally low, although there is a little diesel thrum at times.
Car security
As well as a standard alarm and immobiliser, BMW's plastic fob key and start/stop button adds an extra level of protection against thieves, worthwhile in a car with a desirability factor like this.
Car safety
A commitment to safety is evident in the high level of standard specification, including BMW's DSC system and a full compliment of airbags. Four-wheel drive models have an extra level of active safety thanks to increased traction.
Driver appeal
Like every BMW the X1's key strength is its driving appeal. Built around responsive steering there's good weight distribution and an excellent ride and handling balance. Even the most modestly-powered version is quick enough to provide brisk performance and make the chassis work hard. Conversely, everyday driving is completed with total ease and efficiency, with well-weighted controls. The least powerful engine does offer up the occasional noisy rumble at idle, but it is unlikely to cause any real disturbance.
Family car appeal
The X1 can handle family duties without breaking a sweat and, although a larger family might find the centre seat rendered useless with two child seats in the outer positions, it is a viable option for a family seeking new transport.
First car appeal
The X1 is most likely outside the price bracket of most first timers, although it would be cost-effective when it came to running costs and even insurance. It's also an easy car to drive, although the weighty clutch may take a little familiarisation.
Quality and image
Despite being one of the least expensive models in the BMW range, there's no skimping on quality. Inside and out the X1 displays impressive levels of build quality and design, which can't help but give the occupants a sense of wellbeing. The BMW image is also as strong as ever, and strong enough to branch out into new market segments without diluting the appeal of the brand.
Accessibility
The slight increase in ride height makes climbing aboard the X1 a cinch, although passengers getting into the rear will need to be conscious of the deep sills and relatively small footwell. Access to the boot is straightforward too, with a sensible load cover and easy folding of the seats.
Stereo and ICE (In car entertainment)
The standard fit radio/CD unit offers respectable sound quality, with the help of steering wheel mounted controls to make life easier. The layout on the audio unit itself is beginning to look a little dated, although the upgraded package brings a colour display screen for easier operation.
Colours and trim
With dark coloured trim around the base of the car, buyers have the choice to blend it in with a dark body colour or allow it to stand out by choosing a lighter shade. Inside the choice of coloured cloth brings a welcome lift to the cabin.
Parking
The X1's size means it can fit into modest parking spaces and, although visibility out of the rear is only average, standard fit rear parking sensors across the range take the stress out of the process.
Spare wheel
Run flat tyres fitted as standard.
Range information
Diesel engines - 2.0-litre (143bhp, 177bhp and 204bhp). Transmission options: six-speed manual gearbox, six-speed automatic gearbox, optional four-wheel. Trim levels: 18d SE, 20d SE, 23d SE.
Alternative cars
Nissan Qashqai Hits a similar crossover mark with success
Ford Kuga Fun to drive, good engine range with choice of two or four-wheel drive
Audi Q5 More traditional SUV is practical and well-finished
Skoda Yeti Affordable crossover boasts off-road potential