August 2009
BMW 7 Series 730Ld SE
Less radical than its predecessor, this 7 Series delivers a refined driving experience
August 2009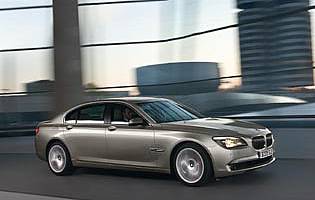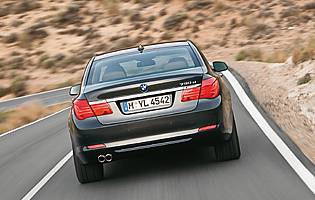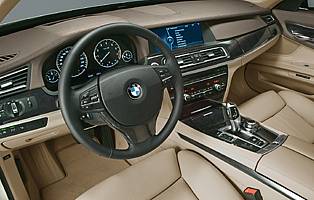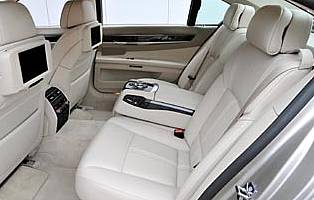 Overall rating

Likes:
Exterior design is now much easier on the eye
Rear seat occupants will be spoilt by amount of legroom and overall luxury
Keen drivers will appreciate the car's responsive nature
Diesel options help keep running costs low for a car of this size
Gripes:
Car needs a lot of space around town
Ride could be softer - most noticeable when in the rear
Standard specification could be higher and include more of BMW's advanced features
For a car this big its boot could be larger and a more uniform shape
After years of treading a conservative line, BMW's 7 Series broke free and became a surprisingly controversial proposition. This second car after the first 'Bangle' design presents a softer appearance but remains the most outgoing of the current crop of limousine class cars on the market.
With the critics now placated thanks to a less aggressive design, the focus can be directed towards the car's engineering achievements. With its promises of lower consumption and emissions, the 7 Series trumps many rivals when it comes to running costs.
And when on the move it is a car that's likely to appeal more to the keen driver than offerings from the opposition. For a big car it feels surprisingly agile, although the trade off is a slightly firmer ride than you'd expect from a luxury saloon. There's no shortage of power from any of the engines, although the diesel units present the best balance of economy and performance.
If the car is to be the tool of your trade - executive hire, for instance - then the diesel options make the most sense. There's also the long-wheelbase variant to consider. With its extra 14cm it allows rear seat occupants to stretch out in comfort. As you would expect the 730d model is an ideal choice, being relatively frugal and capable of keeping tax and other outgoings to a sensible minimum.
Aside from the extra cabin space of the long-wheelbase version it drives very much like a regular 7 Series. It's true that the extra length is noticeable when driving around town, but for jobs requiring motorway journeys the extra length helps boost stability and comfort. And all this is before you delve into the long and tempting options list, which contains rear seat entertainment screens, enhanced audio options and the like.
Our verdict on the BMW 7 Series 730Ld SE
For many the softened exterior of this 7 Series is a welcome change from the previous model's more challenging appearance. The improvements continue under the skin, with a range of pleasingly efficient engines, rounded road manners and a cabin ambience that's second to none in this class. And it's that element of the car that should appeal to business users. In long wheelbase form the 7 Series is an attractive and effective tool.
Costs
By executive car standards the 7 Series isn't a hugely expensive car to run. Yes, purchase price, a few choice extras and insurance will add up to a sizeable sum. In diesel form the car's frugal nature should ensure road tax and fuel costs are at a level comparable with something from the class below, however.
Space and practicality
With its 14cm of extra length, rear seat occupants can stretch out in comfort. Head and elbowroom in the back is also well above average, while the large centre armrest and door pockets offer adequate storage opportunities. There's no shortage of space for occupants and their belongings in the front, either. The only gripe relates to the car's boot, which could be wider and deeper given the size of the car.
Controls and display
Clear, easy to read and understand controls and displays have been a BMW trademark for years. The 7 Series cleverly blends analogue and digital instrumentation in a bid to reduce the temptation to overload you with information. The central screen is large and bright, while navigating the various functions is made straightforward with the improved i-Drive controller. The switch back to a conventional auto-style gearlever is a welcome one.
Comfort
If it's space you want, the long-wheelbase 7 Series has it - especially in the rear. Realistically only a two-seater in the back, there's no chance of you clashing elbows with your fellow passenger. Adjustable rear seats including a massage function can also be specified. Headroom - fore and aft - is also good, and the cabin proves to be a hushed environment whatever's going on outside.
Car security
It's good to know that you get the full complement of features: alarm, immobiliser and keyless ignition. The full keyless entry and start package is not only convenient but also a sensible choice that saves you fumbling for a key. Window blinds will help maintain the privacy of your passengers, and don't forget the option of a tracking device for added peace of mind.
Car safety
There's no shortage of safety kit in this 7 Series. From the many airbags to the various electronic stability aids, you're well covered when it comes to preventing an accident or minimising the impact.
Driver appeal
It's immediately obvious that this 7 Series is longer than the regular car. On the plus side it feels more stable on the motorway but it also requires more advance consideration when navigating small spaces. Engine power is not an issue. With petrol and diesel units to choose from, progress is never less than elegant. The ride can be a little firm though, which might suit the driver but not always the rear seat passengers.
Family car appeal
Despite the car's cavernous cabin it's hardly family car material. The plush upholstery isn't exactly child friendly, while the car's boot can't match that of a conventional estate car or MPV.
First car appeal
Simply put this BMW is hardly an ideal choice for a novice driver. Yes it is easy to drive, but it will be expensive to run. If given the keys as part of your job the outlook is different - it's easy to make smooth progress although the car's size could take some getting used to.
Quality and image
Routinely pitched as the more engaging and enjoyable to drive of all the luxury sector saloons, it's true that BMW's 7 Series offers drivers a more rewarding experience. This 'ultimate driving machine' theme has helped tempt countless buyers over the years. Less consistent has been BMW's design direction - the big 7 Series has been the radical model in the firm's range, and has caused more than the occasional negative comment in recent years.
Accessibility
Front seat occupants are treated to an acceptable level of accessibility, and it's what you would expect from such a large car. At the rear, the extra long doors make getting in and out a breeze - the perfect illustration of why long-wheelbase cars are preferred by those who make their living from the executive hire trade.
Stereo and ICE (In car entertainment)
With its large central display, the car's entertainment system is easy to use. The infamous i-Drive controller is now much improved, while sat-nav, Bluetooth, digital TV and radio reception and music player connection are all possible. Screens for the rear seat passengers plus duplicate controls are a welcome (extra cost) addition.
Colours and trim
For a car that's likely to see service in the corporate travel sector, dark, colours work best. They also do much to flatter the car and disguise its size. On the inside the choice of darker trim and upholstery is recommended as it's infinitely harder wearing than the, albeit, nicer looking lighter options.
Parking
Despite the car's size, the inclusion of parking sensors and accurate but light steering makes life easy when it comes to making tricky maneuvers in small spaces.
Spare wheel
Conventional spare wheel fitted as standard.
Range information
Petrol engine options - 740i (326bhp); 750i (407bhp). Diesel engine options - 730d (245bhp); 740d (306bhp). Transmission options: six-speed automatic gearbox across the range. Trim levels: base, SE.
Alternative cars
Mercedes-Benz S-Class Class benchmark and superlative all-rounder
Audi A8 Well-built and enjoyable to drive; good choice of engines but ride can be firm
Lexus LS600h Big Lexus majors on refinement and comfort. Hybrid element helps to reduce running costs
Range Rover Left-field alternative is no less luxurious and offers ability to go where others can't