BMW 6 Series Coupe 640d SE
Efficient engine sounds good
October 2011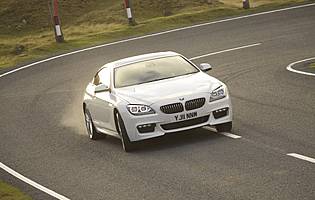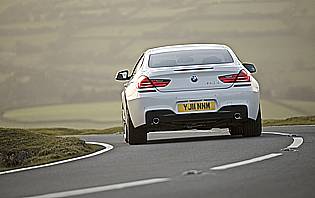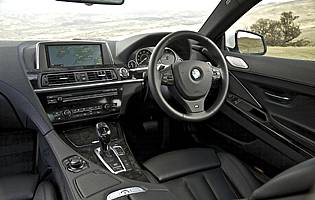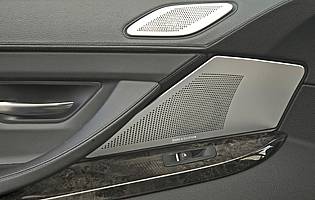 Overall rating

Likes:
Engine is powerful, efficient and sounds good
Surprisingly nimble and yet stable, even on wet roads
Attractive design inside and out befits the car's price
Build quality and image are very appealing
Gripes:
Rear seat legroom is poor for most adults
Run-flat tyres create extra road noise
Large overall size can be a hindrance in town
Visibility is partly restricted all around
This third, all-new generation of the 6 Series was first seen as a convertible, but many buyers also choose a fixed roof so BMW chose to add a two-door coupe version. Most are sold as diesel company cars, and since the 640d attracts the lowest tax charges it is almost certain to be the best-seller.
Few potential customers would describe the 640d as cheap, but with a much lower CO2 output than similar sized petrol cars it's considerably cheaper in terms of road tax, and offers significant benefit in kind (BIK) tax benefits as well. The 640d is designed to be as appealing to drive as it is to own in order to make a convincing case for itself in a sector of the market where expensive petrol cars have been the most desirable.
The car is almost completely changed from its predecessor, and is a much prettier car to look at. In designing it, BMW reverted to the classic proportions of a coupe and opted to prioritise the long bonnet, a boot large enough for three golf bags and front-seat occupant space. As a consequence, rear-seat legroom isn't that great.
It is designed as a 'Gran Turismo', or Grand Touring car, so its main purpose is to cover big mileages in complete comfort, while also deftly handling and boasting significant power. The 640d strikes a near-perfect balance despite its size and weight, although its size and relative lack of visibility from behind the wheel can become an issue in cities and on narrow country roads. Its low profile run-flat tyres also make more noise than normal equivalents.
Powered by an efficient six-cylinder diesel engine the 640d has very strong acceleration at the same time as much lower fuel consumption than its petrol-powered rivals. Through its automatic gearbox, enough power and torque are applied to the road to leave almost all other traffic in its wake. It also sounds little like diesel engines of old on the road, giving out a pleasant bass rumble.
Our verdict on the BMW 6 Series Coupe 640d SE
The 640d is built to be a complete solution for its target audience, bearing in mind the restraints of company car tax law. There is no area where it underperforms in that regard, with excellent driving characteristics, high build quality, attractive design and affordable running costs providing it with a breadth of appeal that none of its rivals can match. It represents a highly satisfactory ownership proposition.
---
Costs
The 640d represents major savings not only in day-to-day fuel consumption and road tax, but also a significant cut in benefit-in-kind tax for business users when compared to a petrol-engined GT rival, or even to an alternative diesel option. The BMW achieves greater efficiency than all its rivals, some by a large margin and this is reflected in its ownership costs.
Space and practicality
While BMW is quick to stress the 6 Series Coupe's ability to carry three golf bags in its boot, it struggles to carry four adults in comfort. Rear passengers, if they fit in at all, will find themselves cramped unless the person in front moves their seat forward. For two people, however, the car has more than enough room for the vast majority of occasions; even holidays.
Controls and display
BMW's iDrive system is the main method of changing settings and navigating through menus. It's simple and intuitive to use, although the sheer number of available options can be overwhelming at first. The rest of the controls are clearly laid out and for the most part fall easily to hand. Particularly tall or short drivers might find that the steering wheel obscures part of the instrument cluster.
Comfort
For a car with such relatively large wheels the 640d rides very well, whether on motorways or B-roads. Larger and more sudden impacts do shock the cabin a little, but a stiff bodyshell helps the suspension to do its work. The only negative point is that the run-flat tyres create a little more road noise than normal equivalents, and don't absorb as many vibrations.
Car security
The car has a Thatcham category one alarm fitted, along with an engine immobiliser. BMW has also gone to great lengths to make sure that even the most determined thieves would fail to move the 6 Series without the proper key by arranging crucial mechanical systems out of reach and making the appropriate electrical systems difficult to access, so the car should be secure parked in the open.
Car safety
The 640d has a comprehensive list of safety equipment, including a fuel cut-off system in case of a crash, deformation zones that can absorb impacts up to 2.5mph without damage, and tyre pressure warning systems in case of a puncture. The list is long and buyers can rest assured that the 6 Series is as safe as it can be.
Driver appeal
Normally, large diesel cars don't offer the same satisfaction as large petrol cars, but while the 640d can't match the Maserati Granturismo in terms of noise and character, it is an accomplished drive. It accelerates smoothly and rapidly, handles like a car lighter than it is, and offers good feedback through the chassis. Even keen drivers will enjoy it.
Family car appeal
Restricted access to the rear seats and restricted space for rear passengers means that the 6 Series is a poor choice for families. There are two ISOFIX child seat mounts in the rear, but it's quite difficult to reach in and attach the seats. This car would be best thought of as a two-seater with two emergency-use seats in the back, even for families with two small children.
First car appeal
While its list price pushes the 640d beyond the reach of traditional first-time car buyers in the UK, the relative insurance costs for a newly-qualified driver would be extremely prohibitive, if any quote could even be offered at all.
Quality and image
Build quality is generally excellent, from the fit and finish of the body panels to the depth of quality evident with the switchgear inside. The only slight let-down is the stitching and material used to cover the fascia. It's thick and high quality for what it is, but visually it lacks prestige and the car would be better off without the pretend stitching.
Accessibility
Long doors count against the 6 Series in terms of getting in when space beside the car is at a premium, and it's also a long reach backwards to grab the seat belts. The rear seats are not very useful though, having very upright backs and little legroom even behind a driver of average height. With no rear doors, it's also difficult to mount a car seat for younger children.
Stereo and ICE (In car entertainment)
As standard the 640d comes with the BMW Business stereo system, which is above average. Audio enthusiasts might prefer to upgrade to the Bang and Olufsen system, which increases the power output and clarifies the sound quality. A 10.2-inch widescreen display acts as the visual element of the media interface, and is easy to interpret in all its modes.
Colours and trim
There is a wide range of colours on offer. Several of the choices are cost options, including two blacks, but there is a shade available to suit most tastes. Inside, the dashboard has been designed to the theme 'flowing water', and appears to wrap around the driver. Build quality is high, but the combination of black dashboard coverings and black stitching doesn't quite hit the premium mark.
Parking
With large dimensions and modest visibility in almost all directions, the 6 Series is not easy to park in a tight space. It does have parking sensors front and rear, though, and a rear-view parking camera that helps a lot. Its turning circle is fine for its size, but if owners find themselves without much room to manoeuvre while parallel parked, it might not be easy to get out.
Spare wheel
Run-flat tyres fitted as standard.
Range information
Petrol engine options – 3.0-litre (316bhp); 4.4-litre (401bhp). Diesel engine options – 3.0-litre (309bhp). Transmission options: 8-speed sports automatic. Trim levels: SE, M Sport.
---
Alternative cars
Mercedes CLS-Class Four doors make it better for rear passengers, but not as good to drive
Maserati Granturismo Beats the 640d for noise and excitement, but expensive to run
Jaguar XK Beautiful styling means ageing petrol-only XK has lots of fans
Lexus GS450h Hybrid technology and peerless luxury, but not exciting to drive