BMW 6-Series 635d Sport Convertible
Masses of road presence
November 2007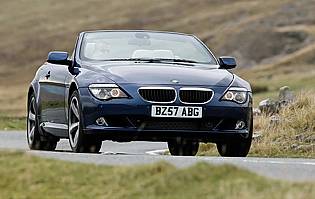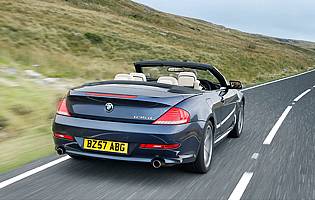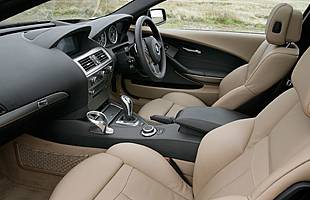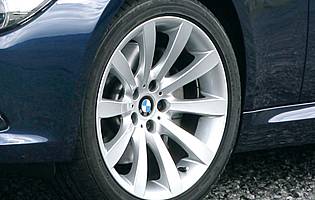 Overall rating

Likes:
Masses of road presence
Superb torque from the diesel engine
Wonderfully stable at speed
Roomy and comfortable interior
Gripes:
Rear seat legroom is poor for most adults
Run-flat tyres create extra road noise
Large overall size can be a hindrance in town
Visibility is partly restricted all around
Before BMW introduced its 635d no manufacturer had ever produced a diesel GT car, let alone a diesel convertible. With its much-heralded three-litre, twin-turbo unit the German manufacturer believes it has created a diesel engine smooth, refined and powerful enough to see duty in a luxury grand tourer without detracting from the quality.
It's only recently that advances in technology have meant that a manufacturer could reasonably expect to get the same performance and refinement from a diesel engine as a petrol unit – but having already proved its ability to provide pace, economy and refinement in the 5-Series and 3-Series platforms it was probably only ever a matter of time before BMW's three-litre, six-cylinder, twin-turbocharged diesel unit found its way into the 6-Series.
Key to the engine's success are its twin-turbos, which ensure it revs as freely and smoothly, if not as high, as a petrol engine. Its torque, which is delivered in huge quantities and from extremely low in the rev-range, means the 635d has acceleration akin to that of the more powerful petrol-engine 6-Series models. In-gear acceleration is equally impressive.
As well as providing pulling power a similarly sized petrol unit would struggle to match, the 635d is also able to return fuel economy the likes of which hasn't been seen before in the GT sector. Before the introduction of the 635d, GT ownership inevitably came with high running costs. In comparison, the diesel 6-Series will leave a considerably smaller dent in both the owner's pocket and environment.
Committing the diesel unit to a convertible body, where there is no room to hide from any unwanted noise or roughness, is probably the ultimate show of faith in the engine. BMW has also attempted to raise the appeal with a face-lift, which includes revisions to the front and rear styling and improvements to the already luxurious interior and equipment levels.
Our verdict on the BMW 6-Series 635d Sport Convertible
It's a bold step by BMW, but it really pays off. The 635d is no less refined or enjoyable to drive than any of the company's petrol models. It doesn't have a spine tingling exhaust or engine note like the 650i or M6, but that's a small price to pay for the impressive fuel economy and the even more impressive way that it doesn't come at the expense of performance.
---
Costs
The 635d is probably the most frugal GT you'll ever find, with the potential to cover more than 600 miles on a single tank of fuel. While the running costs are likely to be lowered as a result the 635d is still likely to incur a high insurance premium and aspects like the run-flat tyres will not be cheap to replace.
Space and practicality
Naturally, the folding roof mechanism impedes on the boot space available in the 635d convertible, but there's still enough room for a reasonable amount of luggage. The 6-Series' forte is not as a practical run-around, but it is spacious inside, particularly for front passengers.
Controls and display
The heads-up display is a clever and useful piece of technology as is night vision, although they're optional extras. The paddle shift Sports automatic transmission works well but operates in different way to similar systems so takes some getting accustomed too. Elsewhere, instruments and controls are sturdy to the touch and conveniently positioned. As with many BMW models, it takes some time to get used the various column stalks and there functions – but their operation makes sense once you are familiar with them.
Comfort
The beautifully appointed interior of the 635d is as comfortable as you would expect from a premium GT with a premium price tag. Long journeys fail to take their toll thanks to adjustable, plump, shapely seats and the absence of wind noise from the cabin. Sculpted seats for the rear passengers offer a degree of comfort too, but it is let down a little by small touches such as the clip on cup-holder, which appears as something of an after-thought.
Car security
A Thatcham 1 approved alarm system is standard, complete with tilt alarm and a battery back-up. There's plenty storage to conceal valuables inside the car, and the contents of the boot cannot be viewed from outside.
Car safety
As well as a vast array of safety systems including ABS, ASC, CBC, DBC, DTC and EBD to keep the power in check, the 635d also comes with a lane departure warning system that vibrates the steering wheel if it detects a possible lapse in driver concentration. Rain sensing wipers and automatic headlights are also standard as are huge brakes. They're intelligent too, with automatic drying, pre-tensioning, fade compensation, soft-stop and hill-start assistant.
Driver appeal
The three-litre, twin-turbo diesel unit is a wonderfully smooth engine both in terms of its refinement and power delivery. In many ways the copious torque of the diesel unit makes it a more pleasurable driving experience than a similarly powerful petrol unit. Acceleration is swift and effortless, and the sports suspension and rear-wheel drive set up makes it an agile handling machine. The 635d is an awe-inspiring drive and has the ability to fill a driver with confidence but is equally adept at cruising and the daily grind.
Family car appeal
Although more sensible than one of the thirstier petrol variants, the 635d convertible would make a poor choice for those with kids in tow. Passengers are limited to four and luggage space would not be adequate for family holidays.
First car appeal
It may be on the wish list, but only a very lucky few will ever find themselves behind the wheel of a 635d convertible as a first car. A degree of driving experience is required to make full use of the performance and to cope with its bulky size around town.
Quality and image
Like most GTs the 6-Series is more than cable of turning heads and its kerbside appeal is high – the convertible possibly highest of all. The looks won't be to everyone's taste but the face-lifted model is softer on the eye and sportier in its styling. The build quality is excellent with no rattles, refinement even at speed and a finish of the highest order inside and out. The folding roof works quietly, gracefully and quickly.
Accessibility
Thanks to the 635d's size, there's little problem accessing the front of the car. The rear seats can more troublesome to get at but the memory settings in the front mean the seats can be moved for easier access without losing the driver's carefully tuned settings.
Stereo and ICE (In car entertainment)
The 635d boasts an impressive eight-speaker sound system as standard, but there is a long list of upgrades available including Bluetooth compatibility and sat-nav. The iDrive system has had a refresh with a view to making it more user-friendly. The addition of favourites buttons for quick access and new graphics succeed in making the sometimes complicated system less fiddly to negotiate.
Colours and trim
The 6-Series has seen revisions to the exterior styling and trim as part of the fade-lift package, including new rear lights. Inside, the car features exceptionally high quality materials and trim including leather seats that reflect heat, preventing them becoming uncomfortably hot in the summer. Colour choices are subtle and smart inside and out, with a new grey and blue added to the range of nine exterior colours and wood or brushed aluminium trim for the interior.
Parking
Front and rear sensors make manoeuvring the 6-Series easier, but as big car with a low seating position it takes time before you're comfortable enough to back into tight spaces unaided. The rear wheel drive layout offers a good turning circle, however.
Spare wheel
Run-flat tyres fitted as standard. No spare example.
Range information
Petrol engine options – 3.0-litre (272bhp); 4.8-litre (367bhp); 5.0-litre (507). Diesel engine options – 3.0-litre (286bhp). Transmission options: six-speed manual gearbox, six-speed sports automatic with wheel mounted paddle shift, seven speed Sequential Manual Gearbox with Drivelogic. Trim levels: Coupe, Sport Coupe, Convertible, Sport Convertible, M6, M6 Convertible
---
Alternative cars
Jaguar XK  Beautifully styled and competitively priced soft-top GT
Mercedes-Benz SL Clever folding hardtop and impressive engine choices
Porsche 911 Carrera Cabriolet Genuine sports performance and a highly desirable badge
Aston Martin V8 Vantage Roadster Headturning supercar is pricey, but makes a comfy tourer