BMW 5 Series 520d SE Touring (2007)
Enjoyable to drive
May 2007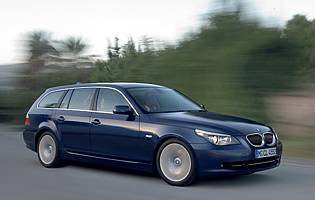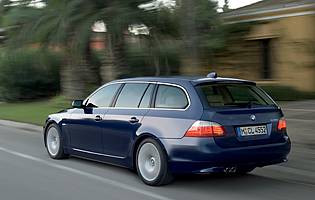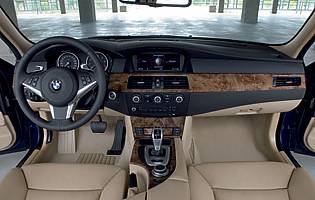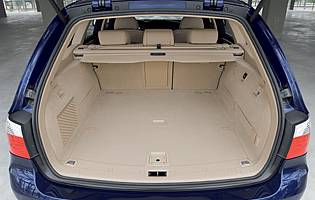 Overall rating

Likes:
Touring offers a practical loadspace yet exterior isn't spoilt by the wagon's styling
Enjoyable to drive and very much the choice of the enthusiastic driver
Diesel engines are impressive, both in performance and economy terms
Refined cabin is spacious and built to an exceptionally high standard
Gripes:
Standard exterior is a little under whelming, needs the M Sport bodykit
Some cabin switchgear not immediately intuitive, for example the car's iDrive
New auto gearlever takes up too much space and the manual override is clumsy
Some options should be standard on a car like this in the executive class
BMW's latest generation 5 Series is the most daring ever and was clearly influenced by the firm's first radical offering, the high-end 7 Series. However, for all the car's rakish lines, it has proved a popular choice. So mush so that for its mid-life refresh BMW left the exterior largely untouched. Modest efficiency gains are the focus here thanks to some interesting technology, plus the inclusion of an M5 Touring in right-hand drive form for the first time.
For many, BMW's 5 Series Touring is the refined and sensible alternative to the growing number of posh off-roaders. You might need some extra space over the saloon, but don't fancy the lofty driving position or the increasingly prevalent social stigma attached to an urban 4x4.
If that's the position you find yourself in, the 5 Series Touring makes a good case for itself. It's practical, refined, versatile and enjoyable to drive. You can now add more efficient to that list. Thanks to some clever technology, BMW's 5 Series offers a form or energy regeneration. In simple terms, when braking for example, energy is put back into the system, meaning a little less fuel is used. Also, CO2 emissions are reduced slightly.
While it might not seem like much, over the life of a car – and remember, some of these will be high mileage company vehicles – the financial and environmental savings will be considerable. Factor in BMW's range of acclaimed diesel engines and widespread use of lightweight components and suddenly the 5 Series is no longer an extravagance.
There is another side to the 5 Series Touring, and one that's a little more irresponsible. For the first time since the M5 variant was launched, you can now have a right-hand drive Touring model. All the familiar ingredients are present: aggressive body kit, semi-auto seven-speed gearbox, manic, high-revving V10 engine and the all-important 507 horsepower. Now the M5 is more than just a quick car – it's also a practical quick car.
Our verdict on the BMW 5 Series 520d SE Touring
Subtle improvements have further increased the 5 Series Touring's appeal. The focus on efficiency and fuel savings is an admirable one, while the inclusion of a right-hand drive M5 Touring will please fans of this special car that have been waiting for a more practical performance experience. Even in standard trim it remains an enjoyable and rewarding car to own and drive.
---
Costs
Purchase price aside, any premium car will cost premium money to run. That said, opting for one of the excellent diesel variants will help reduce your monthly outgoings considerably. Also, it's worth considering BMW's fixed price servicing scheme. It might only cover the scheduled activities, but paying upfront means it'll be easier to budget in the long term.
Space and practicality
As large estate cars go, the 5 Series Touring hides its size well. It doesn't look ungainly or unwieldy, yet the all-important load bay is wide, flat and easily accessible. The car's tailgate opens nice and wide, and the load lip is pleasingly low. Up front, the rear seats can be folded flat, and there are plenty of useful storage options in the cabin.
Controls and display
Apart from the familiar criticisms over BMW's iDrive system – it gets easier with practice – there's little to fault in the BMW's cabin. The main dials are easy to read and the central colour display is a model of clarity. Minor controls all prove intuitive, while the manual gearshift is now more precise. The new auto gear lever is a little more high-tech in design, with the Park function now a button on the top of the silver lever. On the whole it works well, but the manual override function can feel a little clumsy when rushed.
Comfort
Wide, comfortable front seats dominate the cabin, while at the rear the seating arrangement should accommodate two adults with ease. Cabin space is good, and noise levels are low when on the move – even the diesel engines are hushed at speed. Front seat occupants benefit from multi adjustable seats, although the electrically operated ones are better, while it's not difficult to get the driving position to your liking.
Car security
Your pride and joy is fully protected thanks to a Thatcham approved anti-theft system. Along with the standard remote central locking, there's also the option of a choice of tracking systems. With even a base car and a few options totalling a considerable sum, let alone the M5 variant, peace of mind alone should make this a serious consideration.
Car safety
There's no shortage of airbags in the BMW's cabin, and the same no expense spared approach is true for the variety of electronic stability aids fitted as standard. Marketed as a sporty car, it's fair to assume the Five will be pushed harder than most rivals, so it's comforting to know that you get a lot of help if it starts to go wrong, but the various systems are unobtrusive if you just having fun.
Driver appeal
With its rear-wheel drive layout, the 5 Series can be an entertaining car – safe, but entertaining. For maximum enjoyment you'll be needing one of the six-cylinder diesel engines or, if you're serious about having fun, the M5 variant complete with its V10 petrol engine. Out of the box the regular cars are enjoyable to drive; steering, suspension, brakes and engine response all have the feel of something developed for the keen driver. However, the 5 Series is perfectly capable of being Mr Sensible for the school run or the commute to work, as ride comfort is impressive. Even the M Sport package, which is a little firmer, delivers a comfortable urban ride.
Family car appeal
It's no people carrier and doesn't boast a flexible seating arrangement, but if you don't want a high-sided MPV or even an SUV, the 5 Series Touring is sensible compromise. Its boot will swallow all manner of odd-shaped items from pushchairs to holiday gear. You might want to take care with the upholstery though, as leather rarely mixes well with small children.
First car appeal
In all honesty you'd be better off with a 1 or 3 Series. Smaller is often better when starting out, and the bigger 5 Series might prove a little intimidating. That's not to say it's difficult car to drive – all the controls are light and easy to use. More importantly, running costs could be an issue for the novice driver.
Quality and image
The BMW brand possesses a strong following, and the 5 Series has historically been an extremely popular model. The Touring variant is no exception, especially for people who want a practical, spacious, premium car but don't want an SUV. The 5 Series in particular is also perceived to be more sporting than its rivals. Quality-wise the latest generation car is impressive. The mid-life improvements are noticeable, although at launch the underlying standard of fit and finish was already high.
Accessibility
As with most cars of this size, access and egress to and from the cabin is straightforward; the car's doors open nice and wide, while at the rear the tailgate requires little effort to open and close. Also, the load lip is wide and flat, making loading and unloading straightforward.
Stereo and ICE (In car entertainment)
The usual, and modest, BMW single CD and radio combination comes as standard on the 5 Series. Although BMW has never been generous in the audio department, the equipment works well. Cost options include a CD changer and the firm's familiar colour satnav. All this is displayed through a colour screen and controlled by the improved iDrive. It's still not perfect though, and could be more intuitive.
Colours and trim
For all the car's rakish looks, the usual BMW colours work best: silver, dark blues. The former is good if you want to highlight the car's unusual design elements, the latter will do the opposite. Inside, dark interiors work best, implying a sense of luxury. Light interiors are not only less practical but don't look or feel as expensive.
Parking
Although the 5 Series Touring is a big car, it's not a difficult car to park. Visibility fore and aft is good and, when combined with parking sensors, you'd have to be pretty clumsy to make a mistake. At walking pace the standard steering set-up makes manoeuvring very easy.
Spare wheel
Run flat tyres fitted as standard although not on M5 Touring, which also gets a conventional spare tyre.
Range information
Petrol engine options – 523i (190bhp); 525i (218bhp); 530i (272bhp); 550i (367bhp); M5 (507bhp). Diesel engine options: 520d (163bhp); 525d (197bhp); 530d (235bhp); 535d (286bhp). All cars come with a six-speed manual gearbox as standard, six-speed auto gearboxes optional on all variants – standard on the 535d. M5 Touring gets a seven-speed sequential manual as standard. Trim levels: SE, M Sport. M5 comes with unique set of standard equipment.
---
Alternative cars
Audi A6 Avant Stylish, well built and desirable. Not the last word in driver involvement though
Mercedes-Benz E-Class Estate Elegant in the metal and better built than in the past. More a cruiser than sports car
Saab 9-5 Estate Inexpensive in this company, but getting on and no longer a direct rival
Volvo V70 Latest generation v70 is much improved, but still lags behind the German offerings