BMW 3 Series 328i Touring M Sport
Boot has significant luggage capacity
September 2012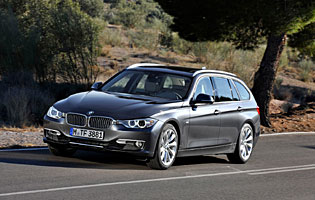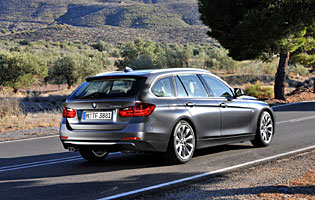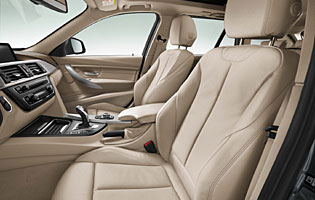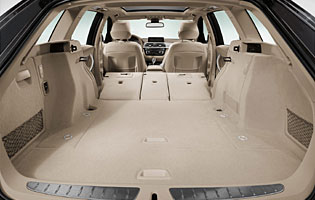 Overall rating

Likes:
Practical boot adds significant luggage capacity gains over the saloon
Smooth and quiet cruising ability on smooth road surfaces
Balanced and poised driving dynamics offer rewarding journeys
Increased efficiency provides much lower running costs
Gripes:
Performance doesn't seem as strong as BMW's claims
Dull engine noise reduces driver enjoyment
Offers questionable value against other models in the range
Styling may not appeal to all tastes
BMW has given to its estate cars the Touring moniker for many years, and still the custom continues. One tradition that has not fared so well is that of six-cylinder naturally-aspirated engines on upper models, and this 328i features a more economical turbocharged four-cylinder unit instead. The most practical 3 Series body style is should be its most natural home.
The 328i is the highest 3 Series model designation to have converted to four cylinders, but its greater bias towards efficiency should suit the family-oriented Touring model. Its larger boot is better suited to holidays and lots of luggage or equipment, and is the chief difference between it and the traditional saloon version.
This engine is actually the only petrol to be offered in the 3 Series Touring, alongside two diesels. It reflects a general lack of desire for petrol power in this particular sector, where long-distance cruising and desire for outright fuel tank range leads many buyers towards diesel. It has been included to provide a genuine alternative with its own advantages.
As such the 328i Touring is likely to have a niche status in the range, built for those who prioritise smoothness, quietness and more usable engine revs over low-down diesel torque and the highest miles per gallon. It will perhaps suit the US market better than it will Europe, but it's offered here anyway.
The Touring body style combines a boot that is significantly larger, where stacking cases is concerned, with driving dynamics carried over from the saloon. Despite a little extra bulk at the rear, a perfectly even weight distribution has been maintained. This generation of 3 Series claims to offer more scope for individualisation than ever before, as buyers demand more options.
Our verdict on the BMW 3 Series 328i Touring M Sport
The 328i Touring's practicality is undeniable, and its driving dynamics are so alike to the saloon's that on the road there's no real difference. However, although it has many strengths in its armoury, the new engine is a weak point. It doesn't feel as strong as its figures suggest and its noise is lacklustre; two areas previous 328i-badged cars have never had problems with, and that now hamper its appeal.
---
Costs
Although the 328i is much more efficient than previous BMWs of similar power output, it can't compete with the diesel options in the range for outright fuel economy. The 2.0-litre diesel feels just as strong despite being way down on power, and is also cheaper to buy. The 328i's CO2 figures are also higher than its diesel counterparts, which will affect benefit in kind payments.
Space and practicality
The Touring model is the one to choose if space and practicality are near the top of the priorities list. The boot has grown from the last generation's and is more than large enough for holiday cases for a family of five, DIY supplies or a large dog. It provides enough space for the vast majority of buyers. Cabin space is something of a let-down though. The door pockets are too small and tight, and there are no cupholders in the centre console.
Controls and display
Central to the car's dashboard is a large widescreen display protruding upwards from the top of the centre console. Compared to some alternative systems it looks incongruous and not particularly attractive, but the screen itself is high-resolution and clear, using a simple colour scheme to display key car systems information and menu options. The main instrument cluster is of BMW's latest series and is clear, large enough and bright in all light conditions.
Comfort
Traditionally, run-flat tyres like those on this model have been the source of much road noise and a jittery ride. Such problems have been engineered out in the new model and comfort levels are impressively high even on larger wheels – as long as the optional suspension upgrade is fitted. Apart from some wind noise around the door mirrors, normal driving noises are impressively suppressed. There is plenty of legroom for rear passengers and no occupant is likely to feel cramped during any length of journey.
Car security
As well as an alarm and immobiliser, the central locking secures the fuel filler cap and the boot. A series of warning lights alerts the driver to any open doors when the ignition is on. There is a system to disengage the central locking in the event of an accident. This model is unaffected by reported security concerns regarding thieves using replicated keys to steal certain older models.
Car safety
The car's safety kit list is topped by a comprehensive complement of airbags, stability control and a variety of seemingly small but welcome aids. A brake pad wear warning system, a tyre pressure monitoring system and a battery safety cut-off in the event of an accident. There are many systems dedicated to keeping the car out of danger, or mitigating damage if the worst happens. The full list is enough to convince potential buyers that they and their loved ones will be well protected.
Driver appeal
This version of the car delivers mixed results behind the wheel. The neutral balance is evident and it feels very poised through corners, especially with the manual gearbox. It also rides pleasingly well and is generally very agreeable to drive, but the engine's dull drone and the lack of any particular zest through the rev range means that it can too often leave the driver cold. However, the unit's easy-going nature and quiet response will please drivers who aren't interested in brisk driving.
Family car appeal
With more space in a more useful configuration, the 3 Series Touring is the natural choice for families. Isofix mounts are installed as standard and the rear door apertures, although smaller than the fronts, should allow a child seat to be fitted without difficulty. The prevalence of leather inside the cabin makes it a slightly vulnerable environment to expose to a combination of children and food. Equally, care must be taken to avoid scratching the leather surfaces.
First car appeal
An ideal first car is small, affordable, manoeuvrable, low-powered and easy to park. The 328i Touring is easy enough to park and manoeuvrable relative to its size, but not enough so to make it a viable choice. It's too powerful, too large and not particularly affordable, so it makes an unwise choice as a first car. In addition, insurance would most likely be beyond the reach of a typical first-time car buyer.
Quality and image
BMW has long since been the premium brand known best for its promotion of driving enjoyment, and that has afforded a certain degree of fashionableness that is unique in the sector. Despite rarely figuring among the most reliable manufacturers in surveys, BMW also has an enviable reputation for build quality and solidity comparable with its rival German prestige firms. The 328i Touring has an upmarket, if plain interior but all its interior materials are undoubtedly high quality.
Accessibility
The 3 Series is an easy car to get in and out of in any body style, although it's slightly lower than some potential alternatives. The estate-type boot on the Touring brings with it a flat load bay that makes loading heavy items considerably easier. It's also possible to fit much larger objects or pets in without having to use the rear seats. The rear doors are somewhat shorter than the fronts, which means they can open wider in the same space but that the aperture is smaller.
Stereo and ICE (In car entertainment)
A multitude of options are available for playing music, including a 3.5mm input, a USB port and Bluetooth wireless connection. There is also a single CD slot. The standard system is underwhelming for the class, though, with only six speakers and four 25-Watt channels. Its functionality is good though, with a simple combination of buttons and dials, and a large colour screen readout to keep track of media inputs. Navigation through folders and albums is easy.
Colours and trim
Only one standard colour is available, making all others costly options. The range covers all the key bases, and although blacks and silvers are likely to be most popular, stronger colours look great on this model. The 3 Series Touring is not the prettiest car in the sector and colours help to lift it aesthetically. Its interior trim holds no major departures from previous BMWs, being cleanly styled and unfussy.
Parking
Good visibility has been designed into this 3 Series, and even if no driver aids were fitted it would be easy to park in bay and on-street spaces. Fortunately both front and rear parking sensors are fitted, and have a visual indicator on the built-in colour screen in the dashboard. The car is larger than its predecessor however, which makes finding an appropriate space harder than it used to be.
Spare wheel
Run-flat tyres fitted as standard.
Range information
Petrol engine options – 2.0-litre (242bhp). Diesel engine options – 2.0-litre (181bhp); 3.0-litre (254bhp). Transmission options: six-speed manual gearbox, plus eight-speed auto gearbox (optional on 2.0-litre diesel, standard on 3.0-litre diesel). Trim levels: SE, Sport, M Sport, Modern, Luxury.
---
Alternative cars
Mercedes-Benz C-Class Estate A plusher interior and excellent ride, but lacks an equivalent petrol engine
Audi A4 Avant Great looks and a high interior quality, but relatively expensive
Jaguar XF Sportbrake Sleek, attractive and British designed and built estate has huge appeal
Ford Mondeo Estate This cheaper alternative has lots of kit, powerful engines and a vast boot