Car Buyers Guide
BMW X5 3.0d Sport
February 2004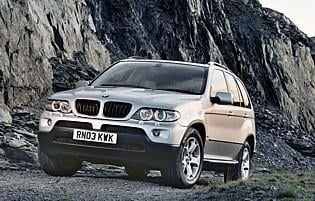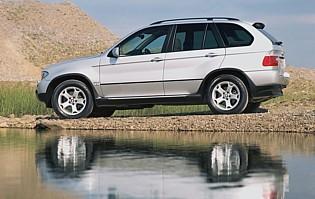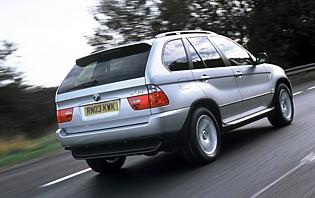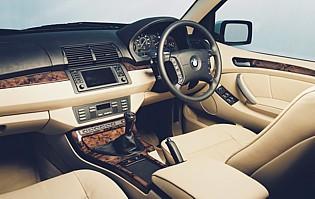 Overall rating

Likes:
Commanding driving position
Handles more like sports estate than 4x4
Outstanding diesel engine
Practical split rear tailgate
Gripes:
Long waiting list to buy one
Certain options should be standard fit at this level
Low speed ride can be harsh on poor surfaces
Jerky clutch action on manual variants
Possibly the most accomplished of the current batch of premium sport utility vehicles (SUVs), BMW's X5 delivers where it matters most - on the road. Although taller and heavier than a conventional estate car, the X5's tarmac bias means it drives like one. However, the latest generation model is not afraid to gets its wheels dirty.

When it first appeared, BMW's X5 premium sport utility vehicle turned the market on its head. Even now, despite the rising number of rivals, the X5's popularity shows no signs of abating.

The latest generation X5 is more powerful, better equipped and dispels the myth that SUVs are poor off-road performers. A new transmission system, xDrive, allows the X5 to tackle terrain that would have had its predecessor spinning its wheels in distress.

Two trim levels (SE and Sport) and four engines make up the basic X5 line-up. An entry-level six-cylinder 3.0-litre petrol model is followed by a turbo diesel of the same capacity, with a muscular 4.4 V8 rounding out the regular variants. An X5 powered by a 360bhp, 4.8-litre petrol V8 is the firm's flagship model. Transmissions are a six-speed manual for six-cylinder motors, with the refined six-speed auto from the 5 and 7 Series saved for the V8 variants. Predictably, the auto box is a cost option on 3.0-litre models.

Clearly aping the look of its maker's 3 Series, the X5 is an imposing beast that has captured the hearts of everyone from premier league footballers to anyone seeking a car that appears safer and more substantial than a conventional executive load-lugger or people carrier.

Performance-wise an X5 is every bit as accomplished as a premium estate. Very much a driver's SUV, the X5 impresses with its ability to tackle corners without the exhibiting the trademark pitch and roll of so many of its rivals. There is a trade-off though, as the X5's ride is firmer than other 4x4s - especially in Sport trim. Nevertheless, bulging dealer order books are proof that it's a price many buyers believe is worth paying.


Our verdict on the BMW X5 3.0d Sport
The X5 is BMW at its best. Forget the questionable styling of the company's 5 and 7 Series models for a moment, as the firm's muscular sport utility not only looks good but also delivers the goods in spades. While not a cheap option, the long waiting lists tell you all you need to know.