AA Handbook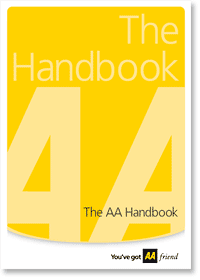 'The AA Handbook' has been designed to provide members with a wealth of valuable information to help you enjoy safe, hassle-free driving.
The handbook includes information and guidance on:
what to do if you are involved in an accident
how to keep your car on the road – what to check and why
all-weather driving – staying safe in bad weather
driving in Europe – what you need and what to look out for
And there are even games and suggestions for keeping your passengers occupied on those long journeys.
You'll also discover a wide range of member benefits, including discounts on products and services from mobile phones to holidays.
See our Benefits Directory for a full range of AA member benefits.
Download 'The AA Handbook'
Download your free copy of 'The AA Handbook' (PDF opens a new window).

To view the PDF, you'll need Adobe® Reader®.