Land Rover Range Rover Evoque TD4 180PS HSE Dynamic
October 2015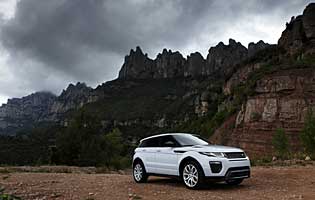 Reshaped bumper and new LED headlights are the key changes to the front
Ratings
Overall rating
Value for money
Costs
Space and practicality
Controls and display
Comfort
Car security
Car safety
Likes
Exterior still looks sharp despite familiarity
Impressive new engine is an obvious choice to make
Very capable on-road and more than good enough off it
Improved cabin quality and technology are welcome
Gripes
Poor rear seat space and boot smaller than some rivals'
Likely to have one of the highest price tags in the class
Smaller output diesel engine only just powerful enough
Hard to distinguish this version from outgoing model
The fastest-selling Range Rover ever has reached its fourth birthday so it is no surprise that Land Rover has given its much-loved Evoque a facelift. Mild exterior updates are teamed with some important mechanical updates, improved technology including additional off-road gadgets and an improvement in materials quality.
When the Evoque first arrived it was an all-new machine and broke new ground for the Range Rover brand, which had relied on just one model for much of its 40-year history. It was also a radical departure in terms of its appearance, with a look that was very close to the original concept car but that gave it huge kerb appeal.
Only minor changes have been made to the exterior of the Evoque, with the new headlight design being the most obvious change. Full LED headlights are now a key feature, while the front bumper has been significantly changed to tie in more closely with the full size Range Rover and Discovery Sport. New alloy wheel options are also available.
Beneath the refreshed exterior the key change for the new Evoque is the replacement of the diesel engine, the previous 2.2-litre unit being ditched in favour of the new 2.0-litre Ingenium unit already put to good use in other Land Rover and Jaguar products. Available in two power outputs and a choice of gearboxes it promises improved refinement, performance and emissions.
To make the most of the new engine and its lighter weight the suspension has been retuned, while inside the infotainment system has been upgraded to the latest system, the trim quality has been improved and the Evoque is available with Land Rover's ATP off-roading system which allows the driver to set the vehicle to a speed which it will maintain up and down hills.
Our verdict on the Land Rover Range Rover Evoque TD4 180PS HSE Dynamic
There are no radical changes here. It's hardly surprising: the Evoque has been a roaring success for Land Rover. The new engine is a big improvement in both performance and refinement, although it is best enjoyed in the higher output form. It still drives with grace and composure and is true to the brand in terms of its off-road capability. It remains less spacious than most rivals, and more expensive too, but for many buyers these minor issues will be irrelevant.
Costs

After the not inconsiderable purchase price, running costs are very dependent on the particular model. But with the diesels capable of impressive economy figures it has the potential to be a luxury car without A-list fuel bills to match.
Space and practicality

Those in the front seats are very well looked after, with plenty of head- and legroom as well as storage spaces dotted around. The rear seats are less spacious, and while they are capable of carrying adults, many rivals do better than the Evoque here. The boot is also reasonably spacious but some of this practicality is sacrificed in order to give the Evoque its eye-catching sloping roof.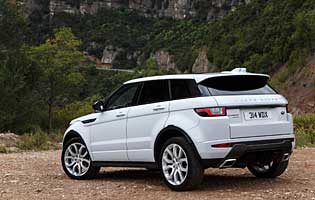 Familiar high tail and sloping roof line are key design features
Controls and display

An update to the Evoque's layout includes a revised digital instrument display, with clear graphics and a new trip computer between the dials. The main touch-screen remains eight inches in size and, although it has updated graphics, can still be laggy in its responses.
Comfort

Refinement has taken another step forward with the second generation Evoque, most notably in respect of engine noise. The seats front and rear offer good comfort and overall noise levels are well-managed, while the ride quality has been fractionally improved too.
Car security

With all versions getting an alarm and immobiliser as standard there are few security worries, although the crime-conscious may want to consider a tracking system for ultimate peace of mind. The Evoque is a divisive car but also a desirable one, and that makes it attractive to thieves.
Car safety

With very little on the options list in terms of safety it is comforting to know that the standard car is packed with safety equipment. As well as the usual airbags and electronic safety systems, in terms of active safety the capable chassis and strong grip will help to avoid an accident in the first place.
Driver appeal

Reflecting the fact that the Evoque will spend most of its life on-road it is no surprise that it drives with smoothness, confidence and a good deal of precision for a car of this nature. Although light, the steering is accurate and the suspension is well-judged to give a soothing ride and very little body roll when pressed. The new diesel engine is also a sizeable improvement, working well with both manual and automatic gearboxes and delivering more than sufficient performance in high output form.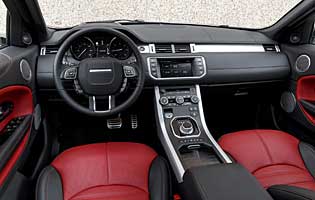 Better materials contribute to cabin's feel-good factor
Family car appeal

Practically speaking the five-door model is the only realistic family vehicle, and in many ways the rear seats are best suited to children of most ages. Children tall enough to see above the high shoulder line will no doubt enjoy the good visibility offered by the higher ride height, but heaving heavy buggies into the boot may be a tiring chore for some.
First car appeal

The Evoque is likely to be outside the reach of most first car buyers, but the well-heeled might well be able to afford a cheaper model and once accustomed to the size will have no trouble using it on a regular basis.
Quality and image

The Evoque has had a quality feel from day one but the improvements in the cabin are welcome. Better materials and the sharp sense of style all add to the impression of high quality and create a tangible relationship to the flagship Range Rover. This goes hand in hand with the Evoque's image, which builds still further on the impeccable Range Rover image with added appeal to the young and the fashion conscious.
Accessibility

In five-door form the door apertures are generous and although a slight climb is required getting aboard requires little effort. The tailgate is a single-piece item rather than split but opens easily and at the touch of a button if required, although the loading sill is higher than conventional cars.
Stereo and ICE (In car entertainment)
The high-quality audio offerings in the Evoque continue, with the standard fitment of an 8-speaker system giving buyers the choice of DAB, USB and auxiliary inputs. An upgraded Meridian option is also available including the clever DualView system and a higher-output amplifier. A good-sized touch screen and steering wheel controls make it easy to use, too.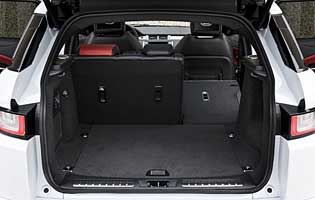 Folding seats help practicality although boot isn't the biggest
Colours and trim
With such a strong exterior look and plastic cladding around the lower section of the body the Evoque is very colour sensitive, with the added complication of roof colours thrown into the mix. There are a multitude of choices, however, so it's entirely in the buyer's hands as to its final appearance. Inside there are more choices too, with better materials and trims to choose from.
Parking
Rear visibility is far from perfect, but otherwise parking is a straightforward process for a car of this size. The high seating position and finger-light steering at low speeds are a big help, plus there are a multitude of electronic helpers should you need them; parking sensors, bird's-eye view cameras and semi-automated parking are all available.
Spare wheel
Emergency tyre repair kit as standard with option of full size spare.
Range information
Petrol engine options - 2.0-litre (237bhp). Diesel engine options - 2.0-litre (148bhp and 187bhp). Transmission options: Six-speed manual standard on all models except petrol, nine-speed automatic available on all models bar low-output diesel. Trim levels: Pure, Pure TECH, SE, SE TECH, Dynamic, Dynamic LUX, Autobiography
Alternative cars
Audi Q3 Downsized Audi SUV is capable and practical, looks staid by comparison
BMW X3 Excellent all-rounder with a desirable badge
Mercedes-Benz GLA Road-biased although still reasonably capable off-road, questionable appearance
Volkswagen Tiguan Classy alternative with a distinctive appearance
Over 1,200 more car reviews online
All the reports since 1990 are available on this site, just search by make and model below.
Other products & services
Related information
October 2015