Aston Martin DB9 GT
September 2015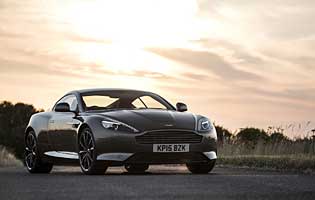 Timeless DB9 design looks as good as ever
Ratings
Overall rating
Value for money
Costs
Space and practicality
Controls and display
Comfort
Car security
Car safety
Likes
One of the most attractive designs in the motoring world
Refreshingly old-school V12 brawn
Comfortable and relaxing yet still huge fun when required
Quality is better than ever
Gripes
Inescapably expensive to buy and to run
Cabin is snug rather than spacious
Emissions performance lags behind rivals
Boot space is modest at best
Aston Martin is a brand rejuvenated since the early 2000s, and the beginning of its renaissance came with the introduction of the DB9 in 2004. For much of the following decade it has been the most recognisable car in Aston's line up, but with an all-new range of cars around the corner the British firm has given the DB9 one final fillip.
It was a sizeable task to relaunch the Aston Martin brand for the 21st Century with the aim to build a more modern and accessible car than the V12 Vanquish. Debuting the VH aluminium architecture that went on to underpin all of Aston's current products, the DB9 managed to echo beautiful cars of the past without looking overtly retro.
Now the DB9 is nearing the end of its life with details of its successor already being leaked, but that hasn't stopped the Gaydon-based marque from turning its attention to one of its iconic products. This GT version benefits from a series of enhancements aimed at improving its appearance, functionality and performance.
On the outside the DB9 is easily recognisable with its graceful curves and eye-catching grille, but the GT version is distinguished by unique 10-spoke alloy wheels available in a number of finishes. The front splitter and rear diffuser are black finished as well as the brake calipers, plus front and rear lights are subtly refreshed.
Mechanically the DB9 continues with the much-loved 6.0-litre V12 engine, but here it appears in its latest form with additional power. The three-stage electronic damping system has also been updated for improved performance, while the six-speed automatic transmission is the only option available.
Our verdict on the Aston Martin DB9 GT
It's no spring chicken any more but even approaching its 12th birthday the DB9 is as appealing as ever. It's still one of the most attractive designs on the road, has performance to burn and kerb appeal like few other cars. It's also still a comfortable and relaxing car to drive over long distances. Thirsty, expensive and less spacious than some rivals, the DB9 GT still has some qualities that others can't match.
Costs

Running costs for the DB9 GT are expected to be very high indeed. The purchase price, fuel consumption and insurance are all at the top end of the scale, making it a car for the well-heeled only.
Space and practicality

The DB9 GT is relatively restricted in terms of space, which is surprising given its size, but front seat passengers are well catered for. Rear seat occupants will not be comfortable on longer journeys, although smaller children will be happier in the back for a reasonable amount of time if they can be accommodated on appropriate and safe seating.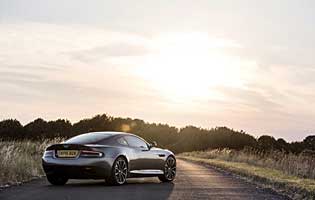 Detail changes like the rear lights and new wheels are appealing
Controls and display

The DB9 GT enjoys a number of upgrades compared to previous generations, chief among which is the adoption of the new haptic feedback centre console first seen on the Vanquish, which is much more modern and easy to use than the old system. The infotainment system is also more sophisticated than before and also easier to use thanks to the new controls.
Comfort

Although fractionally towards the firm side of the middle ground, the suspension copes well with imperfections thanks to the strong architecture. Road and wind noise is well disguised and at a cruise the engine settles down to a discreet rumble. The seats are also very good, with full electric adjustment to obtain an excellent driving position. The rear seats are somewhat lacking in comfort, although they are designed for occasional use.
Car security

The essential alarm and immobiliser are thankfully fitted as standard to the DB9 GT, with the option to upgrade to include a tilt and intrusion sensor as well as a tracking device, all of which would be wise investments.
Car safety

Although it is an older design the strong, lightweight structure of the DB9 GT will contribute greatly to passive safety, while the high performance brakes and suspension, combined with a standard stability control system, promise an equally high level of active safety.
Driver appeal

The DB9 GT can still offer a great deal of driving pleasure, with the powerful V12 engine matched beautifully to the composed chassis and making this a car that can be enjoyed in a variety of situations. Best enjoyed in normal or sport modes on the road, track mode is too stiff for most British B-roads. Still, it it is a welcome option for those buyers who want that extra degree of racy feel.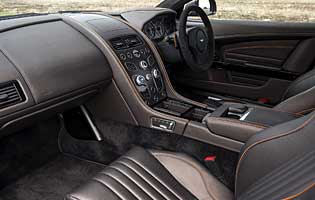 Handsome and well-finished interior is now easier to use too
Family car appeal

The DB9's family appeal is limited by its small rear seats. Full size child seats simply will not fit, while only slim booster seats will go in, making this a car to suit children only between certain ages.
First car appeal

There are no Aston Martins suitable for newly qualified drivers, and with over 500bhp the DB9 GT is best left to more experienced drivers.
Quality and image

Any doubts about Aston Martin quality can be extinguished by spending just a few minutes in the cabin of the DB9 GT. The materials are almost universally excellent while the standard of construction pays homage to the skilled workers putting them together. This goes hand-in-hand with the Aston Martin image, which trades on exclusivity, style and Brit appeal. Despite its age the DB9 remains a highly desirable car even for non-enthusiasts.
Accessibility

With just a pair of doors and a low ride height the DB9 GT should be difficult to get into but the clever arrangement of the doors, which open out and upwards, makes getting into the front surprisingly easy. Rear seat passengers do have to squeeze a little despite the fact that the front seats slide forward to help. Access to the boot is adequate, although the aperture is relatively modest.
Stereo and ICE (In car entertainment)
The DB9 GT receives the latest updated infotainment system, and while it is not the last word in sophistication it is a big improvement on the old version. Its appearance is befitting of a car with this kind of price tag. The standard-fit audio system delivers impressive sound quality while the optional Bang and Olufsen system is superb.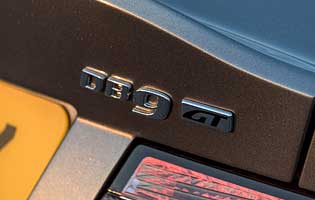 GT badge appears for the first time on a DB9
Colours and trim
Already spoilt for choice, DB9 GT buyers can choose from additional material finishes and shades, permitting a large degree of interior customisation. With the exterior it's very hard to go wrong; dark or brighter colours work equally well while the palette is thankfully free from anything too lurid.
Parking
Given its low-slung driving position and lack of conventional bumpers, parking the DB9 GT requires a good deal of care. However a reversing camera has been added to the infotainment system which takes a lot of stress out of backing up such a valuable car.
Spare wheel
Tyre inflation system fitted as standard, with tyre pressure monitoring.
Range information
Petrol engine options - 6.0-litre (470bhp, 540bhp). Transmission options: Six-speed Touchtronic automatic only.
Alternative cars
Bentley Continental GT Freshly revised and still hugely impressive
Mercedes-Benz SL-Class The complete GT car with a folding roof to boot
BMW 6 Series Feeling a little dated and lacks charisma
Audi R8 Brand-new and V10 only but more supercar than GT
Over 1,200 more car reviews online
All the reports since 1990 are available on this site, just search by make and model below.
Other products & services
Related information
September 2015