Seat Leon X-perience 2.0 TDI SE Technology
November 2014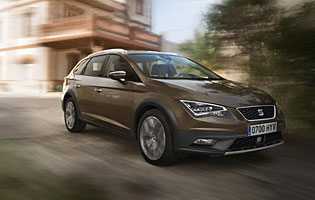 Extra stance from trim additions is immediately noticeable
Ratings
Overall rating
Value for money
Costs
Space and practicality
Controls and display
Comfort
Car security
Car safety
Likes
Instantly recognisable looks are among the prettiest around
Higher driving position helps provide a better view of the road
Technology upgrades versus regular estate help increase the premium feel
Affordable next to its direct rivals in the sub-class
Gripes
Optional sat-nav still uses old software that can confuse instructions
Can be difficult to justify the expense of four-wheel drive
Would benefit from increased soundproofing around engine and wheels
Large alloy wheels can be vulnerable when going truly off-road
The Volkswagen Group has heritage in high-riding estate cars that can handle a bit of off-roading. The Audi allroad sub-brand and the Skoda Scout series of models have successfully charted these waters before, and now Seat has joined an increasingly popular market sector with a stylish contender that boasts part-time four-wheel drive.
The Leon X-perience definitely has the measure of the competition in the style stakes, marking the Spanish brand's territory with sharp lines and striking LED headlights. It is based on the Leon ST estate, but with raised suspension, bigger wheels and tyres and contrasting body trim extensions around the sills, bumpers and wheel arches.
With Volkswagen also launching a more rugged version of its Golf estate, the Leon X-perience has a growing number of rivals, but Seat aims to position it as a premium choice with a price advantage over its direct competition. Against the equivalent ST model, the X-perience has more equipment, as well as on-demand four-wheel drive.
The Leon range has sparked a transformation in Seat's fortunes. Sales are up, and in the UK the firm sells almost as many Leons as it does Ibiza superminis. The X-perience is seen as a natural evolution of the Leon family, to impart some rugged charm and even more appeal into an already successful model.
Along with compact but tall crossovers and SUVs, the rugged estate corner of the market is seen as one with key growth potential. Any semblance of off-road ability gives buyers a sense of greater potential within the car, increased sturdiness and the feeling that a British winter won't halt it in its tracks. Gimmick or not, the paying public engage with it.
Our verdict on the Seat Leon X-perience 2.0 TDI SE Technology
The Leon X-perience has the looks it needs to win hearts, but also enough practicality to make a very useful family car. That's not just its big boot, either: its four-wheel drive adds peace of mind for drivers worried about winter traction or for parents whose houses lie at the far end of slippery farm tracks. Technology upgrades, like a bigger, higher-resolution sat-nav screen seal the deal.
Costs

Very reasonable fuel economy is on offer if the X-perience is driven with care, although the added weight of the four-wheel drive system counts against it in this regard. As it is a more expensive model, though, with more distinctive looks, its insurance premiums are higher. Road tax is very modest for a car with this much space and versatility, while resale values should remain better than those for Leon hatchbacks and ST estates.
Space and practicality

Gaining the estate boot by default is a boon for practicality. It adds luggage capacity over the hatchback, expanding to huge dimensions with the seats folded. The rear bench seats, however, do not fold flat and the full-length loading area does feature a partial slope as a result. Its cabin storage solutions are identical to other Leons', so the glove box is shrunk by the presence of the CD player, but there are useful bins between the front seats and in the doors.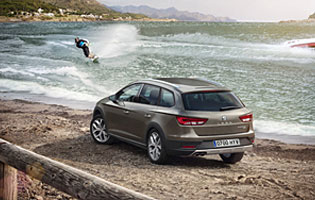 Practical estate boot is the only option for the X-perience
Controls and display

The most notable upgrade from lowlier Leons is the new, higher-resolution media and navigation screen. The screen itself is standard, although navigation software only arrives with the SE Technology trim grade. It is a vast visual improvement on the unit in the hatchback and ST, but it does run on the same software so operates in the same way. Other controls follow the well-established and familiar Volkswagen Group standard.
Comfort

There is a more substantial feel to these seats than those in the Leon ST, although they are actually very similar. Its larger tyres and taller suspension help to take even more of the edge off bumps, without introducing excess body roll or reducing the ride quality. In fact, the X-perience is at least as comfortable as the ST and hatchback; possibly more so.
Car security

Buyers will find an alarm covering outside force and interior movement, as well as the facility to open the boot while leaving the rest of the doors locked. Deadlocks can be activated with a second, slightly delayed press of the key fob's 'lock' button, preventing operation of the doors from the inside. The fuel filler cap also locks with the central locking system to prevent fuel theft.
Car safety

While the majority of the Leon X-perience's safety add-ons are shared with the rest of the Leon range, it does have the advantage of seating the driver higher up, which gives a slightly better view of the road ahead. A tiredness warning, blind spot warnings, lane departure warnings and collision warnings are all available, to add to stability control and several systems to ensure powerful, stable emergency stops.
Driver appeal

With the popular and quiet 2.0-litre diesel engine up front, the most rugged Leon is both relaxed and punchy at need. It could benefit from a taller top gear to reduce engine revs on the motorway, but is otherwise pretty flawless. Under sudden acceleration from a standstill the four-wheel drive can be felt kicking in, but it stays relatively imperceptible most of the time, leaving drivers to enjoy the pleasantly direct handling and ride.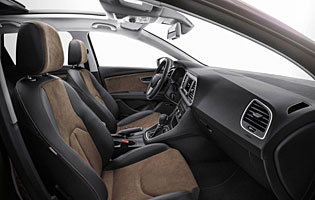 Familiar Leon cabin is accented by a much-improved central screen
Family car appeal

Parents are the key market for the flagship Leon. The increased ride height makes it less strenuous to install child seats, or children into them, and the rugged styling speaks of people getting on in life; a desirable image for middle-class parents to be seen with. Diesel engines are suited to higher mileages, though, and will not respond well to consistent local running, where the diesel particulate filters common to all modern diesels can clog.
First car appeal

It is unlikely that any typical newly qualified driver would look at an off-road capable compact estate as their first car, regardless of age. The X-perience has a maturity that leans more towards older buyers, including parents, but it's far more likely to be bought by people who have owned many cars before. Purchase price and insurance groupings will also put first-time buyers off, despite reasonable running costs.
Quality and image

There is no doubt that the X-perience feels like a higher-quality car than the model on which it's based. Part of that is down to the much-improved colour display screen, but the materials and even just the exterior look all point to a car with loftier aspirations. Physical quality is good, if a notch or two below Audi levels, but it should be noted that the Volkswagen Group as a whole has had many reliability problems with DSG automatic gearboxes.
Accessibility

Nothing has changed here versus the Leon ST, except for the obvious fact that the X-perience is slightly higher from the ground. That tends to make it easier to get in and out of, because it's not yet at SUV heights where more infirm passengers feel like they have to climb uncomfortably up into it. The Leon X-perience strikes an admirable balance for all.
Stereo and ICE (In car entertainment)
Seat has not integrated stereo functionality as well as some of its competitors. The CD player is in the glove box, for example, and the iPod connection requires an extra intermediary lead to link the car to a USB cable. DAB radio is standard, though, and Bluetooth connectivity means that music playback is possible without wires.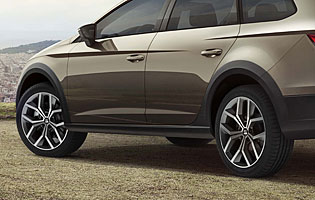 Larger alloy wheels, taller tyres and raised suspension account for a higher ride
Colours and trim
As a more upmarket model compared to the Leon ST, the X-perience benefits from upgraded materials in the cabin. The ambiance is improved as a result. As for the exterior colour palette, sober hues are dominant in line with the desires of the kinds of people who are likely to buy. Seat has also introduced two new shades for this model, which at its launch will be unique to the X-perience.
Parking
The rising shoulder line does pinch the Leon's rearward visibility a little, but there's usually enough to ensure safety. Parking sensors are standard and detect not just walls, parking bollards and other cars, but also unseen or unpredicted obstacles. A higher ride height than a normal Leon's means that care has to be taken at lower speeds, because the top of the door shoulder is higher and therefore obscures more of the area around you.
Spare wheel
Space saver spare wheel supplied as standard.
Range information
Diesel engine options - 2.0-litre (148bhp, 181bhp). Transmission options: six-speed manual gearbox or DSG twin-clutch auto. Trim levels: SE, SE Technology, LUX Pack
Alternative cars
Volkswagen Golf Alltrack More expensive materials but a higher price for an otherwise similar car
Audi A4 allroad Premium badge and premium interior, with good engines, but expensive
Vauxhall Insignia Country Tourer Large and comfortable, with a good space to price ratio
Volvo XC60 More of an SUV than an estate, the XC60 looks great and delivers on the road
Over 1,200 more car reviews online
All the reports since 1990 are available on this site, just search by make and model below.
Other products & services
Related information
November 2014