Fiat Panda Cross 0.9 TwinAir 90 5dr
August 2014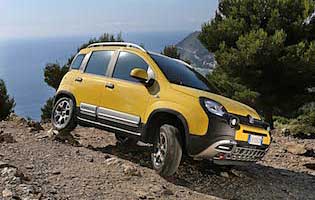 Chunky Panda Cross looks the part and can act it, too
Ratings
Overall rating
Value for money
Costs
Space and practicality
Controls and display
Comfort
Car security
Car safety
Likes
Chunky looks help diminutive Panda stand out
Good level of standard equipment
Spacious cabin is practical and durable
More capable than it looks and surprisingly refined
Gripes
While easy on the eye, hard cabin plastics betray the quality feel elsewhere
Tall Panda Cross will pitch and roll if not driven sensibly when cornering
TwinAir petrol engine is no fireball and requires patience when driven out of town
A niche product that's trumped in most areas by more conventional products
An all-wheel drive Panda is nothing new, but while some will remember the boxy first-gen car, Fiat's second-gen version of its modern interpretation of an old favourite is a much-improved proposition. New to the line-up is the Cross variant, a more rugged and capable car aimed at both lifestyle types and those seeking a small, affordable 4x4.
While you occasionally still see early Panda 4x4s running around European ski resorts and mountainous regions, the modern car has become a popular, affordable and practical alternative to a conventional supermini.
In 4x4 guise the car is genuinely capable of tackling rough terrain, and this Cross variant goes one step further with its chunky exterior add-ons, bash plates and lifestyle-themed interior trim to reinforce the car's potential.
Like the Panda 4x4, the Cross can be had in diesel and petrol TwinAir form. The former offers a more rounded driving experience, while the two-cylinder petrol motor is certainly the more characterful option. Either will do a good job, but the diesel does it slightly better.
What sets the Cross apart from the 4x4 variant is its fractionally higher ride height - an extra 9mm - and the inclusion of all-season tyres for added flexibility. Factor in the functional underbody guards and the Cross is fully equipped to further than even the regular 4x4 model.
Our verdict on the Fiat Panda Cross 0.9 TwinAir 90 5dr
Even by Fiat's own admission, the Cross is as much a lifestyle choice as it is a serious off-roading tool. A city runabout during the week, the idea is that you take to the trail at the weekends. Look past the cheesy marketing pitch and the Cross is a genuinely talented piece of kit; compact, affordable and packing all the right hardware, it's a car you dismiss at your peril. While it does occupy a very small niche, it's one that's worth taking seriously.
Costs

This won't be the cheapest Panda to run, but it'll likely be one of the cheapest 4x4s you'll encounter. That it performs a dual role - supermini and micro off-roader - so well ensures it easily falls into the 'bargain' category. You'll need to work the Twinair variant hard to achieve a reasonable pace, making the more frugal and relaxed Mutijet diesel a likely smarter alternative choice.
Space and practicality

The car's glovebox is a useful size and there's a decent array of oddment spaces and cubbyholes dotted around the cabin. There's ample room for front seat occupants as even the regular Panda performs well here. Rear space is geared more towards children - especially in terms of legroom - but it's acceptable. Folding the rear seats liberates some much welcome extra space as the boot is otherwise quite a modest size.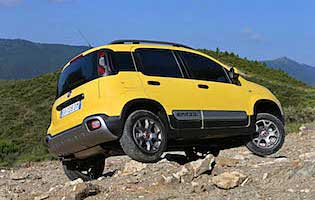 Rough terrain is no obstacle to progress
Controls and display

It's fair to say the Panda Cross - or any Panda - is an uncomplicated car. This extends to its displays and controls, which are simple and straightforward. With the steering, brakes and manual gearshift boasting considerable assistance, driving the Panda Cross is no hardship.
Comfort

Although accommodating, the Panda's cabin is snug with two adults sitting side-by-side. Thankfully refinement levels are good and wind and road noise are low. You can't escape noise from the engines though, as neither are especially quiet when pushed hard.
Car security

The remote locking and immobiliser package is all you really need. For added peace of mind you could consider a visible steering lock to compliment the car's sturdy rear load cover.
Car safety

Although a small car the Cross boasts the same high safety standards as other Pandas. Alongside the obvious 4x4 system, there's a useful collection of electronic traction and stability controls to keep you safe plus the inclusion of enough airbags to keep occupants safe.
Driver appeal

If you accept that the Panda Cross is no rocketship then you'll be fine. Neither of the two engine options are outstanding, but while the diesel offers the most flexibility and refinement, the TwinAir petrol unit is the most tuneful and fun. Either way, the Cross proves agile and surefooted, although barreling into corners isn't recommended. Ride comfort is good and, crucially, the car is capable of tackling genuinely challenging terrain thanks to its intelligent all-wheel drive system.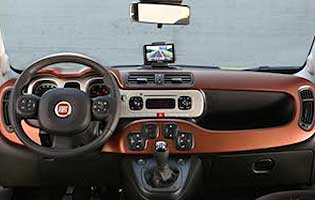 Bright colours and funky trim set the Cross apart from other Pandas
Family car appeal

The Panda Cross - any Panda - can't compete with a conventional family hatch or MPV but it could prove its worth as a second car. The Cross variant goes one step further; if you live in a rural environment there's little need to purchase an expensive off-roader as a second car given the car's rough terrain abilities.
First car appeal

As with the regular Panda, there's no reason why the Cross model can't be considered for novice drivers. It's not the cheapest Panda but it's visually the most attractive. The car's chunky appearance is most likely to appeal to style-conscious buyers - a market Fiat is keen to exploit.
Quality and image

Fiat has enjoyed considerable success with the new generation 500 and also the Panda family. The 4x4 and more rugged Cross versions hark back to the original Panda 4x4, and its reputation for being a cheap workhorse remains true today.
Accessibility

With its lofty ride height, it's easy to access the Panda Cross' cabin. Front seat occupants benefit the most, although those aiming for the rear aren't as compromised as you might think. Access to the boot is straightforward, just don't expect acres of space.
Stereo and ICE (In car entertainment)
While you won't find any flashy kit in the Cross, in the standard unit's favour, everything (radio, CD, MP3 connectivity) works well. The display is placed high up in the centre console, while the controls are simple and clear.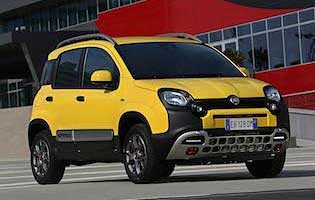 Beefed up exterior will attract attention on and off-road
Colours and trim
Departing slightly from the standard Panda's look, the Cross incorporates plenty of chunky plastic trim inside and out to reinforce its status as a genuine off-roader. It's the same story with the car's upholstery, as it's a little funkier than its regular and 4x4 stablemates.
Parking
The Panda Cross' short stance and generous levels of visibility make it easy to place. While the car's elevated driving position helps enormously, so ample assistance from the steering.
Spare wheel
Tyre mobility kit fitted as standard.
Range information
Petrol engine options - 0.9-litre (90bhp). Diesel engine options - 1.3-litre (80bhp). Transmission options: five-speed manual transmission (petrol), six-speed manual (diesel). Trim levels: no specific Cross trim levels.
Alternative cars
Suzuki SX4 S-Cross Low-rise compact family hatch boasts all-weather abilities
Dacia Duster Much larger than the Panda but not a lot more expensive
Mini Countryman Premium priced alternative not lacking in popularity
Renault Captur Sensibly priced Captur is strictly for on-road duties despite mini SUV looks
Over 1,200 more car reviews online
All the reports since 1990 are available on this site, just search by make and model below.
Other products & services
Related information
August 2014