Vauxhall Meriva 1.4 Turbo 120 Exclusiv
March 2014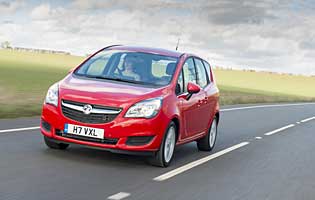 Hawkish headlights define new front styling
Ratings
Overall rating
Value for money
Costs
Space and practicality
Controls and display
Comfort
Car security
Car safety
Likes
FlexDoor system is brilliantly practical
Dozens of interior storage options
Smooth and quiet on the road
Sharp new front styling gives a more premium look
Gripes
Thick A-pillars can impede visibility when approaching corners
Crowded centre console will be too much for technophobes
Turbocharged engine lacks meaningful urge
Expensive list prices for what remains a compact car
To mark the middle of the Meriva's life cycle Vauxhall has applied some updates, spanning visual changes to give it the latest hawkish looks familiar from the likes of the Astra, and quality upgrades for interior materials. The basic family-friendly design concept, though, has stayed very much the same.
The Meriva is built on the same platform as the Corsa supermini, but comes with a much higher roof, an innovative door layout and a much more practical interior. In truth, few if any cars have ever been built with so much practicality in so small a space. The model's humble standing within the Vauxhall range doesn't do justice to how well it's designed.
As the beneficiary of a minor mid-life nip-and-tuck, this Meriva shares the same dimensions and general characteristics as the previous one. That's the reason why they look so similar, and not even the colour palette has changed much with the new face. Vauxhall has stuck to a successful formula.
There's a new 1.6-litre diesel engine option that boasts better performance and much-improved refinement, but the high price tag relative to the petrol option means that it's only really suitable for very high-mileage drivers. The compact Meriva isn't built to sit on the motorway all day, so its urban- and suburban-dwelling owners would be better to stick to this, the 138bhp turbocharged petrol.
In a slightly confusing range there are five trim levels, but not all of them are available with all engines, causing significant overlap across the options. The Exclusiv grade, contrary to the implications of its name, is actually one of the lower levels but has most of the key equipment for this market sector, making it arguably the best value.
Our verdict on the Vauxhall Meriva 1.4 Turbo 120 Exclusiv
Features like the rear-hinged FlexDoor arrangement and the customisable FlexRail storage system between the front seats mark the Meriva out as something unique among the competition. Everywhere you look in the car there are practical touches, and despite the subtlety of its styling updates it looks a lot more upmarket than it did before. The changes might be small, but they keep the Meriva on top of its game.
Costs

The familiar turbocharged petrol engine carries over similar fuel economy as before, but its chief advantage over the new diesel is its considerably lower list price. Most Meriva owners drive relatively low annual mileages in built-up areas, so the potential fuel economy gains offered by the diesel simply can't offset the higher purchase price. Road tax is lower for the diesel, though, and buyers should be able to haggle a chunk off the Meriva's showroom price.
Space and practicality

The Meriva excels for practicality, thanks to a spacious interior that boasts excellent legroom in the rear and generous headroom all round. The flexible rear seats can be folded to better suit three kids or two adults, and can also be pushed forward to increase boot space. The boot floor can be raised or lowered for ease of loading or extra space. The FlexRail storage system is capable of accepting various styles of interchangeable storage unit. Take it out and there's space for a large handbag between the two front seats.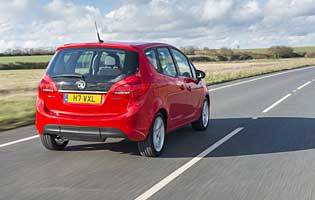 The Meriva is as recognisable as ever from the rear
Controls and display

The trim grades span the relatively spartan to the improbably luxurious, but on this trim grade it's closer to the former. This is nothing to complain about, though, and the dials are both easy and fast to read. There's no colour screen for media interfaces or sat-nav readout, since such frivolities are saved for the more expensive models. The ancillary control stalks are chunky and tactile, though, and add to the robust feeling inside the cabin.
Comfort

At speed the ride is on the firm side but is not too uncomfortable, riding bumps and rutted surfaces with stability. At lower speeds, where the Meriva is happiest, it absorbs potholes and sunken manholes with a comfortable ride that encourages relaxed progress. The equipment levels make for a reasonably luxurious feel inside and the flexible rear seating arrangement means the rear can be tailored for two adults. The flat seats are better suited to straight-line cruising than cornering.
Car security

The Meriva's first strength is that it's an unassuming thing that won't catch thieves' attention among fancier Audis, BMWs and other more noticeable cars. The automatic door-locking system naturally provides a strong security element and the FlexRail system is designed to offer capacious storage for items such as handbags that might otherwise be visible on a seat. Central locking is standard and an alarm and immobiliser are also present.
Car safety

This new model continues with same super-secure rolling door lock system to ensure the rear doors cannot be opened with the car moving. It clicks into place at 2mph with a reassuring clunk. A raft of electronic controls monitor the chassis to prevent accidents, but with great road-holding courtesy of a well set-up chassis, the stability control hardly seems necessary. Adaptive brake lights are present as are side airbags on the S and Expression trim levels, with additional full-size curtain airbags on Exclusiv and SE models. Breakaway pedals and a collapsible steering wheel benefit the driver.
Driver appeal

While the Meriva is never likely to be considered one of history's great driver's cars, the steering has been specifically tuned for UK roads. It can even cope with spirited driving, with a well-controlled body and a communicative, predictable chassis. The driving position is very good, although visibility is partly hampered by large A-pillars. Performance from the mid-range petrol unit is perfectly adequate, with plenty of power available from reasonably low down.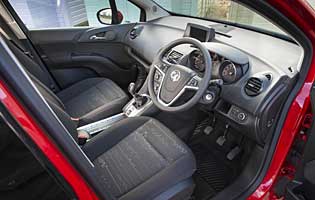 Simple but practical interior appeals to the head
Family car appeal

Numerous features, like the rear-hinged back doors and flexible seating layout, mean the Meriva is perfect transport for families of up to five, particularly those with young children. It's also fantastic or elderly passenger thanks to great access to the rear seats, and a grab handle that allows them a sturdy gripping point when getting in or out. Hugely practical and spacious, it's ideally suited to family life.
First car appeal

The Meriva is a pricey car from a first-time buyer's perspective, so it's probably not the Vauxhall a novice would look towards. Other models are cheaper and better suited, despite the advantages the Meriva presents. If money was no object a newly-qualified driver would be likely to appreciate this car's raised driving position, friendly driving manners and array of practical everyday touches.
Quality and image

Although the Meriva made its largest strides in interior quality when the last all-new model was released several years ago, the mid-life revisions here still present a marginally more upmarket appeal. Although it remains a mainstream volume producer, the improvements to exterior design and interior quality are tangible. An MPV is unlikely to earn its owners a great deal of street cred, but the new styling does at least keep pace with newer rivals.
Accessibility

Thanks to the FlexDoor arrangement, not only do the front doors open much wider than a normal car's, but the Meriva offers among the best rear seat access in its class. The rear doors open to 84 degrees. For the less mobile, or parents who have routinely struggled with fitting and removing child seats, the Meriva will prove a real eye-opener. Access is aided by the high roofline and, although a chunky B-pillar remains, it's central positioning means it is not a hindrance. There is a grab handle on the B-pillar to help passengers get in and out. The boot door is a good size, too.
Stereo and ICE (In car entertainment)
Although on higher trim grades you can specify a new and improved satellite navigation system that integrates Internet connectivity and an app-based operating system, it's not standard on this model. The Exclusiv trim level model benefits from a seven-speaker CD and radio system with a USB connection and aux-in. Sound quality is good and steering wheel mounted controls are a nice touch.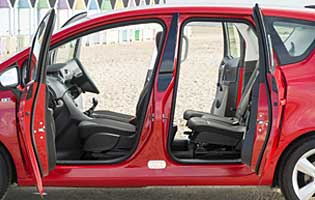 Unusual rear-hinged doors improve accessibility
Colours and trim
A relatively light and airy set of colours is a deliberate move on Vauxhall's part to restrict consumer choice to the colours that will really work. Apart from a bold red, the focus on more grown-up metallic shades helps bring out the increasingly upmarket exterior design. Inside, the interior is fine rather than excellent, and, depending on trim level, can have a different dashboard top colour. The standard black interior is smart enough however, apart from a crowded console. All models get body coloured door handles and bumpers.
Parking
No longer than a supermini but with a higher seating position and more glass area to look through, the Meriva couldn't really be easier to park independently of any electronic aids. Parking sensors remain an option, but no qualified driver should really need them. Despite its charismatic design the shape is reasonably uniform making it simple to judge, particularly with the flat rear end.
Spare wheel
Emergency tyre repair kit supplied.
Range information
Petrol engine options - 1.4-litre (99bhp); 1.4-litre turbo (118bhp, 138bhp). Diesel engine options - 1.3-litre (74bhp); 1.6-litre (134bhp). Transmission options: five- and six-speed manual, six-speed automatic. Trim levels: Expression, S, Exclusiv, Energy, Tech Line, SE.
Alternative cars
Ford B-Max No B-pillars help to increase practicality
Toyota Verso Family-friendly and affordable
Mercedes-Benz B-Class Premium badge and premium cost but well equipped
Citroen C4 Picasso Hugely popular family MPV
Over 1,200 more car reviews online
All the reports since 1990 are available on this site, just search by make and model below.
Other products & services
Related information
March 2014