Ford Fiesta ST
March 2013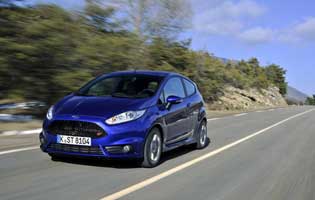 Handsome Fiesta ST gains a unique front grille
Ratings
Overall rating
Value for money
Costs
Space and practicality
Controls and display
Comfort
Car security
Car safety
Likes
Sparkling chassis is both comfortable and enormous fun
Perky Ecoboost engine offers punch with flexibility
Excellent value for money
Still performs as well as an regular Fiesta
Gripes
Three door only
Limited colour choices
Sony stereo can be fiddly to operate
Lack of automatic gearbox available on some rivals
When it comes to hot hatchbacks Ford is the car company with a bulging back catalogue. Every iteration of its Fiesta supermini has spawned a performance-oriented version right back as far as the Supersport and XR2 on the very first generation. Now the sixth-generation car has its first proper performance model in the shape of the Fiesta ST.
There's little doubt about the standing of the latest Fiesta - already the pick of the supermini class, the recent enhancements have improved its appearance and the broader range of engines and equipment help to explain its consistent performance in the sales charts. However apart from the mildly-enhanced Zetec S model on the pre-facelift Fiesta, hot hatch fans have been kept waiting for a Fiesta-based offering.
Ford has used some intelligent part sourcing in order to give the Fiesta ST the required dynamics but without pushing up the price too much. To that end it uses the 1.6-litre Ecoboost engine already seen in both the Focus and Mondeo, but tuned to offer a little more power and torque. It also has what Ford terms a 'sound symposer', which allows some of the engine's induction noise into the cabin to boost its aural performance.
Available in three-door form only the Fiesta ST delivers its turbocharged performance to the front wheels through a six-speed manual gearbox. In addition the ST has electronic torque vectoring, which varies the torque output to the front wheels in order to maximise grip on exiting a bend at speed. The ESP system also has three modes, with the intermediate 'Sport' mode giving a little extra leeway before intervention.
Other changes compared to a standard Fiesta include substantially revised suspension, a distinctive bodykit with a unique front grille and 17-inch alloy wheels, plus sporty Recaro seats all as standard. Two models are available, ST and ST2, with the higher specification version gaining an upgraded stereo amongst other key features.
Our verdict on the Ford Fiesta ST
It's almost a certainty that whatever the end product a hot Fiesta will sell well, but those choosing the latest sporty Fiesta will not be disappointed. The standard car is a sparkling drive but the extra power and suspension enhancements bring out the best in the chassis, making it a genuine pleasure to drive. It's still comfortable and useable every day, is more powerful and yet more economical than the previous Fiesta ST and is good value too.
Costs

The efficiency of the Ecoboost engine is good for economy and emissions as well as performance, and when driven with restraint the Fiesta ST can return respectable fuel consumption figures. Insurance will always be a little high for a hot hatch but features like MyKey help.
Space and practicality

As a supermini the Fiesta is not built for load-carrying, but has a few tricks up its sleeve to add outright usability at need. The moderately-sized boot can be expanded by folding the rear seats down, and although they do not fold flat the resulting space is much larger than the boot alone. In the front area of the cabin there are storage bins and open-air trays to use and only the restrictive door pockets are disappointing.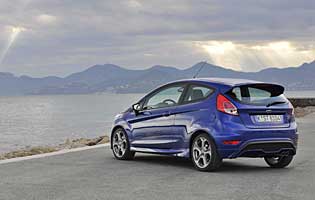 Twin exhausts and rear diffuser are part of the ST package
Controls and display

Over and above the regular Fiesta the ST gains its own set of instruments which are clear and attractive to look at, while the majority of functions are controlled through the main display. The screen itself is relatively small and set deep into the dash, and although this prevents reflections it can make small details hard to take in.
Comfort

The cabin is surprisingly quiet at speed, with little wind and road noise. The standard Recaro seats are very comfortable and supportive. The driver is treated to a good range of seat and steering wheel position adjustment on the higher trim levels, but may find that the wheel doesn't come close enough when their legs are comfortable. Rear passengers have less light, but good legroom. Despite the firmer suspension the Fiesta ST does an impressive job of negating bumps.
Car security

As well as alarms and immobilisers, all high-spec Fiestas have a very clever system to circumvent any potential remote central locking signal-jamming equipment used by criminals. Fiestas with keyless entry will detect whether a locking command has been successful and if not, the key will resend the command at a different frequency. Higher models also have darkened glass around the rear portion of the car to keep prying eyes out.
Car safety

Many systems are standard on higher models and not the lower ones, but among the range you can find systems to help prevent low-speed accidents in the city, an automated emergency services contact system that activates after an accident, the MyKey-linked top speed and audio volume limits and a spread of stability control-related active safety systems. Euro NCAP awarded the Fiesta the maximum five stars for safety.
Driver appeal

The overwhelming feel from the Fiesta ST is that it has been carefully honed and developed to give maximum confidence to the driver, and this makes it a highly satisfying car to drive. The engine responds readily to demands for power yet its torquey nature means you can make good progress without having to change gear frequently. The steering is quick but not twitchy and offers excellent feel while the brakes are strong and progressive. It is great fun to drive whoever is behind the wheel.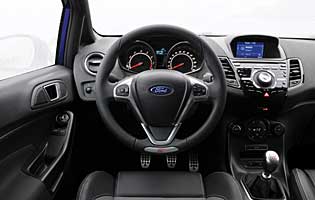 Chunky steering wheel and excellent Recaro seats
Family car appeal

With only three doors the ST's ability to cope with family duties; even if they're old enough to climb into the back themselves an adult usually needs to lean in to belt them up. The cabin is sturdy enough to cope with sticky fingers too.
First car appeal

A lucky new driver may just be able to stretch to the ST's asking price, but they may come unstuck when it comes to insuring a hot hatch like this.
Quality and image

While the Fiesta in all guises can't offer the highest quality of some of its premium rivals, it does deliver a good overall standard of fit and finish. The strong back catalogue of hot hatches gives the Fiesta ST a very strong image - so much so that some drivers would never have anything else.
Accessibility

With only a three-door bodystyle getting access to the rear of the Fiesta will never be as slick as a five-door, although the long doors and the tilt and slide front seats do help a little. The boot offers a reasonable aperture too, and the tailgate lifts easily.
Stereo and ICE (In car entertainment)
Both the ST and ST2 models come with a bespoke Sony audio system which includes the Sync system, giving audio playback via USB, Bluetooth and text to speech on the move. Sound quality is very good, but the numerous small buttons take some time to work out and can be fiddly to use.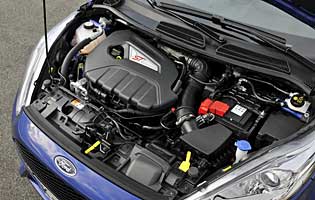 Strong Ecoboost engine gives the ST impressive performance
Colours and trim
The Fiesta ST is only available in three exterior colours, none of which are particularly subtle and this might put off some buyers. It does however look good in all three shades which accentuate the enhanced styling. On the inside there are numerous coloured flashes to give a sportier feel too.
Parking
Despite the steeply raking shoulder line that is a design feature of this Fiesta, visibility is plentiful all around. Unusually the ST model is not available with parking sensors, but even without any aids the Fiesta is small and narrow enough to park almost anywhere, with light steering making the job easier.
Spare wheel
A tyre mobility kit is fitted as standard.
Range information
Petrol engine options - 1.25-litre (59bhp, 81bhp); 1.0-litre (79bhp, 99bhp, 123bhp); 1.6-litre (104bhp, automatic gearbox only). Diesel engine options - 1.5-litre (74bhp); 1.6-litre (94bhp, 180bhp). Transmission options: five-speed or six-speed manual gearbox, six-speed automated manual (1.6-litre 104bhp petrol only). Trim levels: Studio, Style, Zetec, Zetec S, Titanium, Titanium X, plus Econetic sub-models at Style, Zetec and Titanium level.
Alternative cars
Vauxhall Corsa VXR Rapid and fun, but harder work in normal driving
Renaultsport Clio 200 Practical, quick and attractive, lacks the sharp edge of previous versions
Volkswagen Polo GTI As comfortable and capable as the standard car, modestly sporty
Mini John Cooper Works Fun to drive and strong image, expensive to buy however
Over 1,200 more car reviews online
All the reports since 1990 are available on this site, just search by make and model below.
Other products & services
Related information
March 2013