Suzuki Swift Sport
November 2011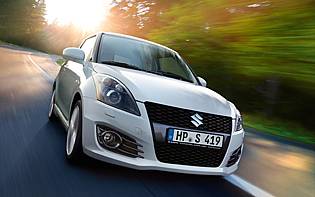 The headlights and grille retain the character of the previous model
Ratings
Overall rating
Value for money
Costs
Space and practicality
Controls and display
Comfort
Car security
Car safety
Likes
Agile and communicative chassis
Decreased fuel consumption
Easy to park in small spaces
Impressive list of standard equipment
Gripes
Needs to be pushed hard to release its full potential
Flexible plastics in the cabin
Can be noisy at higher speeds
Little scope for personalisation
Some buyers want the thrills of a hot hatchback but without the large bills, and that's why there is space in the market for cars like Suzuki's Swift Sport. This is the second generation of the model, which has been reworked and given a series of improvements over the first one, which came out in 2006.
The first Swift Sport won plenty of support, but it wasn't perfect. With the new model Suzuki has tried to address the key issues, most notably with improvements to efficiency and a six-speed manual gearbox to replace the five-speed unit in the old car. The higher top gear ratio helps to keep cruising engine revs down, improving fuel economy as a result.
Although the car is mostly new, it has retained the rough shape and size of the model it replaces. That makes it very short, despite the wheelbase having been lengthened, and as a result it still has a fantastic sense of smallness and agility, especially at higher speeds on winding roads. The 1.6-litre petrol engine is lightweight, helping to give the front wheels a quick-witted and cheeky feel under steering inputs.
It responds best to a very simple way of driving, heading as quickly as possible up to corners, half lifting off the accelerator into and around the bend, and then pressing down hard again as the corner straightens out. This is how the Swift Sport finds the most grip and maintains the most speed. The engine can struggle to get up to licence-losing speeds no matter how hard it's worked, which for some will be part of the appeal.
The quality of the interior has been raised since the first model, and the standard equipment list goes far beyond what is normal for a car of this type. While it's not luxurious and some of the plastics do flex a little, it is stylish and the seats are surprisingly comfortable.
Our verdict on the Suzuki Swift Sport
Where the Swift Sport has always excelled is as a weekend-only car that offers lots of fun with reasonable running costs. The new car has more power and uses less fuel than before, along with being cheaper to tax. It should now attract the interest of people who would use it during the week as well as the weekend, and it would be a fun option.
Costs

Relative to its performance, the Swift Sport is a reasonably economical car. It also emits less CO2, which makes it cheaper to tax. And, predictably, related running costs are also lower.
Space and practicality

As a small car the Swift has limited interior space. Rear legroom is improved versus the old model, so it's able to transport rear seat passengers over short distances with no problems apart from a lack of rear doors. There is no five-door model available. The boot would be fine for a young single person, but weekends away might need some baggage to be placed on the rear seats.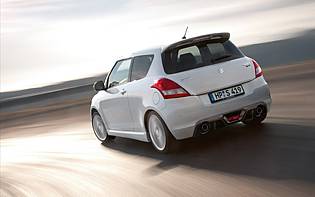 Twin exhausts give the Swift Sport a distinctive, powerful look
Controls and display

The instrument cluster looks great, with big dials and just enough stylistic touches to make it stand out. A central digital screen offers multiple trip computer readouts including fuel consumption figures and an odometer. The plastics for the centre console dials are not the most reassuring in terms of quality, but they are functional and easy to use, and should last without any problems.
Comfort

The attractive seats offer good levels of comfort, although they could do with a little more bolstering at the bottom of the seat back. The lateral support is excellent for a medium-to-large-sized person, which helps to anchor the driver into position for extra confidence and comfort through corners. Ride quality is compromised by the sporty set up, but over smoother undulations the Swift Sport copes very well.
Car security

Like its predecessor, this generation of the Swift Sport features keyless entry. It's a very useful feature and makes access easy when you're struggling with shopping, for example. An electronic immobiliser is also standard.
Car safety

The Swift is a solidly built car and boasts all the latest technology that you'd expect to find on a car in this price bracket. With airbags, ABS and the like the Swift model range has also scored highly in official crash tests, further boosting its appeal.
Driver appeal

This is the Swift Sport's main purpose and it delivers just what keen drivers are looking for. Its engine demands lots of revs and delivers brisk performance when worked hard. Driven appropriately, it also finds amazing amounts of grip through tyres that are still narrow enough to allow fast changes of direction. However, while the chassis offers lots of feel and communication, the steering could be more involving.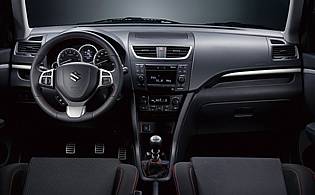 Very stylish interior and generous standard equipment list
Family car appeal

Practicality is not the prime objective for the car, and as such it isn't directed at family life. It could be used for carrying small children relatively easily thanks to two Isofix child seat mounts in the outer rear seats, but access to the rear passenger area is hampered by the three-door layout. The boot is unlikely to be big enough for families either, especially considering pushchairs or large accessories.
First car appeal

Although the purpose of the Swift Sport is to provide as good a compromise as possible between driving fun and affordable ownership costs, it is still likely to be too expensive for inexperienced drivers to afford to insure without two or three years' no-claims bonus behind them. This is a potentially attainable car for a first-time buyer, but it would prove very costly.
Quality and image

It is undoubtedly a higher quality product than its predecessor. That said, some of the cabin plastics lack the quality feel of some rival cars. The Swift Sport does have an enthusiastic cult following though, and it's this aspect that helps lift the car's appeal.
Accessibility

As a sporty hatchback the Swift is relatively low to the ground, but it's not prohibitive. The doors are quite long as on all three-door cars, but since the Swift is quite short overall the problem is not so bad. The boot is a good shape and is easy to get to, with a load lip that shouldn't be too awkward to get over.
Stereo and ICE (In car entertainment)
A basic audio unit is standard in the car, and there is no option to upgrade it. It's not a bad unit, but it's a shame that there's no alternative. That said, it's easy to operate and is located high up and within easy reach.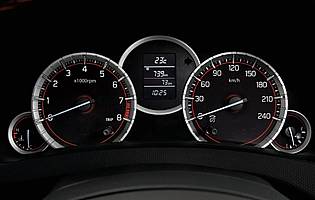 Speed and engine revs displayed with form and function
Colours and trim
The choice of colours has been kept fairly simple, with most of the key popular choices buyers will expect but nothing really outrageous. The interior trim is average in places, but it looks very stylish and marks a step up from the previous model. Unlike the old model's red seat trim inserts, this one has neutral shades of black and grey, which will better resist wear and tear.
Parking
For reasons related to the position and size of the suspension arms and linkages, the Swift Sport has a modest steering lock. It is, however, small enough to fit into almost any typical parking bay while leaving a good amount of room either side for the relatively long doors to open wide enough to allow entry and exit.
Spare wheel
Temporary tyre repair kit supplied as standard.
Range information
Petrol engine options - 1.6-litre (136bhp). Transmission options: 6-speed manual gearbox standard. Trim levels: one trim level for Sport variant.
Alternative cars
Fiat Punto Evo A turbocharged 1.4 variant provides lots of pace and fuel economy
Renault Twingo Renaultsport 133 Variable boot space and the best handling car in the sector
Fiat Panda 100hp Down on power, but offers as much fun as most rivals
Ford Fiesta Zetec S Good driving dynamics but can feel underpowered
Over 1,200 more car reviews online
All the reports since 1990 are available on this site, just search by make and model below.
Other products & services
Related information
November 2011