Renault Grand Espace 2.0 dCi Initiale
May 2011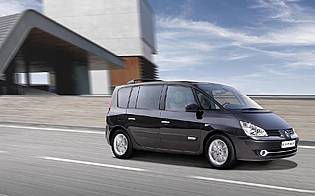 Most obvious change is the adoption of daytime running lights
Ratings
Overall rating
Value for money
Costs
Space and practicality
Controls and display
Comfort
Car security
Car safety
Likes
Handsome and distinctive exterior design
Vast, practical cabin
Usefully powerful diesel engine
Surprisingly rewarding driving experience
Gripes
Not a cheap car to buy or maintain
Feels its age in some respects
Update could have included bigger changes
Small petrol turbo engine option would be welcome
Still regarded as the original and best MPV, Renault's Espace may no longer be in the first flush of youth but it still has many of the attributes that buyers are looking for. In Grand Espace guise it is one of the largest people carriers money can buy, and a number of refreshments for 2011 are designed to keep it on top.
Even the uninitiated will be able to spot the familiar silhouette of the Espace, as it has been around in its current guise for a number of years. That is certainly a compliment to the design however, because it has a large slice of visual appeal as well as the physical attributes that make for a good people carrier. The updates centre on minor stylistic changes to bring it into line with newer models elsewhere in the range, and include smart daytime running lights.
One of the key elements in the Grand Espace's layout is the amount of light and space given over to passengers. The front and rear overhangs are short and the windscreen stretches forward a long way, leaving a vast dashboard area. The large-scale glazing continues right around the car, and with the optional glass roof fitted it allows a spectacular amount of light into the cabin, which is beneficial to all occupants.
As with any MPV, flexible use of the cabin space is crucial and the Grand Espace fulfils this criteria with aplomb. It uses the more old-fashioned approach in that the seats fold and/or are removed rather than folding flat into the floor, although the flip side of this is that the seats are more comfortable and the floor of the Espace is lower, creating greater room overall. Folding, sliding and removing the seats is straightforward, if demanding of a little strength, giving the Espace the ability to cope with a broad range of demands.
Mechanically the Espace remains as before, with a front-wheel drive layout. Somewhat unusually the Espace is only available with a single diesel engine option in two power outputs, although with so few cars of this size using petrol this may be simply in response to customer demands. Gearboxes are manual or automatic depending on the engine option.
Our verdict on the Renault Grand Espace 2.0 dCi Initiale
The original recipe for the Espace must have been spot on, because it continues to give much newer rivals a real run for their money. Spacious, hugely practical, comfortable and still distinctive, the Grand Espace manages to do all that a seven-seat MPV could be expected to manage without feeling like a commercial vehicle with windows.
Costs

Subscribing to the Grand Espace way of life isn't cheap - you'll pay a premium over the standard model and that of the mainstream (Ford, Peugeot, Chrysler) competition. The result is a more stylish car that boasts decent residual values - there are few Grand Espaces on the road for starters. Running costs, assuming you opt for a diesel-powered model, should be reasonable, as should the main dealer servicing prices.
Space and practicality

Arguably no other car on sale can match the Grand Espace's capacity for people and luggage. Seven can travel in comfort with a respectable amount of luggage space remaining, or reduce the number of passengers and increase the load accordingly. Take out all the seats and you have van-like space. There are also stacks of cubbies and spaces for oddments - in fact you may even suffer the problem of not being able to find bits and bobs stowed throughout the cabin.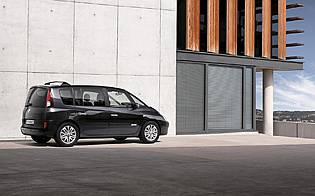 Clean-cut rear view hard to distinguish from previous model
Controls and display

Although a little quirky at first, the instrument layout works well and is surprisingly intuitive. Placing the ventilation controls next to the driver and front passenger on the doors is a clever move. The digital instrument display is packed with information, while the column stalks and supplementary audio controls work well. The electric handbrake - effectively a fascia-mounted switch - makes more sense than a floor-mounted lever.
Comfort

The Grand Espace, with its longer chassis feels that bit more planted on the road than the regular car, which in turn boosts ride comfort. Inside, you get more space than you need, plus the possibility to modify the layout to your needs. Head, leg and elbowroom is good throughout the cabin, and the individual chairs are supportive without feeling too firm.
Car security

A comprehensive anti-theft package is standard fit on the Grand Espace, which is just as well given the car's asking price. One thing it can't do is protect the cabin from prying eyes though, which is why it's imperative to keep possessions out of sight in the many cubbyholes or under the boot's sturdy cover.
Car safety

Renault's products all perform exceptionally well in crash tests, and the Espace range is no different. You get plenty of airbags plus a good range of electronic aides to help keep you out of trouble. Isofix child seat mounting points abound, which is to be expected in such a family orientated vehicle.
Driver appeal

Space and practically are the overriding factors here, but it's good to know that the Espace handles well, too. Pitch and roll - classic MPV traits - have been minimised, while the ride is noticeably biased towards comfort - this is especially true of the long wheelbase Grand Espace as it doesn't like to be hustled along too much. One disappointment is the over-light steering, but the torquey diesel engines adequately compensate for this. The auto gearboxes could be more responsive, but the manual versions are slick and positive. The lofty driving position is a huge bonus, though.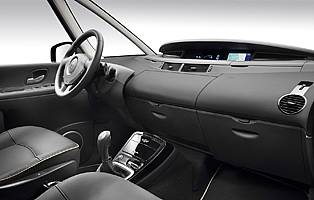 Cabin quality improved by better spec' materials
Family car appeal

This is where the Grand Espace scores highly, thanks to its large cabin and versatile seating layout. It will easily accommodate children large and small, and makes a good investment if you want to keep it and see your kids grow up. The only drawback is the car's luxury bias - the high quality trim and seat fabrics won't mix with small, grubby, chocolate or ice cream-covered hands.
First car appeal

The larger than life Grand Espace is probably not the best first car, but if you find yourself driving one at least it won't be a difficult task. The car's steering is light, visibility is good and no one variant is too powerful. It won't be cheap to buy or run, though, if you have to have one.
Quality and image

Although its reputation isn't the best in respect of quality, spending significant time inside the Espace fails to reveal any particular problems. The vast majority of the trim is of decent quality and is well constructed. Image-wise the Espace enjoys the status awarded to it as being the first true MPV, and is still recognised and acknowledge by those with only a passing interest in cars.
Accessibility

Unlike certain rivals, the Espace does without sliding rear doors. The car-like approach can have its drawbacks, like when you need to get out of the car in a tight car park - sliding doors would be more practical. That said, every other aspect of the Espace is good - from the wide rear load area, spacious cabin, and the fact that the seats aren't mounted too high up making access easy.
Stereo and ICE (In car entertainment)
The standard audio set-up is a good one - Renault is famous for fitting good quality systems to its cars. Move up the range and more features are fitted. One constant is the cluster of remote controls for the driver; they are intuitive and will get used often, as the main system controls can prove a little fiddly. Sat-nav is available either as an option or standard depending on the model, and is easy to use.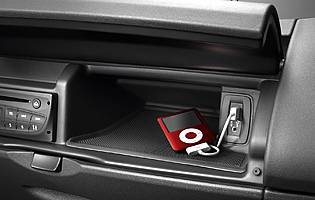 Excellent space and storage options inside
Colours and trim
With the sheer acreage of trim inside the Espace, getting the colour and quality right is crucial. However, even going down the all-black route, with the amount of light coming into the cabin it avoids looking gloomy. Subtle exterior shades are best, although black exterior paint may be taking this too far.
Parking
Make no mistake, the Grand Espace is a big car. That said, it is pretty manoeuvrable thanks to light steering and good all-round visibility. Parking sensors are a must though, as you'll need to take it easy in tight multi storey car parks.
Spare wheel
Space saver fitted as standard.
Range information
Diesel units: 2.0-litre (148bhp and 173bhp). Six-speed manual and six-speed automatic gearboxes offered depending on model. Trim level: Dynamique
Alternative cars
Chrysler Grand Voyager Capacious cabin and sliding doors are plus points. Cabin quality could be better
Peugeot 5008 Bang up to date, good to drive and shows innovation
Ford Galaxy Improved Galaxy is more upmarket but still good value for money
Mercedes-Benz R-Class Long wheelbase R-Class variant is spacious, classy and good to drive. Expensive, though
Over 1,200 more car reviews online
All the reports since 1990 are available on this site, just search by make and model below.
Other products & services
Related information
May 2011