Toyota Hilux HL3 Double Cab 2.5 D-4D Manual 4WD
May 2010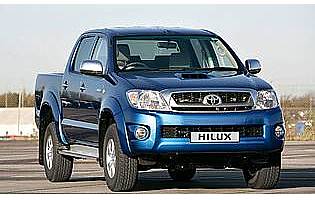 Revised Hilux has more power
Ratings
Overall rating
Value for money
Costs
Space and practicality
Controls and display
Comfort
Car security
Car safety
Likes
Surprisingly refined on road
Capable off-roader
Much improved performance from smaller diesel unit
Tough build quality evident in cabin
Gripes
Exterior less stylish than some rivals
Load bay cover required for real family life potential
Interior plastics are drab
Could use more interior storage
The sixth generation of the legendary Hilux was introduced in 2005, but the 2010 model get changes to the engine range and trim level line-up. With pick-up producers increasingly targeting the lifestyle market, the changes are aimed at improving the vehicle's usability and appealing to a broader spectrum of drivers.
The Toyota Hilux is one of the great motoring icons of the 20th century, and Toyota is keen to keep that iconic status alive in the 21st century. A raft of new improvements for the 2010 model year are less about grabbing attention in the way expeditions to the North and South Poles have done, and are more about grabbing the attention of drivers who require a rugged and practical pick-up truck as well as the 'lifestyle' audience that seeks out go anywhere vehicles to meet their adventurous hobby and lifestyle needs.
Perhaps the most important of the changes for 2010 is the improvement to the smaller of the two diesel engines available. Previously sporting 118bhp, the 2.5-litre D-4D unit now boasts a more impressive 143bhp. It's available with a five-speed manual transmission and the standard chassis which offers the option to shift between two and four-wheel drive, low and high ratio gearing and a lockable rear differential. Acceleration, top-speed and pulling power are all improved while C02 emissions remain the same.
The Hilux also benefits from a system called Automatic Disconnecting Differential, which disengages the front differential when two-wheel drive is selected, aiding refinement, fuel consumption and driveability on the road. For increased convenience it is possible to shift from four to two-wheel drive on the move and from two to four-wheel drive below 30mph.
The huge range of configurations remains for 2010, with Single Cab, Extra Cab and Double Cab models available in HL2, HL3 and Invincible trim levels. In the upper specification models an impressive array of equipment is standard with more high-tech options available, increasing the model's potential as a more affordable alternative to a regular SUV.
Our verdict on the Toyota Hilux HL3 Double Cab 2.5 D-4D Manual 4WD
In mid-range HL3 grade the Hilux offers enough refinement to pass muster as an alternative family vehicle and it boasts more than enough equipment to make it a comfortable and refined working truck. Decent road manners and the usual impressive Toyota build quality combine to make it a refined vehicle in which to travel and the ruggedness of the four-wheel drive transmission and improved engine performance make the Hilux a practical and competent workhorse.
Costs

The increased performance of the 2.5-litre diesel unit allows pick-up drivers to consider whether they really need to opt for the more expensive and less economical 3.0-litre version. Running costs could prove favourable compared with a large traditional SUV for families and insurance costs should not be too troublesome, either.
Space and practicality

With the exception of slightly restricted legroom for rear passengers, the Hilux scores perfect marks with a tall cabin featuring plenty of space. Designed as a load-carrying, weight-towing work horse the Hilux can be relied upon to perform a vast range of tasks beyond the scope of a regular passenger vehicle, while still retaining a degree of functionality for more mundane tasks. An extremely capable four-wheel drive chassis also adds to the practicality levels. Some more internal storage options may have been useful for working drivers, however.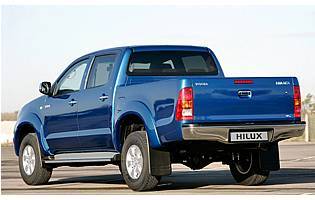 Hilux Double Cab is a large vehicle
Controls and display

The Hilux's controls are as refined as can be expected from such a vehicle. The steering is a little vague but well within acceptable boundaries and although the gear lever is long with a similarly lengthy throw, the shifts are precise and smooth. The lever for the transmission transfer requires a strong arm to operate and with four-wheel drive activated the steering becomes heavier. The majority of the controls are car-like in their positioning and operation and the dials clear and concise.
Comfort

There are few issues with basic comfort within the Hilux cabin. The grey plastics and seat cloth are not particularly inspiring, but the seats are comfy for front and rear passengers in the double cab and the interior boasts electric windows and air-con. Compared to some of its key rivals the Toyota diesel unit is refined, too. The basic rear suspension set-up can make the ride bouncy on occasion, but for the vast majority of the time the Hilux rivals passenger focussed SUVs in terms of ride quality.
Car security

Remote central locking is standard equipment and a locking tailgate aids security, if only with a cover in place over the load bay. Tinted rear privacy glass and a Thatcham Category One alarm are also of benefit.
Car safety

Safety is well catered for in the Hilux. The HL3 trim level gets driver and front passenger airbags, a collapsible steering column and even impact absorbing headlining. Four-wheel drive naturally comes with safety benefits; however the centre rear lap belt is a bit of a let-down for families.
Driver appeal

The Hilux's affable on-road nature comes as something of a surprise. It's considerably less cumbersome than might be anticipated and can be driven in a reasonably sprightly manner. The lack of weight at the rear combined with unsophisticated rear suspension naturally has an affect on handling, but the large vehicle remains easy to control, regardless. Performance from the improved 2.5-litre diesel engine is strong and hauling loads requires little additional effort. The driving position is also excellent with very large mirrors, although the cabin rear window is narrow.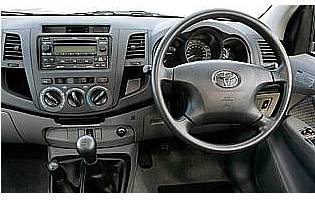 Interior plastics are functional but uninspiring
Family car appeal

The lack of a covered boot would be the major issue in using the Hilux as an alternative or 'lifestyle' family vehicle, but that can easily be rectified with the addition of one of a range of covered load bay options. Elsewhere, there's little to stop the Hilux being used as a family vehicle or holding dual roles as a family and commercial vehicle. Families used to a road-going SUV will not find the size an issue and comfort and safety are both covered to an extent.
First car appeal

Few novice drivers are likely to find much in the Toyota Hilux that appeals to them. Its size would make it a daunting option for the inexperienced.
Quality and image

The Hilux has a sterling reputation thanks to the near indestructible nature of the previous five-generations. The latest version builds on this image with exploits such as being driven to the North and South poles.
Accessibility

The Hilux's cabin sits a considerable distance above the ground, meaning it requires some effort to access. Grab handles are present for easier access as is a sill cover that can act as a step if required. The doors are very tall and more evenly proportioned than some rivals. At the rear, the tailgate is heavy and the load bed high, but no higher than that of rival pick-ups.
Stereo and ICE (In car entertainment)
A radio, six-disc CD changer and four speakers are standard equipment in the HL3 model, but customers can upgrade to an excellent multimedia unit that combines iPod integration, an SD card reader, sat-nav and USB input. The four-speaker setup is hardly cutting edge, but proves adequate in terms of sound reproduction.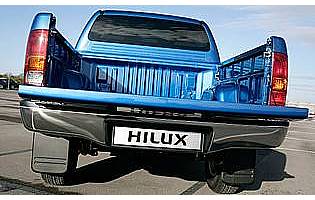 Large load bay is easily accessed
Colours and trim
There are some bolder colour options for owners using the Hilux as a 'lifestyle' vehicle, but for the most part the palette consists of sensible silvers and dark shades that will hold greater value second-hand. Interior trim is biased towards functional, with plain plastics and seat cloth. The interior is worthy but uninspiring, although optional leather livens things up a little. HL3 models get alloy wheels and heated door mirrors.
Parking
The Hilux's huge size makes it something of a monster to wield around town and rules out more challenging car parks. The overhang leaves it prone in small parking spaces too. That said, it's not unmanageable with its squared off proportions being reasonably easy to judge for an experienced driver. The turning circle is not as impressive as some rivals, but can cope with most situations comfortably.
Spare wheel
Full size spare stored under load bay.
Range information
Diesel engine options - 2.5-litre (143bhp); 3.0-litre (169bhp). Transmission options: five-speed manual gearbox, five-speed automatic gearbox, selectable four-wheel drive, low-ratio transfer box, locking rear differential. Trim levels: HL2, HL3, Invincible.
Alternative cars
Isuzu Rodeo Capable working vehicle available in luxury spec
Mitsubishi L200 Most design orientated pick-up available
Nissan Navara Chunky, stylish workhorse
Mazda BT50 Rugged and less refined but good value
Over 1,200 more car reviews online
All the reports since 1990 are available on this site, just search by make and model below.
Other products & services
Related information
May 2010