Jaguar XJ 3.0 V6 Diesel Premium Luxury
March 2010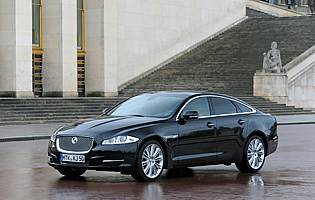 Handsome design is unmistakably Jaguar
Ratings
Overall rating
Value for money
Costs
Space and practicality
Controls and display
Comfort
Car security
Car safety
Likes
Distinctive and modern design
Superb engine range
High level of standard specification
Stands out from its rivals
Gripes
Restricted rear headroom
Some penny-pinching in evidence inside the cabin
Steering is not as feelsome as in XF and XK
Biased towards handling rather than ride comfort
Since 1968 the XJ has been the flagship of the Jaguar range, but the original car has also left the most difficult shoes to fill. Now there is a new version of the XJ, designed to take on the best of the luxury opposition and continue the strides forward made by the excellent XF.
What is immediately obvious is that the latest XJ breaks the trend of strong retro designs. Although the XJ has hints of its forebears - particularly the squared grille and strong shoulder line - it is unmistakably a modern design. It is much closer to a four-door coupe than a conventional 'three-box' saloon, and in taking this route Jaguar is setting the XJ apart from its more conventional rivals.
The elegant exterior is once again formed from aluminium, as is the majority of the car's structure, with other lightweight materials such as magnesium used in specific areas. By doing so Jaguar has ensured that the XJ is significantly lighter than the competition, even the similarly-aluminium Audi A8, bringing benefits in terms of performance, efficiency and economy. At launch as much as 50 per cent of the aluminium used is recycled, with the aim to increase this to 75 per cent in a few years.
Right from the start the XJ is available in short and long-wheelbase forms, with the latter providing the extra rear legroom demanded by some customers. By designing in these two versions from the outset, the extra length of the long-wheelbase version is very well disguised and, at first glance, it is hard to tell the two apart. Both versions also have full-length sunroofs, although on the inside of the car this is broken up into two by the roof lining. This also has an impact on headroom, which is less generous than some rivals.
Mechanically the XJ uses some components from the previous generation car, but everything is either revised or new. Of most importance is the enhanced engine range, many of which have already delivered impressively in the XF saloon. A revised six-speed automatic transmission is standard, as is adaptive drive control, which alters throttle response, steering and the actions of the air suspension depending on the driver's wishes.
Our verdict on the Jaguar XJ 3.0 V6 Diesel Premium Luxury
Finally Jaguar has delivered an XJ that has the presence and design to match up to the excellence of its underpinnings. By aiming for a more stylised approach there are inevitable consequences in terms of space, but in all other respects the XJ offers everything that a luxury car buyer would want.
Costs

Running costs will of course be at the higher end of the scale, but opting for the diesel version brings very respectable economy and emissions performance, and therefore brings the running costs down to a more acceptable level.
Space and practicality

The XJ offers sufficient space for four or even five adults, but it is not a massively spacious car. It is unquestionably luxurious but instead it cocoons its occupants in style and the low roofline and compact windows give it an intimate feel. In practical terms the boot is well-sized and can be remotely opened, although cabin storage is average for a car of this size.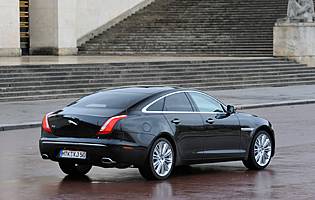 Unusual rear end is more coupe-like
Controls and display

The cabin layout of the XJ is particularly impressive, with much of the car's systems controlled through the touch screen. Available with the innovative Dual-View system it allows the passenger to view TV or a DVD while the driver can only see system screens or the satellite navigation. Additionally the driver's instruments are displayed virtually via a high-definition screen, bringing high levels of clarity and the ability to display a wide range of information.
Comfort

With features like massage seats and four-zone climate control, getting comfortable is rarely an issue in the XJ. Noise levels are impressive too, with wind noise only becoming apparent above 70mph. The ride comfort is generally good, although some may find the suspension a little firmer than a traditional luxury saloon.
Car security

All XJ models come with keyless entry and start, plus a high specification alarm with battery back-up, which should prevent even the most determined thieves.
Car safety

A high complement of safety equipment comes as standard with XJ, including a minimum of six airbags and tyre pressure monitoring on some models.
Driver appeal

The XJ has a poised rear-drive chassis, a slick automatic gearbox and a very responsive engine range, which is good news for keen drivers. Even in standard mode, the suspension has a sporty edge which is more akin to the performance approach of rivals like the Maserati Quattroporte. The steering is also quick to respond and accurate, although it does lack a little feel, which stops the XJ just short of being the most enthralling car to drive.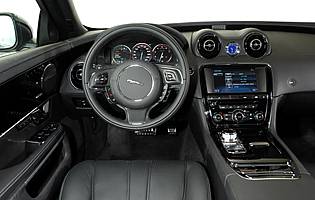 Cabin is cosy rather than very spacious
Family car appeal

The XJ could quite comfortably perform family duties, particularly with the impressive sound system and optional rear entertainment facility.
First car appeal

The XJ is too large, luxurious and expensive to make a good first car, even if it is quite easy to drive for a novice.
Quality and image

At this price point high levels of quality are expected, and the Jaguar scores well. Both inside and out it feels like a coherent design with plenty of nice touches, and the general standard of materials is very high. There are one or two signs of cost-cutting however, which puts it just behind the best German rivals. The XJ's image however is something which is likely to be its greatest appeal, as it builds on the past but also looks forward with the bold exterior design.
Accessibility

Long wheelbase versions of the XJ inevitably fair better in this respect, but in either model the large doors aid entry. The relatively low roofline may mean taller passengers will have to duck more than in a rival product, but it is otherwise without fault.
Stereo and ICE (In car entertainment)
Jaguar has continued its association with Bowers and Wilkins for its in-car audio, and the top level 1200W system delivers a truly epic aural performance. Regardless of input (radio, CD or MP3 player) the sound is highly detailed, crisp and distortion-free up to very high volumes.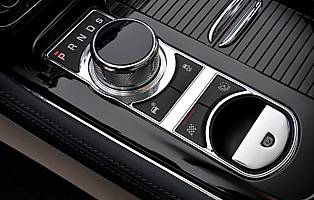 Jaguar Drive Selector is a welcome touch
Colours and trim
As the XJ has large blacked-out rear pillars, choosing a light or dark shade can quite dramatically change the car's appearance. Unusually for a car in this class, it looks equally good in black or in silver. The cabin trim allows lots of personalisation options, with lots of leather as standard and a choice of woods and other trims.
Parking
Such a long car with relatively narrow window lines could make parking a tricky task, but the light power steering and standard parking sensors are a help. A reversing camera is either standard or available as an option across the range.
Spare wheel
The XJ comes with a tyre repair system or a space saver spare wheel depending on the model.
Range information
Petrol engine options - 5.0-litre petrol (380bhp, 464bhp and 203bhp). Diesel engine options - 3.0-litre (271bhp). Transmission options: Six-speed automatic gearbox. Trim levels: Premium, Premium Luxury, Portfolio, Supersport.
Alternative cars
Mercedes-Benz S-Class Superb build and specification, looks are divisive
BMW 7-Series Provides best driving experience, high-tech, styling not to all tastes
Lexus LS460 Best value, high comfort but design is anonymous
Audi A8 Impressive all-rounder with superb engines and comfort/handling mix
Over 1,200 more car reviews online
All the reports since 1990 are available on this site, just search by make and model below.
Other products & services
Related information
March 2010